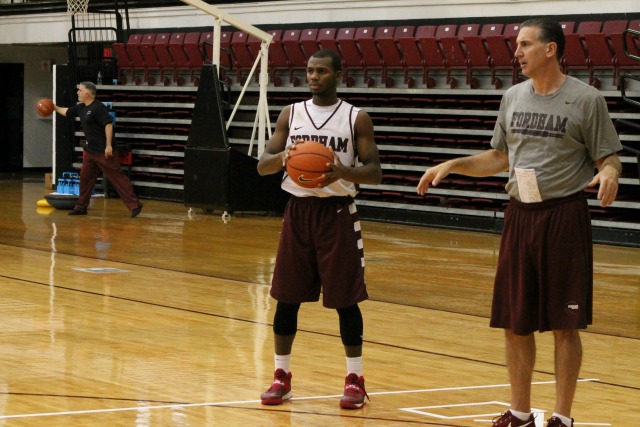 Jon Severe had yet another night to remember tonight, as freshman scores 30 points in Fordham's 79-75 win over Manhattan in Battle of the Bronx. (Photo courtesy of CBS Sports)
When Tom Pecora previewed Fordham's annual showdown against Manhattan this offseason, the head coach said "records are thrown out the window that night."
Nothing could be further from the truth at Draddy Gym on this night, as Pecora's Rams, restricted to a seven-man rotation due to a lack of frontcourt depth, improved to 3-2 with a stunning 79-75 upset over the Jaspers, (3-2) a team predicted by many to win the Metro Atlantic Athletic Conference this season after narrowly missing a conference championship last year against bitter adversary Iona.
"Obviously, I'm very proud of these guys," Pecora said after his backcourt trio of Jon Severe, (30 points) Branden Frazier (21 points) and Mandell Thomas (17 points, 10 rebounds) accounted for 68 of Fordham's 79 points. "I told Jon, Branden and Mandell that we need 60 points a night out of them."
Severe, the freshman sensation who came to Rose Hill with New York State Mr. Basketball honors already on his resume, was the star of the 106th Battle of the Bronx, erupting with 10 points in the first 5:17 and ending the first half with 22. The Brooklyn native got off to a quiet start after the intermission, but regained his stride with two three-pointers late in the second half to pull Fordham even with the Jaspers at 70 with 4:39 remaining in regulation after it appeared as if Manhattan was on the verge of pulling away to a convincing victory.
Manhattan regained the lead on a three-point play by George Beamon, who posted a double-double with 24 points and 11 rebounds in the losing effort, but it was the last advantage the Jaspers would enjoy after Severe tied the game on a pair of free throws with 1:39 left in the second half.
Following the foul shots, Beamon missed a three-pointer, allowing Fordham to grind out the shot clock and give Frazier an opening to the basket in the final minute. With his back to the net, Frazier found his seam and converted a spinning layup to give the Rams a 75-73 lead they would never relinquish. Manhattan had a chance to regain the advantage, but Michael Alvarado missed a questionable three-pointer from beyond NBA range, forcing the Jaspers to foul Frazier, who put his clutch free throw shooting struggles to rest by making both of his two shots to turn the Rams' cushion into a two-possession edge.
A Beamon layup pulled the Jaspers within two with just twelve seconds to go, but Manhattan's full court press attempt backfired as Jermaine Myers found a streaking Travion Leonard for a breakaway dunk that sealed the win for Fordham, arguably the biggest victory for the program since defeating St. John's at Rose Hill Gym in 2010.
The Rams take a brief hiatus before their next contest one week from tomorrow against Furman, while Manhattan resumes play this Saturday against Joe Mihalich and Hofstra.