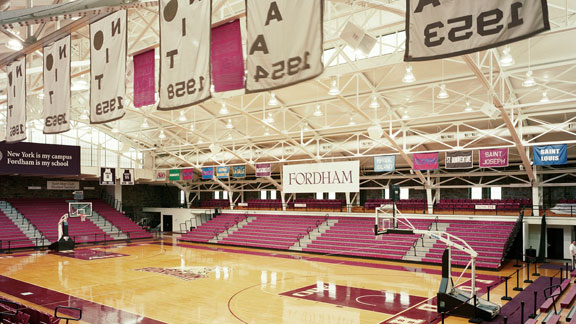 Iconic Rose Hill Gym opens its doors for yet another season when Fordham hosts Saint Francis University tomorrow night in first game of Tom Pecora's fourth year at the helm. (Photo courtesy of ESPN)
Fordham's 111th men's basketball season tips off in about 26 hours against Saint Francis University, who looks to continue their rebuild after a 5-24 record in head coach Rob Krimmel's first season at the helm a year ago. It will not be easy for the Red Flash, however, as leading scorer Umar Shannon has transferred to Quinnipiac. In his absence, Saint Francis will look to junior forward Earl Brown, who averaged ten points and eight rebounds per game last season en route to winning Northeast Conference Most Improved Player honors; and is, in essence, a poor man's version of Fordham legend Chris Gaston, who graduated this past May.

The Red Flash will also seek to capitalize on an outside shooting attack that averaged 35 percent from beyond the arc as a team, with Canadian sharpshooter Ben Millaud-Meunier leading the charge as he enters his sophomore season, along with junior guard Dominique Major. The Loretto, Pennsylvania-based program is only facing the Rams for the fourth time in the history of the two schools, but there is a connection between the two backcourts, as Saint Francis freshman point guard played alongside highly touted Fordham recruit Jon Severe at Christ the King High School in Middle Village, where they were coached by Joe Arbitello.

To help get to know Saint Francis a little better, our first special guest interview of the season drops by, as we have once again enlisted the services of John Templon; he of the definitive source for all things Northeast Conference more commonly known as Big Apple Buckets, to shed some further light on the Red Flash with the season opener for both teams just over a day away.
Jaden Daly: What is the biggest difference in Saint Francis this year when compared to last season?

John Templon: Ironically, for a team with no seniors, I think one of the biggest improvements for Saint Francis University this season is experience. Head coach Rob Krimmel has a year under his belt, and all the players on the roster have another year of experience. I think that's going to help this team perform. Krimmel understands what his team needs to do better in order to succeed, and I think that's going to help a lot.
JD: Who is Saint Francis' biggest X-factor, and why?

JT: The biggest x-factor for the Red Flash is probably going to be the performance of two players - Ollie Jackson and Greg Brown. Both need to become more efficient players on the wing this season during their junior and sophomore campaigns respectively. SFU needs points from the guard position because a lot of their front court players need to concentrate on defense and rebounding. One of these two players will have to step in order for Saint Francis to play a competitive game.
JD: With Umar Shannon having transferred to Quinnipiac, who will Saint Francis start at point guard this season, and how would he match up against Branden Frazier?

JT: The Red Flash are going to star two freshmen at point guard in Malik Harmon and Georgios Angelou. Harmon, like Frazier, is a New York City product. He played at Christ the King in high school. Angelou is Greek and will probably start the game. Both, though, are going to get a lot of minutes. My guess is that neither will actually guard Frazier on defense. I would think that job would fall to starting shooting guard Ollie Jackson.
JD: How important is Earl Brown this season, given the lack of height on the Saint Francis roster?

JT: Brown is super important. There is no player taller than 6'7" on the roster. Brown, a junior and one of the captains, is an integral piece of the Red Flash's ability to rebound the basketball. He was among the national leaders in defensive rebounding percentage last season, but he needs help. Ronnie Drinnon has struggled with injuries during the preseason, but he should be fully healthy and ready to go for this game. Drinnon and Brown will be SFU's main front court players, so it's super important that they're healthy and ready to go.
JD: After Fordham struggled to defend the three in their exhibition game last week, do you see Ben Millaud-Meunier getting a green light throughout the night?

JT: Well, Ben Millaud-Meunier is going to have the green light all season. The tricky part is going to be how crowded the minutes on the wing are going to be at SFU. Jackson, Stephon Whyatt, Millaud-Meunier and Greg Brown are all competing for minutes on the wing. Described as a gym rat by his head coach, Millaud-Meunier is a lethal shooter though, so if he starts getting open looks, it could be a long night for the Rams.