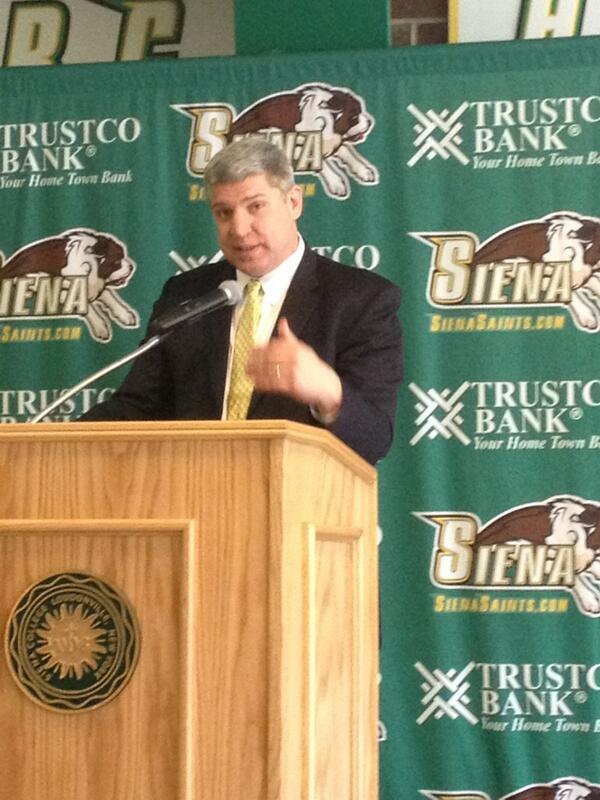 Less than one month after it appeared he was headed for Patriot League with Loyola, Jimmy Patsos will once again grace MAAC sidelines, this time at Siena. (Photo courtesy of Andy Santillo of the Troy Record via the Metro Atlantic Athletic Conference)
Guess who's back, although he never really left.
Jimmy Patsos, who, for nine years turned a Loyola team that went 1-27 before his arrival in 2004 with an uptempo style that was just as engaging as the coach's magnetic and larger-than-life personality, remains in the MAAC just a week removed from the Greyhounds' loss to East Carolina in the CollegeInsider.com Tournament, having accepted an offer to become the new head coach at Siena College while his former Loyola program will become an official member of the Patriot League on July 1st.
The 46-year-old Patsos, who led Loyola to the NCAA Tournament just last year, replaces Mitch Buonaguro, who went 35-59 at the helm of the Saints for three years after serving as the top assistant to former Siena coach Fran McCaffery, who was hired in 2010 by Iowa, and will play for an NIT championship tomorrow night at Madison Square Garden.
As expected, Patsos made quite the first impression on the media in attendance just outside Albany, a city that he has unabashedly stated should host the MAAC Tournament again.
"It's tremendous for me to be here," he gushed, "because I've always envied this job. I've had a few people say 'Siena's lucky to get you,' but that's clearly the other way. I'm lucky to be the coach at Siena."
A history major in college who is one of the more well-rounded personalities in any walk of coaching, Patsos conducted another one of his trademark wide-ranging press conferences, even invoking the names of German chancellor Angela Merkel and iconic Argentine first lady Eva Peron in his 20-minute introduction as the sixteenth head coach in Saints history, and was barely able to contain his excitement about teaching his players more about where they are from in addition to improving their ability on the court.
"Jimmy wants to bring our students an experience beyond basketball to where they can live and learn beyond the court," Siena athletic director John D'Argenio said. "As we went through it, it was clear that Jimmy is more than a personality, and more than a recruiter."
In nine years at Loyola, Patsos compiled a 145-135 record, finishing .500 or better in six seasons, and arrives in the Capital region on the heels of two consecutive postseason appearances in Baltimore. The Albany Times-Union's Mark Singelais reports Patsos received a five-year contract, but financial terms were undisclosed.
After hinting at instilling the same flex offense he honed to perfection as an assistant to Gary Williams at Maryland for thirteen years before getting his head coaching break at Loyola, Patsos once again reaffirmed his desire to coach Siena and the regard with which he holds this position.
"I was jealous of you for nine years," he admitted. "In two days, I could feel why you win so much. It's because you're all in. I went on a recruiting tour (describing his interview on the Siena campus) and told my wife, 'Hey, I'm committing.' I just hope they're committed to me."
That commitment will not take long to see.