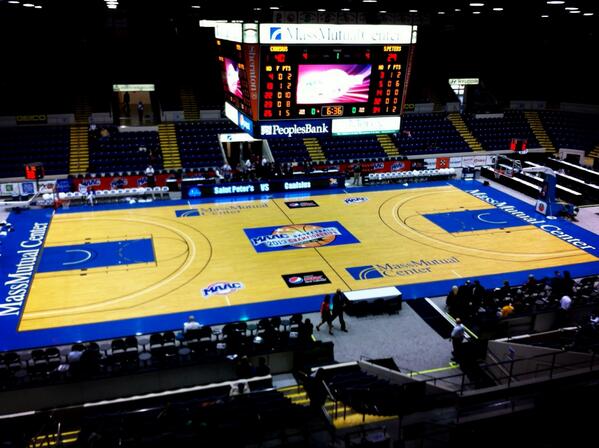 One of the highlights of the year was getting to enjoy this view of the MassMutual Center in Springfield during last month's MAAC Tournament. (Photo courtesy of Christian Heimall)
Before I go any further, please allow me to pay tribute to the immortal Pat Summerall, who passed away yesterday at the age of 82. Although never directly affiliated with college basketball, Pat was, along with Dick Enberg and Vin Scully, one of the three greatest influences on my broadcasting style; a style that has, in turn, revealed itself to an extent in the content that has been showcased on this site over the years. The old saying goes, "never forget your roots," and for me, my roots as a broadcaster; which have spawned my roots as a writer when I am not behind a microphone, will always be traced to Pat Summerall. Rest in peace, Pat, and I am sure you are already preparing your introduction of John Madden for that day in which The Lord calls upon him to join you for color commentary in the great broadcast booth up above.

Now, on to the real reason for this piece. April 17th is always a day of great significance for me, because it was on this date in 2009 in which yours truly had the grand vision of attempting to join the print (well, in this case, electronic) media in the event that my play-by-play career turned out to be a bigger bust than Ryan Leaf or Blair Thomas. Fortunately, that has not happened, and I thank God every day for the fact that I have been able to maintain my balance as a broadcaster; but at the same time, I have also managed to supplement what I do on the air with A Daly Dose Of Hoops, which has made the transition from part-time blog to full-time website that has gone through more reinventions than Madonna's concert tour from the summer of 2004. (As my friend Jerry Beach would say, GOOGLE IT!)

So here we are, four years later, still bringing you college basketball news and insights, with so many different ways of presenting this information to you, and finding success that makes me look back and marvel at what has risen from something so small. Let's see how far we've come, shall we?
Yo
u know, it's funny that I reference Rob Thomas, and for those of you who don't know me well, I'll tell you why. When I started doing play-by-play in 2007 at my alma mater St. John's, the Red Storm had a freshman forward on their roster by the name of, you guessed it, Rob Thomas. Whenever Thomas scored, (and
EVERYONE
who worked with me in the WSJU sports department can attest to this) I would follow up his basket with a lyric from a Matchbox Twenty song. Examples of this include "the real world is not hassling him," and "he's not crazy, he's just a little unwell." Sadly, St. John's never got to play in ESPN's 24-hour marathon while I was there, because I always wanted to break out the "it's 3AM, he must be lonely" line. Anyway, I digress.
One year ago, I celebrated A Daly Dose Of Hoops' third anniversary by stating my sheer amazement at the site's 265 percent growth over the previous twelve months. Twelve months later, the growth rate has jumped off the charts again, and has rendered the same effect upon me. On April 17, 2012, A Daly Dose Of Hoops had a grand total of 30,548 views. Today, that number now stands at 94,237, which means that the site has, for a second consecutive year, more than tripled its growth, a statistic that I can never thank you enough for. Our Twitter feed, which was set up in November of 2010, now has 994 followers, which is another number I never imagined would be possible. As I have said many times in the past, and will continue to say both now and in the future, there is no me if there is no you. On a side bar, can we get to 1,000 sooner rather than later? If you or someone you know isn't following us, pull the trigger, man! Joe Lunardi did, (yes, THE Joe Lunardi) and if it's good enough for the founding father of Bracketology, there's no reason why it can't be good enough for you. I actually had the honor of meeting Joe this year through his work as a color commentator for Saint Joseph's University (his day job is serving as their marketing director) radio broadcasts alongside Matt Martucci, who I was also fortunate to introduce myself to. Both of them are great at what they do, and were more than complimentary to me, something I will forever appreciate.
This past season provided more opportunities for me based off the incredible and unforeseen amount of exposure I received last season. For starters, this site ended up covering 120 games this year in either an on-air or off-air capacity, a number that many of you checked in on with me throughout the year. To be honest with you, I did not expect this tally to catch on so quickly and be so well received, but it evolved into a ritual that provided photographic evidence of every venue the site was at, as well as frequent statements of "I don't know how you do it" and "you don't miss anything" from my friend and colleague Vin Parise, with whom I was fortunate to start working last season through my coverage of Iona College.
Over those 120 games, I got to cover three conference tournaments, the NCAA Women's Tournament, and the NIT among others. More importantly, I also got to meet more people, which for me as a broadcaster at heart, has always been the best part of the job. I got to meet not just coaches and sports information directors, but also fellow broadcasters like Christian Heimall at Manhattan College, a young play-by-play announcer (three years younger than me to be exact, but you would never know it based on his maturity and professionalism both on and off the air) who ended up becoming one of my closest friends in the business even though I only met him five months ago, and people like Josh Adams of College Hoops Digest, who I was honored to share press row with on several occasions, most notably at the Prudential Center. I am also blessed to have strengthened some existing friendships with colleagues like Anthony Sulla-Heffinger of the New York Post (Tony and I may actually be the only full-time Fordham media, and there was not one game at Rose Hill this season that was not attended by either of us) and the inimitable Jerry Beach of Defiantly Dutch, who keeps my sanity intact with his Simpsons and 1980s references on Twitter at all hours of the morning.
I also cannot thank the sports information directors and administrators who allowed me to cover their programs, teams and conferences throughout the year enough, but I'll try to recognize them all here. (I apologize for the name dropping by the way) Brian Beyrer, Matt Sweeney, Mark Fratto, Brian Morales, Kristin Duffy, (actually, it's Quinn now that she's happily married...that's what happens when you know someone for six years) Dave Gansell, Steve Dombroski, Joe DiBari, Stephen Gorchov, Brian Bohl, Mandy Gutmann, Dan Lobacz, Lily Rodriguez, (who played volleyball at St. Francis during my first year as a play-by-play announcer there) John Higgins, Nick Guerriero, Mike Kowalsky, Kevin Ross, Tom Chen, Jack Jones, Mike Ferraro, Brendan Thomas, Jill Skotarczak, Ken Taylor, John Paquette, Drew Dickerson and Larry Torres. I think I got all of you, and even in order of the games I attended, no less. Thank you all for having me, and I would be honored to do it again next season if you're willing to let me come back.
I would also like to thank Jason Schott and Ray Floriani, who helped turn a one-man operation into a three-man production with their contributions, Jason for his tireless coverage of St. John's University, and Ray for his photo essays that added a different; and much appreciated, element to our coverage. It would be my honor to keep you in the family next season. On that note, if you or someone you know is interested in joining our ranks, reach out to me at dalydoseofhoops@gmail.com for more information. I can't pay you yet, but I can offer you the chance to get the same kind of experience and exposure that this site has managed to afford me over the last four years.
Finally, I have to thank the people who matter the most, you, the fans. Without you, there really is no me, and I cannot state that enough. It is you who, to use a term I mention often when doing play-by-play, make the motor run, and all of you are; and will always be, much bigger parts of my life than any of you will ever know.
Together, we all managed to make our fourth year our best year, making us the epitome of a recruiting class that arrived as freshmen with mounds of potential, only to depart as seniors that overachieved beyond their comprehension. The only difference is, whereas collegiate student-athletes only have four years of eligibility, we're not going anywhere anytime soon, nor do we intend to. It is my hope that all of you come back for our fifth year together, which will be a twelve-month period that I will do everything within my power to make the most memorable part of our college basketball experience. Trust me when I say this, I would love to have all of you come along for the ride again.
There is really not much else I can say, so to bring the curtain down on our fourth year as we enter the offseason, I would like to enclose this postgame speech from Wichita State head coach Gregg Marshall, who was a big part of our coverage down the stretch as his Shockers advanced to their first Final Four since 1965; and deservedly so, after his team battled eventual national champion Louisville to the wire in one of the best games all season. (Video courtesy of Wichita State University Athletics)
Thank you for everything, my friends. Your support means more than any amount of words in which I try to describe it ever will.
Jaden Daly
Founder and Managing Editor
A Daly Dose Of Hoops