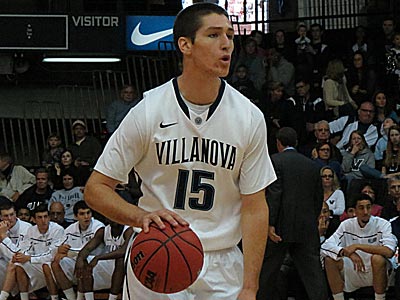 Like Corey Fisher, Scottie Reynolds and Maalik Wayns before him, Villanova's Ryan Arcidiacono is upholding Main Line tradition of having a young point guard whose ability belies his years. (Photo courtesy of Philadelphia Inquirer)
In Jay Wright's twelve years at Villanova, a tenure on the Main Line highlighted by a 2009 Final Four appearance that was the program's first since their miracle run to a national championship in 1985, one constant has always come to the forefront: Continuity at the point guard position, a spot in the lineup that is usually filled by a four-year player.
Since Wright first unveiled his patented "four quick" lineup with guards Randy Foye, Allan Ray, Mike Nardi and Kyle Lowry, there has been a competent floor general in each of the six seasons that followed the Wildcats' run to the Elite Eight in 2006. Lowry. Nardi. Scottie Reynolds. Corey Fisher. Maalik Wayns.
Enter Ryan Arcidiacono.
Arcidiacono, (pronounced Arch-ee-dee-ACK-oh-no) an 18-year-old son of two Villanova alumni; one of whom is a former Wildcat football player, is the latest name to hold the keys to Wright's offense, and the second consecutive homegrown talent to do so. At 6-3, Arcidiacono may be somewhat taller than most collegiate point guards, but his height only enhances his abilities rather than hinders them. Through 23 games of his freshman campaign, the most recent of which a 94-71 rout of DePaul Tuesday night in which the native of Philadelphia suburb Langhorne erupted for 23 points and five three-pointers, Arcidiacono is averaging close to twelve points per game, (11.6 to be exact) shooting 32 percent from beyond the arc and complementing his lethal marksmanship with an average of over three assists per game. These numbers may not set the world on fire, but what is most impressive about Arcidiacono is the fact that he is making such an immediate and noticeable contribution after a year off following back surgery that cost him his senior season in high school one year after averaging 20.4 points, 5.6 rebounds and 5.0 assists as a junior at Neshaminy High in the Keystone State.
"I just wanted to play basketball again," Arcidiacono told the Philadelphia Daily News earlier this season. "I knew it was going to be a learning process, and I'm finding that out right now about so many things."
Arcidiacono's learning process has already included twelve games in double figures, including three 20-point games; one of which is his career-high 32 in Villanova's overtime win against St. John's on January 2nd, not to mention a clutch three-pointer against Syracuse that sent the Orange into overtime before the Wildcats emerged victorious.
"I wasn't planning on this kid being out there 30-some minutes in the Big East," Jay Wright remarked earlier in the year. However, the transfer of Ty Johnson to South Carolina and adjustment process for Wake Forest expatriate Tony Chennault left Wright with a void at the helm of his backcourt that was created when Wayns left the program after his junior season for a professional career, a hole that the former Hofstra head man plugged with the local boy who is becoming for Wright what he had years ago with Speedy Claxton on Long Island, a point guard who was equal parts aggressor and facilitator on offense despite not having seen a court in over a year.
"I think about it all the time," said Wright in regard to Arcidiacono's minutes, which currently average 34 per game. "He's in a difficult spot. We've played freshmen like that before, but they've always been surrounded by veteran guys." Villanova is still maturing as a unit, with forwards Mouphtaou Yarou and Maurice Sutton being the only seniors on the roster. Despite the youth around him, Arcidiacono plays the game like he has been around for years; and although most of his statistics trail St. John's forward JaKarr Sampson, his primary competition for Big East Rookie of the Year honors, the Philadelphia area's native son has Sampson beat where it counts, as Arcidiacono has made a far greater impact on his team by becoming a true leader on both ends of the ball, while Sampson is by all accounts the second option for the Red Storm behind sophomore D'Angelo Harrison.
With just eight games left in the regular season, Villanova stands at 5-5 in Big East play; and Arcidiacono is a significant reason why, with his Scottie Reynolds-esque playmaking ability and offensive talent, not to mention having already demonstrated his willingness and knack to take and hit the big shot in a big spot.
Villanova next takes the court Saturday when they welcome South Florida into The Pavilion, and if you haven't seen Ryan Arcidiacono yet, try to get a good look at him during the next month. His name may be hard to pronounce for some, but his game is easy for all to love.