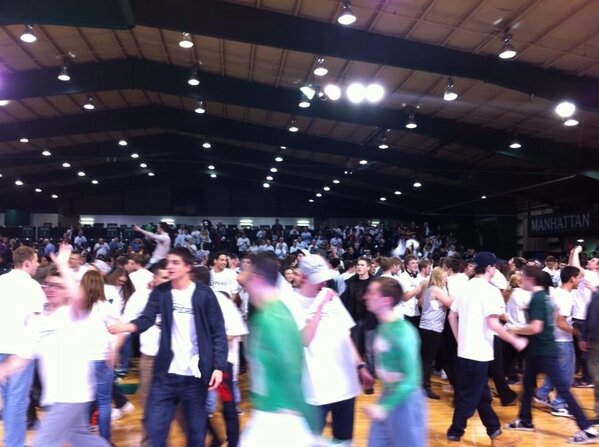 Manhattan students rush the Draddy Gym court after Jaspers' 74-73 win over archrival Iona in double overtime last night. (Photo courtesy of the New York Post's Anthony Sulla-Heffinger)
When trying to make sense of what has now become the most intriguing conference race of the season four months ago, we picked Manhattan to emerge as the Metro Atlantic Athletic Conference champion after much debate in a loaded field that also included reigning champion Loyola and regular season titleholder Iona, not to mention up-and-coming Niagara and Canisius squads and a perennially formidable Fairfield program. Less than a month into the season, it looked as if our selection of the Jaspers would be a bigger bust than Ryan Leaf's NFL career, especially after Maryland transfer Ashton Pankey was declared ineligible and star senior swingman George Beamon battled recurring ankle injuries that forced him to take a medical redshirt and return next year. Just a few weeks later, Manhattan College is slowly proving us to be of a somewhat stable frame of mind thanks to a four-game winning streak and victories in five of the Jaspers' last six, the most recent of which being a thrilling 74-73 decision over bitter adversary Iona that took two overtimes and a Herculean effort from junior forward Rhamel Brown to push the Gaels over the cliff and reach the summit.
"I thought we were lucky to get a win," Manhattan head coach Steve Masiello remarked after the game. "I'm so proud of our resiliency, we just didn't quit. I told the guys before the game that all I cared about was that they played with a lot of emotion."
Emotion, along with an eye-popping 50 rebounds, came in an abundance for Manhattan, most notably on the Jaspers' final offensive possession. After point guard Michael Alvarado, an 83 percent free throw shooter entering the game, missed the second of two foul shots, Brown grabbed his tenth offensive rebound on a night in which the Brooklyn native lit up the boxscore for 21 points, 17 rebounds and seven blocked shots. Brown immediately tipped it to sophomore Emmy Andujar, who converted a layup to give Manhattan the lead that ultimately became the final score. For Andujar, it was the second consecutive year in which his last-second heroics helped defeat the Gaels; as he banked in a three-pointer at the buzzer in January of 2012 to help the Jaspers erase an 18-point deficit and defeat Iona at the Hynes Center, but it all started with Brown, a serious candidate for first team all-MAAC honors even before last night's career outing.
"He's going to be one of the greatest players to ever put on a Manhattan uniform," Masiello gushed. "I couldn't get him to talk or lead for half the year. He's in (the huddle for) timeouts now. He's such a joy to coach, he's what the 'student-athlete' is all about."
Manhattan's 50-rebound effort was characteristic of the Jaspers' style of play throughout the season, never mind their recent surge. In addition to a plus-16 margin on the boards, the Jaspers doubled up Iona to the tune of 22-11 on the offensive glass. "Our mindset is that we're a defensive team," Masiello said. "Let's get on the backboards and create some havoc."
The win moved Manhattan to 8-7 in MAAC play after starting 3-6, and was the Jaspers' fifth in their last six games for a program who has been through more adversity this season alone than most programs have in school history, from injuries to having to scramble to find practice facilities in the aftermath of Hurricane Sandy, which left the Manhattan campus without power for eleven days, to the recent winter storm that postponed an eventual win over Fairfield on two separate occasions.
"This team has been through so much," Masiello intimated, "starting in September, and then with Hurricane Sandy and all that, not having George and A.P. I always tell them I'm more proud of everything they do off the court than what they do on the court."
Next up for Manhattan is a Niagara team that leads the MAAC standings with an 11-4 conference record following the Purple Eagles' win at Marist last night, which snapped a three-game losing streak that ended a run of ten straight conference wins. Now only three games out of first place and even closer to a logjam in which just one game separates third from seventh, Niagara is walking into Draddy Gym tomorrow to face arguably the hottest team in the conference.
"I think what's happening now is that this team is figuring out how to win," Steve Masiello said, breaking into a smile.
Maybe good things really do come to those who wait after all.