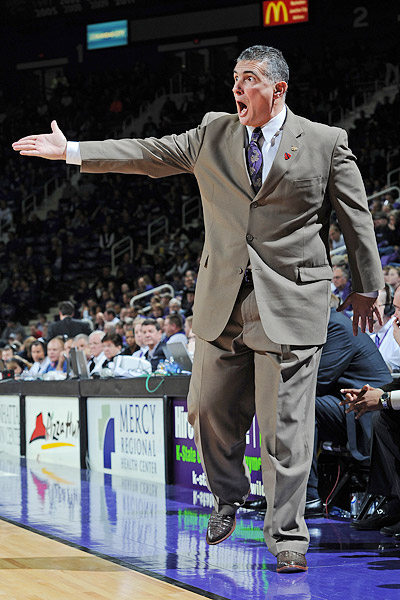 Frank Martin's first season at South Carolina includes a trip to Carnesecca Arena for SEC/Big East Challenge matchup with St. John's. (Photo courtesy of ESPN)
On a day where Moe Harkless' performance at the NBA Draft Combine in Chicago is the lead story around Queens, we check in with Jason Schott for more news and notes surrounding the Red Storm in his latest edition of the "Three-Point Schott," which includes the third St. John's notebook he has compiled since joining the Daly Dose Of Hoops staff.
St. John's Notebook: All the Latest from the Red Storm
By Jason Schott – Twitter @JESchott19
This is a digest of the latest news from the St. John's Red Storm basketball team, including the passing of St. John's legend LeRoy Ellis, as well as news on St. John's playing in the SEC/Big East Challenge.
ST. JOHN'S LEGEND LeROY ELLIS PASSES AWAY AT 72
LeRoy Ellis, who played at St. John's from the 1959-60 season through 1961-62, passed away on Saturday, June 2nd in Portland, Oregon. Ellis was 72 and had a long battle with prostate cancer.
Ellis ranks 25th on the St. John's all-time scoring list with 1,289 points, and his 927 rebounds ranks fifth all-time at St. John's. Ellis' 16.5 rebounding average in a season is a St. John's record. His 30 rebounds in a game vs. NYU on December 30, 1961, are the most ever for a St. John's player.
Ellis is a Brooklyn native and had his big season with St. John's in 1961-62 when he won the Haggerty Award which is given to the most valuable collegiate player in the metropolitan area. That season, he led the team with a 23.5 scoring average and 430 rebounds. He was named to several All-America, all-star, and all-tournament teams in his career at St. John's.
St. John's Hall of Fame Coach Lou Carnesecca said of Ellis, "For a big guy, he was awfully quick. You can never catch him. He spent 14 years in the NBA and you could not catch him, longitudinally. He had a soft touch and was a good rebounder. He was a quiet guy, you never knew he was around. But when he was on the court, you always knew."
Ellis was drafted by the Los Angeles Lakers and played in the NBA for 14 seasons with the Lakers, Baltimore Bullets, Portland Trail Blazers, and Philadelphia 76ers. He averaged 9.7 points and 8.3 rebounds in his career, and played on the 1972 World Champion Lakers.  
ST. JOHN'S TO PLAY SOUTH CAROLINA IN SEC/BIG EAST CHALLENGE
It was announced recently that St. John's will take on South Carolina as part of the SEC/Big East Challenge on November 29th at Carnesecca Arena. The game will air nationally on ESPN2/ESPNU.
The South Carolina Gamecocks will be a team to watch as they have a new coach, Frank Martin, who led Kansas State to the NCAA Tournament this past season.
St. John's Head Coach Steve Lavin said of the matchup with South Carolina, "Our fans will enjoy this intersectional matchup against the Gamecocks at Carnesecca in late November. Frank Martin will have his South Carolina team ready to compete when they come to Queens. With national television and the fired-up Gamecocks coming to town, the Johnnies will get a good early test to see where we are as a team."
There are 12 contests as part of the SEC/Big East Challenge orchestrated by ESPN. It will run from Thursday, December 29th through Saturday, December 1st at the home sites of the schools involved. Other matchups are Georgetown vs. Tennessee on Nov. 30th, Marquette at Florida on Nov. 29th, Notre Dame vs. Kentucky on Nov. 29th, Syracuse at Arkansas on Nov. 30th, Rutgers at Mississippi on Dec. 1st, Seton Hall at LSU on Nov. 29th, Cincinnati vs. Alabama on Dec. 1st, DePaul at Auburn on Nov. 30th, Providence vs. Mississippi State on Dec. 1st, USF vs. Georgia on Nov. 30th, and Villanova at Vanderbilt on Dec. 1st.
Earlier, on May 17th, St. John's announced that they will take on St. Francis of Brooklyn in the Brooklyn Hoops Winter Festival at the new Barclays Center on Saturday, December 15th.
In November 2011, St. John's announced they will partake in the 2012 Charleston Classic. They will compete against Baylor, Boston College, Charleston, Colorado, Dayton, Auburn, and Murray State. Officially called the 2012 DirecTV Charleston Classic, it will take place on Thursday, November 15; Friday, November 16, and Sunday, November 18 at the TD Arena in Charleston, South Carolina.