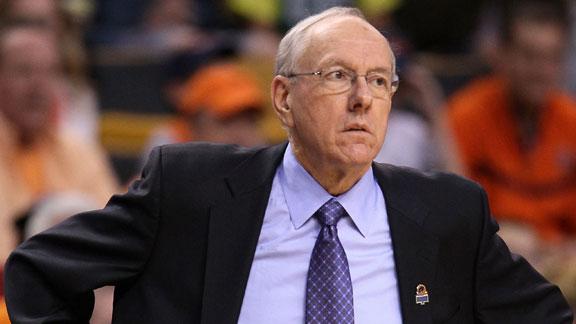 Jim Boeheim and Syracuse may be slated to travel to Arkansas, but previous nonconference commitments have backed Orange into a corner with Big East. (Photo courtesy of ESPN)
It just isn't an offseason without Syracuse University being thrust into the limelight for something that is nothing close to controversial. At least this time, it is not something that transcends the court the way last year's sexual abuse allegations against former assistant coach Bernie Fine did.
Yesterday's unveiling of the SEC/Big East Challenge matchups placed the Orange into a road meeting with Arkansas on November 30th, but due to the Orange already having an excess of nonconference schedule commitments, Syracuse athletic director Daryl Gross e-mailed conference officials to state his school was "overcommitted" and could not play the game, but since issued a statement indicating that the conflict is working on being resolved. Of course, the Orange; along with Pittsburgh, are departing the Big East in favor of the Atlantic Coast Conference, which only adds more fuel to the fire.
Syracuse would have been required to travel this year anyway as part of the two-year commitment with the interconference series after hosting Florida at the Carrier Dome a year ago; so the fact that they would have to play a road game earlier than usual is not the issue, contrary to the beliefs of certain fan bases.
Syracuse has earned the right to play more home games earlier in the year over the Hall of Fame career of coach Jim Boeheim, who has more 20-win seasons (34) than any other active coach in the nation. Syracuse has teams lining up at their doors to play the Orange every season, and rightfully so. On top of that, the Orange schedule reportedly includes a meeting on board an aircraft carrier with San Diego State, as well as a December 22nd showdown with Temple on a neutral court in Madison Square Garden that Orange fans turn into a home game better than the New York Knicks; who actually play in the "World's Most Famous Arena" on a regular basis, do. The Orange have also committed to the 2013 Maui Invitational, and thus may be looking to schedule more challenging games this season to bolster their status for the 2013-14 campaign.
Whether they play the Arkansas game or not, Syracuse will still more than likely be one of the favorites in the Big East, which may ultimately make this a moot point at the end of the season. Until then, the Orange are once again thrust into the light before they even take the court.
Haven't we all been down this road before?