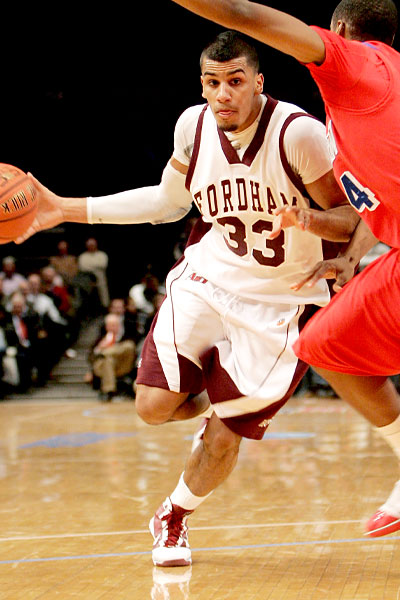 Going into his senior season, Chris Gaston will lead Fordham into efforts to prove themselves against stronger and stiffer competition. (Photo courtesy of ESPN)
Last season proved to be a turning point for Fordham in year two of the Tom Pecora era. The Rams may have finished 10-19, but included in those ten victories were rousing home triumphs over Georgia Tech and eventual Ivy League champion Harvard, the latter a Top 25 team on the January night in which the Crimson entered Rose Hill Gym. Yet for most college basketball aficionados, the road to upward mobility that Fordham is currently riding along has become longer and perhaps more winding, thanks in large part to the arrivals of mid-major darlings Butler and Virginia Commonwealth by way of the Horizon League and Colonial Athletic Association, respectively.
Nevertheless, senior forward Chris Gaston and a quartet of young guards led by junior Branden Frazier will lead the Rams into battle as the Bronx program looks to be one of the twelve schools in the Atlantic 10 Tournament, and potentially into late-round tournament action in Brooklyn's Barclays Center. Here is a brief look at what awaits the Rams, starting with their conference matchups and known nonconference opponents:
Butler
- Brad Stevens and the Bulldogs come to Rose Hill in their first year as an A-10 program, and should be one of the league's better teams right away. Andrew Smith and Khyle Marshall bring national championship game experience back to Butler this season, and the Bulldogs also pick up highly touted transfer Rotnei Clarke, who sat last season out.
Charlotte
- The 49ers will return to Conference USA after this season, and were one of the teams that deflated Fordham's season last year when they handed the Rams a bitter home loss. This year, Alan Major's team will host Fordham, and leading rebounders Chris Braswell and DeMario Mayfield both return for another season where they will also be counted on the lead the Charlotte offense.
Dayton
- The Flyers were another team to hand the Rams a close defeat when they prevailed in overtime last February at Rose Hill. Chris Johnson is no longer around for Archie Miller, but the coach retains three of his other star players, point guard Kevin Dillard and big men Josh Benson and Matt Kavanaugh for a matchup where Dayton will own a significant homecourt advantage.
Duquesne
- Jim Ferry returns to New York to face the Rams, as the former LIU Brooklyn coach now leads the Dukes into battle. Ferry lost superstar guard T.J. McConnell after he transferred to Arizona, and will have a young team led by senior guard Sean Johnson in a matchup that the Rams should be able to win.
George Washington
- Mike Lonergan's second year at the helm of the Colonials includes a home game with the Rams, who defeated George Washington last season. Forwards David Pellom and Nemanja Mikic return in an effort to replace the offensive productivity of Tony Taylor, and will be aided by Villanova transfer Isaiah Armwood, who regains eligibility this season.
La Salle
- The Explorers were one of the many upset victims the Rams counted last season, but now Fordham must travel to Philadelphia this time around to face a team that will be a conference title contender. Dr. John Giannini returns nearly everyone from a team that finished in the top half of the A-10 last season, including leading scorers Tyreek Duren, Ramon Galloway, Sam Mills and Jerrell Wright.
Massachusetts
- The Minutemen nearly shocked the world after their conference tournament upset of Temple, and parlayed that into a semifinal appearance in the NIT. Former Hofstra transfer Chaz Williams and one-time Seton Hall signee Jesse Morgan anchor the Minutemen backcourt, and UMass returns the services of 6-9 swingman Raphael Putney, who will be critical to Derek Kellogg's front line.
Rhode Island
- Dan Hurley returns to New York after leaving Wagner for the Ocean State, where he will engage in a battle of the Rams. The two teams split a home-and-home series last year, highlighted by a dramatic Fordham win at Rose Hill last January. Guard Billy Baron will team with a healthy Nikola Malesevic on the wing to lead the Rhode Island attack after rebounding extraordinaire Jonathan Holton was dismissed from the team in the offseason. This should be one of Fordham's more physical matchups of the year.
Richmond
- Chris Mooney and the Spiders come to Rose Hill in a year where Richmond will look for its second conference championship in three years. All three of Mooney's guards return, led by leading scorers Darien Brothers and Kendall Anthony, and point guard Cedrick Lindsay completes the triumvirate. However, the Spider frontcourt will take a step back with the loss of Darrius Garrett, which could provide the Rams with an opportunity to steal a win against one of the A-10's elite programs.
St. Bonaventure
- The Bonnies decimated Fordham on two occasions en route to the NCAA Tournament, but the good news for the rest of the conference is that do-everything forward Andrew Nicholson has graduated. Nicholson is not the only one coach Mark Schmidt loses this season, but forward Demitrius Conger and sharpshooting guard Matthew Wright remain to keep the Bonnies in the A-10's upper echelon before and after their home game against the Rams.
Saint Joseph's
- Phil Martelli and the Hawks will be Fordham's home-and-home draw this year, and both games will be challenging for the Rams. The Hawks return everyone from last year's roster, and guards Carl (Tay) Jones and Langston Galloway will be the catalysts of a dynamic offense that could be a sleeper team in the A-10. C.J. Aiken, Halil Kanacevic, and sixth man Ron Roberts also make up one of the most underrated front lines in the nation.
Saint Louis
- Rick Majerus' Billikens are also Atlantic 10 championship contenders, and will bring into Rose Hill a team that nearly upset Michigan State in the NCAA Tournament. Forward Brian Conklin is the only departing player from last year's squad, which means guards Kwamain Mitchell and Jordair Jett join big men Cody Ellis and Rob Loe in an attack whose X-factor could very well be swingman Dwayne Evans.
Temple
- The Owls leave for the Big East after this season, but not before making one final appearance at Rose Hill. West Virginia transfer Dalton Pepper is now eligible for Fran Dunphy, and will join Khalif Wyatt as Temple's primary scoring options. The Owls also welcome a pair of talented freshmen aboard in Daniel Dingle and Quenton DeCosey, who will ease the blow created by Aaron Brown's transfer.
Virginia Commonwealth
- Shaka Smart brings into the A-10 a Ram team that loses Bradford Burgess, but welcomes his younger brother Jordan into a fold that already includes incumbents Juvonte Reddic, Rob Brandenberg, Treveon Graham and Troy Daniels. Point guards Darius Theus and Briante Weber will create matchup problems both on the offensive end and in VCU's patented "havoc" defense in their home game against Fordham.
Xavier
- Fordham travels to the Cintas Center for a showdown with Chris Mack and the Musketeers, who lose their all-star backcourt of Tu Holloway and Mark Lyons this year. However, Xavier returns swingmen Dez Wells and Justin Martin among others, and those two will combine with Travis Taylor up front. Brad Redford becomes Xavier's primary guard, and will mentor a group that includes incoming freshman Semaj Christon as the Musketeers rebuild their backcourt.
Siena
- The Saints come down the New York State Thruway to return the favor from a meeting that the Rams won last season. Siena loses seniors Owen Wignot and Kyle Downey, but retains dynamic point guard Evan Hymes in addition to O.D. Anosike, who was only the nation's leading rebounder last year.
Princeton
- The Tigers face Fordham on a neutral court at the Barclays Center in December, and Princeton presents a unique challenge for the Rams. Forward Ian Hummer leads the unorthodox Tiger offense, and also welcomes back fellow starters Mack Darrow, T.J. Bray and Patrick Saunders, each of whom is a viable outside shooting threat.
St. John's
- After a year in which the Red Storm played with six men, head coach Steve Lavin returns from prostate cancer surgery along with a group led by sophomore shooting guard D'Angelo Harrison to face the Rams at Madison Square Garden. The Johnnies also return point guard Phil Greene to a group that introduces forward Jakarr Sampson, big man Orlando Sanchez and Texas A&M transfer Jamal Branch among others. Fordham has played St. John's close in recent years, defeating them in 2010 and only losing by six last year.
Manhattan
- The Battle of the Bronx takes place at Rose Hill this year, and Steve Masiello will bring the MAAC favorites into battle with the Jaspers. Senior guard George Beamon could very well be the conference's preseason Player of the Year, and point guard Michael Alvarado is one of the best at ball control in the region. If Maryland transfer Ashton Pankey gets his eligibility waiver, the Jaspers will have a mismatch throughout the season.