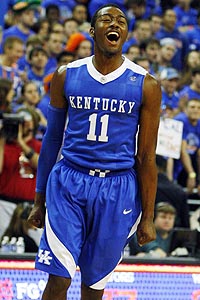 The enigma that is John Wall makes his NCAA Tournament debut as No. 1 seed in the East regional Kentucky prepares for its first tournament game against East Tennessee State. (Photo courtesy of ESPN)
Memo to all of the other fifteen teams in the East regional: Get ready to see the John Wall dance. The freshman leads top seed Kentucky into the NCAA Tournament against East Tennessee State, and here's a preview of the regional.
Teams & Seeds: (1) Kentucky, (2) West Virginia, (3) New Mexico, (4) Wisconsin, (5) Temple, (6) Marquette, (7) Clemson, (8) Texas, (9) Wake Forest, (10) Missouri, (11) Washington, (12) Cornell, (13) Wofford, (14) Montana, (15) Morgan State, (16) East Tennessee State
Players to Watch: John Wall, (Kentucky) DeMarcus Cousins, (Kentucky) Patrick Patterson, (Kentucky) Da'Sean Butler, (West Virginia) Lazar Hayward, (Marquette)
Highlight Matchup: The potential Elite Eight meeting between Kentucky and West Virginia if both teams advance that far, where it will be Wall and Butler doing battle in crunch time.
Upset Special: Cornell over Temple. This game will be a long-distance shootout between Juan Fernandez of Temple and Cornell's Ryan Wittman in a game that the Big Red can not only win, but win convincingly.
Marquee Coaches: John Calipari, (Kentucky) Bob Huggins, (West Virginia) Bo Ryan, (Wisconsin) and Rick Barnes (Texas)
Winner: Kentucky. This is probably the easiest road for a 1 seed to the Final Four despite other beliefs, as the only team standing between the Wildcats and Indianapolis is really West Virginia.