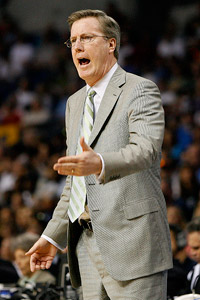 After Paul Hewitt surprisingly declined an offer to coach St. John's, the Red Storm could be pursuing Siena's Fran McCaffery to replace Norm Roberts. McCaffery is also under consideration at Seton Hall. (Photo courtesy of ESPN)
If you're following the situation involving St. John's University, you may find yourself wondering why the Johnnies are finding it difficult to replace Norm Roberts, who was dismissed last week after a six-year tenure in Queens. Nonetheless, university president Rev. Donald Harrington and athletic director Chris Monasch are once again headed back to the drawing board to find a prospective candidate after Paul Hewitt, who was also pursued by St. John's in 2004 before Roberts was hired, turned the Red Storm down again to remain at Georgia Tech.
The leading candidate now appears to be Virginia Tech's Seth Greenberg, but the Long Island product has already told players and recruits that he intends to stay with the Hokies next season. Should Greenberg do that, other names that have been thrown around include Siena's Fran McCaffery, also in the mix at Seton Hall; as well as Cornell coach Steve Donahue, who could emerge as the favorite if the Big Red are able to upset Kentucky in their East regional semifinal matchup tonight in the NCAA Tournament.
Hewitt, who led Georgia Tech to the national championship game in 2004, attributed his declining of the St. John's offer to what he called a "family decision."