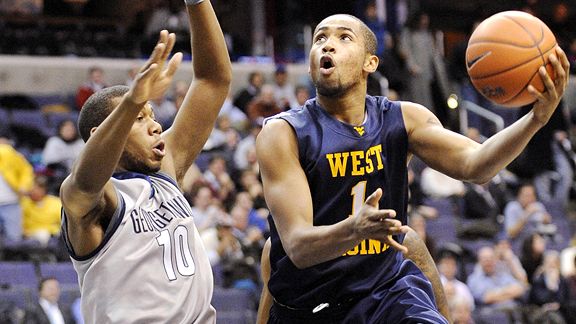 While many experts predicted Da'Sean Butler and West Virginia would advance into Sweet 16, hardly anyone thought only one other Big East school (Syracuse) would be joining them there. (Photo courtesy of ESPN)
The beast is still alive, but clinging to life support when you take into consideration that only two of its thirteen programs invited to postseason tournaments are still playing.
Not surprisingly, the two schools still alive are the Big East regular season champion, (Syracuse) and postseason champion, (West Virginia) which won the Big East tournament two weeks ago at Madison Square Garden. The Mountaineers and Orange are both in action tomorrow as the NCAA Tournament resumes, with West Virginia taking on Washington in an East regional semifinal, while Syracuse faces Butler in the West. The Mountaineers will be without the services of starting point guard Darryl "Truck" Bryant, who is out for the remainder of the season with a broken foot. He will be replaced in Bob Huggins' starting lineup by backup Joe Mazzulla. For Syracuse, it is still unknown as to whether or not Arinze Onuaku will make his return to the Orange lineup after injuring his quadriceps muscle in the Orange's Big East tournament game against Georgetown on March 11th.