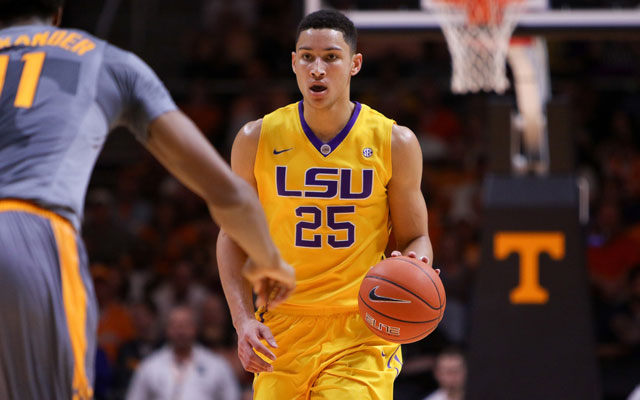 Following reported promise to be selected first overall, Ben Simmons is all but etched in stone as newest member of Philadelphia 76ers. (Photo by CBS Sports)
Brooklyn gears up for the NBA Draft again this week, with some of the biggest names in college basketball last season set to converge on Barclays Center Thursday night to officially take their talents to the professional ranks.
Unlike last season, where it was not official, but still expected, that Karl-Anthony Towns would indeed be drafted first overall, the Philadelphia 76ers ended almost all the hoopla of who the top pick will be, reportedly promising LSU forward Ben Simmons that he would be the franchise's third No. 1 overall pick, and first since Allen Iverson in 1996. Simmons himself teased this verbal guarantee Tuesday afternoon, posting a photo of himself at the free throw line during his 76ers workout to his Instagram account, with the comment "trust the process," which was the slogan used by former Sixers general manager Sam Hinkie when criticized for his method of building a roster.
After Simmons, the Los Angeles Lakers are locked in on their choice in the second spot, where they are expected to draft Duke forward Brandon Ingram, who was also considered at the No. 1 position. The Boston Celtics, picking third, are undecided as to where they will go with their pick, and have multiple options with the selection they acquired from the Brooklyn Nets as part of the trade that sent Paul Pierce and Kevin Garnett to the Big Apple.
For the seventh consecutive year, we will attempt to handicap how Thursday night plays out with our mock draft of the first round. In our precursor to Thursday's annual running diary of draft night, we invite you to analyze our projections, and join us in the inevitable criticism to follow:
1) Philadelphia 76ers: Ben Simmons, F, LSU
The best player available is the first player off the board. A passer gifted far beyond the contemporaries that possess his 6-10 frame, Simmons can literally do it all. A Magic Johnson-esque athlete, Simmons joins Nerlens Noel and Jahlil Okafor on the Sixers' front line, furthering the mounds of upside and promise for the future in the City of Brotherly Love.
2) Los Angeles Lakers: Brandon Ingram, F, Duke
Life after Kobe Bryant begins with the arrival of Ingram, who comes to the City of Angels as a slasher that will attack the basket unlike many others at the small forward position. Ingram will thrive off D'Angelo Russell's court vision and Julius Randle's post presence, while also getting an ability to shine early and often in new coach Luke Walton's innovative offense.
3) Boston Celtics: Kris Dunn, G, Providence
If the Celtics do not take Dunn, who would remain in New England with this pick, they will likely use the pick on Cal's Jaylen Brown. However, Dunn would be Boston's long-awaited replacement to Rajon Rondo, and would flourish even more in Brad Stevens' system.
4) Phoenix Suns: Jaylen Brown, G, California
CBS Sports' Jon Rothstein, who has been one of the best in the business over the years when projecting draft destinations, reported that the Suns, along with the Celtics and Minnesota Timberwolves, have done the most research on Brown leading up to Thursday night. A swingman that could play any of three different positions on the floor, Brown is the perfect complement to Eric Bledsoe and Brandon Knight in the backcourt while also impacting the front line more than anyone else available could.
5) Minnesota Timberwolves: Buddy Hield, G, Oklahoma
With Ricky Rubio, Andrew Wiggins and Karl-Anthony Towns already in the fold, Minnesota can use a shooter this time around, and who better than the most prolific one in college basketball last season? Hield, who wowed the nation with his displays en route to a Final Four run with Oklahoma, would be the unquestioned choice for the Timberwolves if Jaylen Brown was not available, and would fit right in for new head coach Tom Thibodeau.
6) New Orleans Pelicans: Jamal Murray, G, Kentucky
The Pelicans are no stranger to John Calipari products, drafting Anthony Davis first overall in 2012. This year, they get Murray to fall into their laps, benefiting from the Canadian's effortless ability to drain three-pointers and rack up points at a rapid clip. Between Murray, Eric Gordon and Jrue Holiday, New Orleans has a young backcourt trio that can keep them competitive in the Western Conference for years to come.
7) Denver Nuggets: Dragan Bender, F, Croatia (Maccabi Tel Aviv)
Bender has been rumored to go as high as third, but is a luxury Denver can ill afford to pass up. The 7-1 Bender matches Jusuf Nurkic and Kenneth Faried well inside, and would offer a second perimeter option behind Danilo Gallinari.
8) Sacramento Kings: Domantas Sabonis, F, Gonzaga
The run on power forwards will begin with this pick, as Sabonis, whose performances in workouts and the NBA Draft Combine shot him up the board, heads to Sacramento to bolster an already rich front line of DeMarcus Cousins, Rudy Gay, and Willie Cauley-Stein. Perhaps the most efficient big man in the draft, Sabonis gives new head coach Dave Joerger an instant offense infusion down low.
9) Toronto Raptors: Marquese Chriss, F, Washington
Chriss has tremendous upside, and has been projected to go as high as third on some draft boards. In between Jonas Valanciunas and DeMar DeRozan is an aging Luis Scola, which gives Toronto to the flexibility to land Chriss, a burgeoning big man whose numbers last season translate to 27 points per game when adjusted per 48 minutes.
10) Milwaukee Bucks: Henry Ellenson, F, Marquette
Milwaukee has their pick of as many as four different players in this spot, but it would be hard to picture the Bucks passing on homegrown talent in Ellenson, a big man with a unique blend of rim protection and perimeter shooting that have compelled some to label him as potentially the next Dirk Nowitzki. Ellenson and Jabari Parker make for an imposing frontcourt tandem that will give Eastern Conference teams fits both short-term and long-term.
11) Orlando Magic: Jakob Poeltl, C, Utah
Orlando has needed an additional interior presence since trading Tobias Harris, and new head coach Frank Vogel gets Poeltl gift-wrapped for them. The versatile Austrian will be a seamless transition in between Aaron Gordon and Nikola Vucevic, giving the Magic a deceptively strong trio down low that will continue their march toward resurgence.
12) Utah Jazz: Wade Baldwin IV, G, Vanderbilt
The former high school teammate of Karl-Anthony Towns in New Jersey, Baldwin gives the Jazz an insurance policy at the point while Dante Exum continues to rehab from a torn ACL. Baldwin should be able to play right away regardless of whether or not he starts, and might be the most complete option for a Utah team in need of a guard.
13) Phoenix Suns: Deyonta Davis, F, Michigan State
With Jaylen Brown already secured at No. 4, Phoenix gets their second lottery haul by beefing up the front line even more with Davis, the rare Tom Izzo one-and-done who will make his presence felt in the Valley of the Sun sooner rather than later alongside center Alex Len, himself a former lottery pick.
14) Chicago Bulls: Dejounte Murray, G, Washington
Derrick Rose is rumored to be on the block, as is Jimmy Butler, so the Bulls take the first step in their inevitable retooling of the backcourt with Murray, a combo guard who averaged 16 points, six rebounds and four assists per game for Washington last season and seems tailor-made for head coach Fred Hoiberg's offensive schemes.
15) Denver Nuggets: Furkan Korkmaz, G, Turkey (Anadolu Efes)
Another international player for the Nuggets, one they can stash and watch develop overseas. Denver may do the same with Dragan Bender if they indeed draft him, as his buyout with Maccabi Tel Aviv may prevent him from coming stateside in the immediate future. A playmaker with a strong ability to make shots, Korkmaz will be a threat for the Nuggets whenever he decides to haul his tack to America.
16) Boston Celtics: Cheick Diallo, F, Kansas
Diallo was among the most hyped prospects last season even after he got cleared to suit up for Kansas, and he is still winning pundits over after his impressive pre-draft workouts, with scouts raving about his high motor. Diallo benefits from a patient Brad Stevens if he gets selected by Boston, who can pair him with Kris Dunn to create an impressive opening-round payout.
17) Memphis Grizzlies: Malachi Richardson, G, Syracuse
Richardson, the highly touted Roselle Catholic and Trenton Catholic standout that led Syracuse to an unlikely Final Four run last March, has reportedly been promised by Memphis that he would slide no further than No. 17. In him, the Grizzlies can wean him along gradually behind proven veterans in Tony Allen and Vince Carter, and play him off the ball alongside Mike Conley Jr. for a team that will once again be a Western Conference playoff contender.
18) Detroit Pistons: Skal Labissiere, C, Kentucky
Labissiere should almost certainly be a lottery pick, but if he manages to fall this far, Detroit will have one of the biggest steals on draft night. The defensive game-changer has been criticized for his inconsistent offensive skill set, but what he lacks in points, he makes up for on the other end of the basketball, and would be part of a formidable combination down low with Andre Drummond.
19) Denver Nuggets: Timothe Luwawu, G, France (Mega Leks)
Luwawu is an athletic three-point shooter with potential that Denver could very well stash as he continues to hone his craft overseas. Ranked 15th overall by DraftExpress, the Frenchman averaged over 14 points per game last season, and appears to be peaking at just the right time.
20) Indiana Pacers: Taurean Prince, F, Baylor
Indiana is in need of a rebounding presence at the power forward position, and they get one in Prince, who impressed for Scott Drew while at Baylor. Prince and Myles Turner will ease the burden on Paul George, while also protecting the rim and giving the Pacers more options to space the floor.
21) Atlanta Hawks: Damian Jones, C, Vanderbilt
Jones will benefit from the tutelage of Paul Millsap and Al Horford, while getting the opportunity to showcase his talents significantly in Mike Budenholzer's rotation. It is possible for Atlanta to stash Ivica Zubac in this spot, but the pick here should be the more polished Jones, who can contribute right away.
22) Charlotte Hornets: Denzel Valentine, G, Michigan State
Charlotte gets an absolute steal in Valentine, a combo guard who can play three different positions and be enough of a wild card for Kemba Walker to continue his evolution at the point guard spot. The Hornets could also go for a front line option alongside Frank Kaminsky and Al Jefferson, but Valentine makes way too much sense to pass up.
23) Boston Celtics: Malik Beasley, G, Florida State
The Celtics' third first-round pick is spent on the precocious freshman Beasley, whom prognosticators see going to the Celtics at No. 16. If Boston decides to take Jaylen Brown over Kris Dunn at No. 3, then the pick here will almost certainly be Notre Dame's Demetrius Jackson.
24) Philadelphia 76ers: Demetrius Jackson, G, Notre Dame
The Sixers still need a point guard even after they take Ben Simmons and his otherworldly passing skills at No. 1, and Jackson is regarded as one of the more complete players at his position. Sixers management had a ringside seat to his talents last March, with Notre Dame making a run to the NCAA East Regional final at Wells Fargo Center, and Jackson is not only NBA-ready, but the perfect blend of scorer and facilitator for this young team to finally make some headway in the Eastern Conference.
25) Los Angeles Clippers: DeAndre' Bembry, F, Saint Joseph's
Bembry, the Atlantic 10 Player of the Year, will be the first St. Joe's product drafted since Jameer Nelson and Delonte West were taken on the heels of the Hawks' magical 2004 season. A threat at either the two or three, Bembry and Jeff Green will cause matchup problems for opponents, giving Doc Rivers the chance to play off of Blake Griffin and Chris Paul more freely.
26) Philadelphia 76ers: Malcolm Brogdon, G, Virginia
A sleeper in this spot, as he has been projected in the middle of the second round, Brogdon will make an impact wherever he lands. In Philadelphia, the former Virginia standout will benefit greatly from the young core around him, and will enhance his already rich playmaking and leadership skills for a team on the rise.
27) Toronto Raptors: Ivica Zubac, C, Croatia (Mega Leks)
Zubac continues to recover from a foot injury that hampered him two years ago, and can easily be stashed by Toronto similar to how they were able to store Jonas Valanciunas overseas before he was ready to come to Canada and contribute for the Raptors. Zubac's defense needs work, but his 7-4 wingspan will have front office types salivating at his potential.
28) Phoenix Suns: Brice Johnson, F, North Carolina
Tyson Chandler is not getting any younger, and what Mirza Teletovic brings in perimeter potential, he lacks in the interior. Phoenix solves both problems with Johnson, who can be both a forward or a center in the NBA, and has a nose for the basketball like few others in this draft class. North Carolina's biggest revelation on the road to a national championship game appearance, Johnson's 39-point, 28-rebound outburst against Florida State is only the beginning of what he can be for the next decade.
29) San Antonio Spurs: Tyler Ulis, G, Kentucky
Jon Rothstein, again quite adept at pointing out where under-the-radar targets may end up, reported Monday that the Spurs had done "extensive research" on Ulis in the days leading up to the draft. San Antonio is notorious for thinking outside the box on draft night, and could use their first-round choice as a stash pick, but Ulis, regarded by John Calipari as his best floor general at Kentucky, would fit Gregg Popovich's system like a glove.
30) Golden State Warriors: Diamond Stone, C, Maryland
The Warriors' frontcourt ended up being exposed during Cleveland's NBA Finals comeback, a lot of which had to do with the absence of Andrew Bogut and inefficiency of Festus Ezeli. Stone, albeit a one-and-done at Maryland, showed an ability beyond his years in College Park, and should be able to thrive alongside Draymond Green in Steve Kerr's system.