The tradition continues for a fifth consecutive year.
While the actual festivities at Barclays Center take place 20 minutes away from our home base in Queens, we will cover the 2016 NBA Draft from Daly Dose headquarters, making observations on the 60 players selected, the storylines surrounding them, and of course, our man-crush on Fran Fraschilla.
Here we go, and we hope you join us for the ride.
7:02 - Rece Davis introduces the panel. First up, Jay Bilas, (ugh) who uses the word "potential" within his first minute. No wingspan or tipping it back just yet.
7:02 - Michael Wilbon joins the set this year with Davis, Bilas and Jalen Rose, replacing Jay Williams. Hopefully Mr. PTI is a lot more bearable than Williams and Bill Simmons before him.
7:04 - Chris Broussard is following the 76ers tonight. No mention of his sources so far.
7:06 - Andy Katz and Marc Stein updating everyone on trade rumors and possible news to watch during the course of the night. Stein is in for Jeff Goodman, who handled this last year.
7:12 - While scrolling through the Twitter before shutting it down for the next few hours, the great Josh Newman; who you may know from the Asbury Park Press, SNY, and his occasional Monmouth podcast hits on this site with yours truly, tweeted the following picture: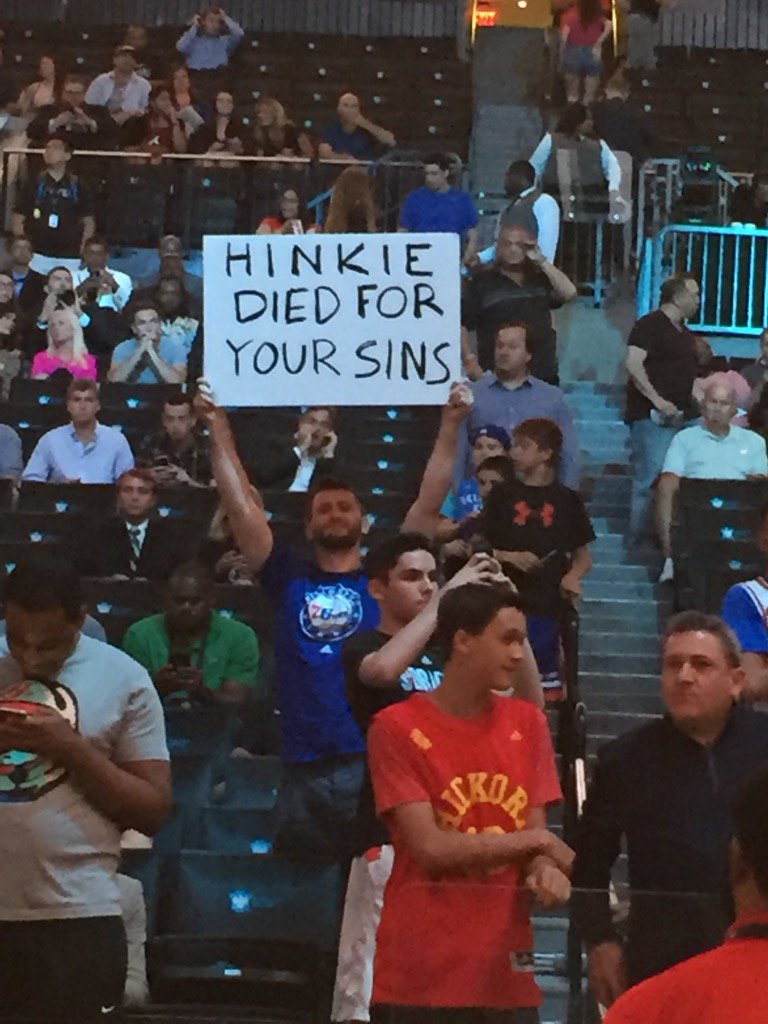 7:15 - Not gonna lie, as a Ranger fan, it reminds me of this:
7:17 - First "wingspan" reference from Bilas, coming on the pregame show.
7:24 - ESPN comes back from break with video of the Porzingis selection. What a difference a year makes.
7:25 - FRAN FRASCHILLA!!!
7:26 - The people's champion of international prospects:
7:28 - Always great to see Tom Penn explain the salary cap. Really love what he brings to the table.
7:32 - Adam Silver makes his way out to the usual chorus of boos, which still seem mild compared to the classic David Stern reception.
7:32 - Silver gets booed a little louder after congratulating the Cavaliers and Warriors on their NBA Finals performances.
7:34 - The Philadelphia 76ers are now on the clock. Let's see how long it takes to get the card with Ben Simmons' name on it.
7:36 - The Sixers were reportedly looking to move up to No. 3 overall. Marc Stein reports that Philadelphia is offering their two late first-round picks, No. 24 and No. 26, plus Nerlens Noel and Robert Covington, to the Boston Celtics.
7:37 - Here's Adam Silver.
7:37 - With the first pick in the 2016 NBA Draft, the Philadelphia 76ers select Ben Simmons, forward from Louisiana State University.
7:37 - Still no "trust the process" chants from the Sixers fans in attendance at Barclays Center. However, I covered Simmons in that very arena during the Legends Classic last November, and didn't see anyone more deserving of No. 1 overall all season.
7:40 - The draft hats aren't as brutal as I expected. Neither is Lisa Salters doing the interviews.
7:41 - Before the Lakers take Brandon Ingram at No. 2, here's Tom Penn with a breakdown of the Sixers' cap and roster situations.
7:43 - As expected, Brandon Ingram goes second overall to the Los Angeles Lakers, announced by fellow Dukie Adam Silver.
7:43 - Ingram booed, maybe because of his Durham connections. Or are they saying Boo-urns?
7:44 - Hashtag wingspan.
7:46 - Bilas' Duke pride didn't show for Ingram as much as it did for Jahlil Okafor last year. Maybe he's toning it down. He's also said "wingspan" just twice tonight.
7:48 - Here's Boston on the clock with the third pick. This is where the draft takes a turn. As Mike Francesa would say, "da witchin owah" begins here:
7:51 - Boston will make the pick, but will they trade it? Here's the commissioner.
7:51 - Boston takes Jaylen Brown of Cal third overall. CBS Sports' Jon Rothstein said the Celtics had done extensive research on Brown, so maybe this isn't as much of a surprise even though the vast majority of experts thought Kris Dunn was a lock in that spot.
7:52 - A third wingspan reference, but no drinking game mention.
7:53 - Jaylen Brown playing for Brad Stevens will be a lot of fun to watch if Boston keeps this pick.
7:54 - As well-spoken as Brown seems to be, he looks like a Las Vegas blackjack dealer with that suit.
7:56 - We go now to the Phoenix Suns, who are on the clock fourth overall. Their backcourt seems solid enough, so Dunn might not be the call here. Marquese Chriss, the burgeoning big man from Washington, is a possibility. Dragan Bender, this year's highest-rated international prospect, might be in play as well.
7:58 - Dragan Bender looks like a 7-1 Jeff Gordon, with Kurt Busch's ears. Sorry, I watch a lot of NASCAR.
7:58 - Bilas quotes Hyman Roth from "The Godfather," saying "this is the business we have chosen." Everytime I hear that line, it reminds me of Jimmy Patsos, who always finds a way to get it into almost every interview he does with me.
7:59 - Bender goes to Phoenix.
8:00 - NO! DAD! WHAT ABOUT YOU?
8:00 - Fran Fraschilla for the first time. Life is beautiful.
8:01 - Bender's trying out for a scholarship.
8:04 - ESPN, trying its best not to tip the pick, shows Buddy Hield as they cut to break. It's worth noting that Adrian Wojnarowski said Hield was probably going to be the guy earlier this afternoon. Then again, Woj may not have expected Kris Dunn to still be on the board at this juncture.
8:06 - For the sake of avoiding scoops, I'm not going on Twitter to find out if Dunn's past shoulder woes are the reason why he's fallen this far.
8:06 - Kris Dunn goes to Minnesota at No. 5. Scoring point guard and lockdown defender. Tom Thibodeau just won the Super Bowl with this pick.
8:09 - Andrew Wiggins, Karl-Anthony Towns, and Kris Dunn. With or without Ricky Rubio, and with Al Jefferson as a supporting cast member, Minnesota is going to be scary good.
8:13 - Buddy Hield, who was pegged for Minnesota before Kris Dunn fell outside the top three, lands in the Big Easy, going sixth to the New Orleans Pelicans.
8:14 - Have no fear, Buddy's here.
8:16 - The suits in Bristol head to break with Jamal Murray in plain sight of the cameras. The Canadian marksman is a target for the Denver Nuggets, who pick seventh.
8:20 - Denver has this pick thanks to the Carmelo Anthony trade. Always love a good pot shot at Dolan.
8:21 - Jamal Murray is indeed the pick for Denver, extending the streak of a Kentucky player going in the top seven to seven years. That's every season under John Calipari, who came to Lexington in 2009.
8:23 - Murray and Emmanuel Mudiay, with Kenneth Faried down low. Watch out for Denver next season.
8:25 - Expect the run on forwards to start with this next pick, as the Sacramento Kings are on the clock at No. 8. A multitude of options awaits here, including Marquese Chriss, Domantas Sabonis, or even Deyonta Davis.
8:27 - Marquese Chriss, who shot so far up the draft board that some analysts had him as high as third, heads down Interstate 5 from Seattle to Sacramento, as he is the Kings' choice at eighth overall.
8:28 - Andy Katz breaks in to confirm that Chriss will be traded to the Phoenix Suns, who were heavily rumored to select him at No. 4. However, Dragan Bender will remain in Phoenix, so the Suns will walk out of Brooklyn with two top 10 picks.
8:28 - Phoenix has two more first-round picks, No. 13 and No. 28 overall. Expect one or both to be made for Sacramento later on.
8:29 - It takes Rece Davis to mention the Bilas drinking game after an hour. Shocking on Jay's part, but we play on.
8:33 - Toronto on the clock. Everyone expects the Raptors to take a big man with the impending loss of Bismack Biyombo on the horizon.
8:33 - Adam Silver confirms the suspicions. The Raptors have selected Utah's Jakob Poeltl ninth overall.
8:34 - It's pronounced YAHK-ub PURT-uhl, with Poeltl sounding like "turtle."
8:34 - I like turtles.
8:36 - Expecting homegrown talent Henry Ellenson to stay in his native Wisconsin with the Milwaukee Bucks at No. 10. A guard here wouldn't be shocking, though.
8:40 - One-third of the way through now. Milwaukee shocks the world by taking Thon Maker, the high school phenom who some thought may not have been eligible for the draft in the first place, tenth overall.
8:41 - This is where my inner Orlando Magic fan comes out. If Rob Hennigan is reading this, he needs to go for Domantas Sabonis or Henry Ellenson.
8:42 - Fran Fraschilla reminding everyone that Milwaukee rolled the dice on Giannis Antetokounmpo, and it paid off. If anyone can sell me on this pick, it's Fraschilla.
8:43 - I actually can't believe I got Antetokounmpo correctly without having to spell check or Google it. I've been a good speller over the years, but that one was always a challenge.
8:45 - Orlando made a smart decision hiring Frank Vogel. What are the odds that Hennigan goes 2-for-2 this offseason?
8:46 - I feel like my good friend Sean Brennan whenever I write about the Magic here. If you don't remember, Sean was in charge of the NFL recaps for the New York Daily News every Monday, and always included an amusing anecdote on the Cincinnati Bengals. That's kind of how I approach Orlando every draft night.
8:47 - Here it is.
8:49 - This was my official reaction to the Magic drafting Domantas Sabonis:
8:51 - Arvydas Sabonis gets interviewed moments after his son. I was nine years old when he debuted with the Blazers in 1995. I feel old now, but so does everybody else.
8:54 - And the Magic have reportedly traded Sabonis, along with Victor Oladipo and Ersan Ilyasova, to the Oklahoma City Thunder for Serge Ibaka.
8:55 - Meanwhile, the Utah Jazz, drafting for Atlanta, take Taurean Prince at No. 12 for the Hawks.
8:55 - Going back to Orlando for a second, the latest Draymond Green-esque kick to the groin just occurred for Magic fans.
8:59 - Oklahoma City is going to be LOADED next year. Hot damn.
9:02 - If Chris Russo were a Magic fan, he'd revise his classic "ONE TIME" rant:
9:03 - Drafting for Sacramento, Phoenix takes Greek center Georgios Papagiannis at No. 13 overall. At least we get Fran Fraschilla here.
9:04 - Your usual table, Mr. Papagiorgio?
9:08 - While the Chicago Bulls are on the clock, let's ask the public: What was Rob Hennigan thinking? Was he doing his Brian Sabean impression? You know, when Sabean traded Joe Nathan, Francisco Liriano and Boof Bonser for A.J. Pierzynski?
9:09 - Chicago takes Denzel Valentine at No. 14. Could Jimmy Butler be on the move?
9:10 - Henry Ellenson is still on the board.
9:14 - Welcome to the post-lottery portion of tonight's program. The Denver Nuggets are back on the clock, in search of a complement for Jamal Murray.
9:15 - Andy Katz says Chicago is keeping Valentine. Solid backcourt with Jimmy Butler.
9:17 - Denver is first to the potential stash picks, taking Juan Hernangomez of Spain at No. 15 overall. Fran Fraschilla, take it away.
9:18 - Fraschilla totally buries Bilas' assertion than Hernangomez is a stash pick, citing his experience overseas makes him NBA-ready right now. Highlight of the night for me given the Sabonis debacle.
9:26 - The international run continues on, as Boston takes French power forward Guerschon Yabusele at No. 16. A double dose of Fraschilla is never a bad thing.
9:32 - So much for Memphis promising Malachi Richardson at No. 17 overall. The Grizzlies get their point guard of the future, going for Vanderbilt's Wade Baldwin IV.
9:33 - Obligatory reminder that friend of the site Jon Alba called a high school game with two future first-round picks, as Baldwin joins Karl-Anthony Towns.
9:34 - Drink up, baby! Tip it back!
9:36 - Detroit on the clock at No. 18, and the pick is in.
9:37 - Stan Van Gundy and former Marist head coach Jeff Bower with the steal of the draft thus far, taking Marquette's Henry Ellenson.
9:44 - Denver back on the clock a third time at No. 19, presumably with a stash pick if all the mock drafts, which went up in flames an hour ago, are right.
9:45 - Like I said, the mock drafts went up in flames. The Nuggets take Malik Beasley of Florida State in the No. 19 spot.
9:46 - Love when Bilas busts out the advanced stats, mentioning Beasley's 50 percent adjusted field goal percentage last year at FSU.
9:47 - Indiana on the clock, but the pick will be traded to the Brooklyn Nets along with a future second-round pick in exchange for Thaddeus Young.
9:48 - Seton Hall fans, get ready. The Isaiah Whitehead watch begins now.
9:51 - The Pacers go for somewhat of a shock, taking Michigan's Caris LeVert at No. 20 and shipping him to Brooklyn.
9:51 - If not for his foot injuries over the past two years, LeVert is a Top 10 pick. Guaranteed.
9:58 - Into the final third of the opening round. Atlanta's second pick is DeAndre' Bembry, going No. 21 overall after winning Player of the Year honors in the Atlantic 10 with Saint Joseph's.
10:00 - The Hawk will never die.
10:02 - I may have ticked off some Villanova fans with that last one. Hey 'Nova Nation, I'm sorry. Consider this my apology:
10:03 - The Charlotte Hornets are on the clock here at No. 22, but Sacramento will ultimately get the pick once the trade involving Marco Belinelli gets approved by the commissioner.
10:04 - Syracuse gets on the board, as Malachi Richardson gets drafted by Charlotte for Sacramento.
10:06 - Shoutout to Bilas for the effective field goal percentage reference.
10:06 - Just checking on the pace here, and we're a couple of minutes ahead of last year, when the 23rd pick wasn't made until 10:12.
10:07 - Malachi Richardson mentioning the need to trust the process. He's not going to the Sixers, though, at least not yet.
10:08 - For the third time tonight, the Boston Celtics are on the clock. For the third time tonight, we all get to bask in a Celtics pick without Bill Simmons opining on how it affects his life.
10:12 - Boston's third pick is the Celtics' second international player, as Danny Ainge takes Croatian center Ante Zizic. The stage is yours, Fran Fraschilla.
10:14 - A stash pick, but Fraschilla says Zizic is a steal for Boston. They've had a solid night thus far.
10:14 - Simmons may have just channeled his inner Chase Utley, wherever he is. Don't count your chickens before they hatch yet, big guy. (WARNING: This clip may be, as the kids say, NSFW)
10:15 - God, I miss Harry Kalas. Rest in power, good sir.
10:17 - Pick No. 24, the second 76ers pick, is French shooter Timothe Luwawu-Cabarrot. For the record, our mock draft has missed on every pick since Brandon Ingram.
10:18 - Fran Fraschilla going back to back. Shoutout to Drake.
10:21 - The Clippers, who went for a North Carolina Tar Heel when they drafted Reggie Bullock, have just selected Brice Johnson 25th overall. Excellent pick.
10:25 - As a longtime UNC fan, personally speaking, that last pick was another proud moment.
10:27 - Tom Penn making some sense out of the Oklahoma City cap scenario. Loved it all the way up until the notion of Kevin Durant possibly going to the Knicks.
10:29 - With their third pick of the night, Philadelphia selects Turkish swingman Furkan Korkmaz at No. 26. Fran Fraschilla for the win, and points out the likely stash by the Sixers.
10:32 - The great Kevin McNamara, who covers Providence and all things New England sports for the Providence Journal, just tweeted that this year's draft ties a record with twelve foreign-born first-round picks. David Stern's vision of a global game can take a well-deserved bow tonight.
10:33 - I'll throw this out there now: If you see a prolonged gap between entries later on tonight, it means Isaiah Whitehead got drafted and I'm working on that story once it happens.
10:34 - Deyonta Davis, Skal Labissiere, and Dejounte Murray, all of whom were projected as lottery picks in some capacity, all remain on the board.
10:35 - John Calipari, dead silent. How often do we see that?
10:36 - Toronto breaks the international first-round pick record with Pascal Siakam, a Cameroon native who played at New Mexico State.
10:44 - Phoenix is back on the clock, and ends the slide for Skal Labissiere, taking the enigmatic Kentucky big man at No. 28 to join Dragan Bender and Marquese Chriss.
10:48 - San Antonio makes their first appearance on the clock. Should be interesting to see where the Pittsburgh Steelers of the NBA, always drafting the best fit as opposed to the best available, go with this one.
10:50 - Dejounte Murray, a talented freshman from Washington, becomes the second Huskies player drafted. His reward? Being groomed to replace Manu Ginobili after San Antonio selects him 29th overall.
10:51 - With the 30th pick on the clock, our token tribute to David Stern:
10:56 - Not gonna lie, the thought of Kevin Durant in Golden State in a sign-and-trade might get me to watch the NBA more regularly.
10:56 - Adam Silver's swan song for the night moments away.
10:57 - The Warriors end the first round by taking Vanderbilt center Damian Jones 30th overall.
10:57 - For the second year in a row, Adam Silver refers to the home of the Nets as "the Barclays Arena." Take a look at the signage outside, Adam. It's those big blue letters than even Stevie Wonder can see.
10:58 - Deputy commissioner Mark Tatum, better known as Not Russ Granik, will conduct the second round. The Isaiah Whitehead watch intensifies.
11:01 - We Want Granik. Also, We Want Whitehead.
11:03 - Off topic somewhat, but this Lincoln commercial with the blues cover of "Midnight Rider" has to go. The Allman Brothers are on that list of groups whose repertoire should never be covered, because no version will ever do the originals justice.
11:04 - Deyonta Davis, projected as a Top 10 pick, slides all the way out of the first round.
11:05 - Jeff Goodman, covering the Celtics tonight, announces that Boston has traded the No. 31 and 35 picks to Memphis. Goodman also inadvertently tips the first pick, scooping Deyonta Davis for the Grizzlies.
11:07 - Another one of the Four Factors makes its way into Bilas' analysis, as he mentions Davis having ranked in the Top 50 in the nation in offensive rebound percentage.
11:08 - Boston gets Memphis' 2019 first-round pick in exchange for their first two second-rounders.
11:09 - We've fallen somewhat behind schedule compared to last year, but the Lakers draft Croatian center Ivica Zubac 32nd overall as a likely stash. Fran Fraschilla raves about Zubac defending Duke commit and potential 2017 No. 1 overall pick Harry Giles in the process.
11:11 - The Los Angeles Clippers are having a low-key solid draft night, taking Kansas' Cheick Diallo at No. 33 to pair with Brice Johnson. Diallo, like Deyonta Davis, was projected as a first-round talent almost everywhere, so this is somewhat of a steal.
11:13 - Phoenix adds to their haul with Kentucky's Tyler Ulis going 34th overall, taking the Wildcat dynamo to join fellow Lexington standout Eric Bledsoe in Earl Watson's backcourt.
11:14 - Bilas breaks in to report Cheick Diallo may be on his way to New Orleans. Waiting to hear the particulars.
11:15 - Celtics drafting for Memphis at No. 35. Still no Whitehead as we go to break.
11:15 - It's worth noting that Cleveland drafted Sir'Dominic Pointer during a commercial break last year, so there is some precedent when it comes to the locals having their moments fly under the radar.
11:19 - Milwaukee gets a second-round steal and an immediate impact player, drafting reigning ACC Player of the Year Malcolm Brogdon 36th overall.
11:20 - While we were away at that last break, Boston drafted Serbian forward Rade Zagorac for Memphis. The Celtics keep the 37th pick for the moment, and they draft Louisville's Chinanu Onuaku.
11:23 - Milwaukee on the clock for the second time in three picks, and they draft UNLV's Patrick McCaw at No. 38.
11:24 - Andy Glockner, (check out his book, "Chasing Perfection," which I will finally finish my review of soon) the reputed Mountain West Conference guru, reports that McCaw will be traded to Golden State. Awaiting his thoughts on that pick.
11:26 - New Orleans takes French point guard David Michineau at No. 39 overall.
11:27 - I hear Michineau, and I'm reminded of Taka Michinoku. Here's one of his matches against Dean Malenko. Two of the most underrated wrestlers out there.
11:28 - With their second consecutive pick, New Orleans takes Maryland center Diamond Stone at No. 40.
11:29 - The Diallo to New Orleans trade is indeed happening. David Michineau and Diamond Stone are heading to the Clippers.
11:29 - Looks like the Magic will make this pick during the break. Maybe it's for the best after how the Sabonis debacle played out.
11:30 - Adrian Wojnarowski reporting the Brooklyn Nets have traded the No. 55 pick and the ever-popular cash considerations to the Utah Jazz for the No. 42 overall pick. Whitehead could be staying home.
11:31 - If my phone starts blowing up, Whitehead is the pick. Keeping a close vigil.
11:32 - Orlando takes UNLV center Stephen Zimmerman 41st overall.
11:33 - Utah will draft Isaiah Whitehead 42nd and send him to the Brooklyn Nets. The barrage of text messages I just received confirmed this.
11:36 - Houston takes Chinese power forward Zhou Qi 43rd overall.
11:36 - Whitehead is the first Seton Hall Pirate drafted since Eddie Griffin and Samuel Dalembert were first-round picks in 2001.
11:37 - ONWARD SETONIA, WE ARE BOUND FOR VICTORY.
HAZARD ZET FORWARD, WE WILL HONOR THAT DECREE.
ONWARD SETONIA, STAND UP PROUD AND STAND UP TALL.
FIGHT! FIGHT! FIGHT! FOR THE BLUE AND WHITE,
AND THE GLORY OF SETON HALL!
11:41 - At No. 44 overall, Atlanta takes French guard Isaia Cordinier. Fraschilla compares him to Austin Rivers.
11:43 - Demetrius Jackson to the Celtics at No. 45 in a second-round steal.
11:44 - Sorry for the brevity here, as I'm working on the Whitehead piece.
11:45 - A.J. Hammons to Dallas at No. 46 overall.
11:48 - Maryland's Jake Layman goes to the Magic with the 47th pick.
11:51 - German forward Paul Zipser to Chicago at No. 48 overall. Detroit, with the 49th pick, drafts Syracuse guard Michael Gbinije to join Henry Ellenson. Two solid picks for the Pistons.
11:54 - The Pacers get a second-round steal at No. 50, taking Iowa State forward Georges Niang.
11:56 - Another second-round steal at No. 51, as Boston takes Providence forward Ben Bentil.
11:59 - Remember the Patrick McCaw trade we briefly mentioned? He went to the Warriors for cash considerations. Utah takes Joel Bolomboy 52nd overall shortly thereafter.
12:03 - Denver takes French forward Petr Cornelie 53rd overall. Fraschilla likens him to Channing Frye.
12:04 - Kay Felder to Atlanta at No. 54.
12:05 - ESPN's Chad Ford reporting Felder is on his way to Cleveland.
12:05 - Drafting for the Jazz at No. 55, the Nets take Marcus Paige out of North Carolina.
12:08 - UConn's Daniel Hamilton to Denver at No. 56 overall.
12:13 - Chinese center Wang Zhelin to Memphis with the 57th pick.
12:14 - Another Iowa State Cyclone comes off the board, as Abdel Nader heads to the Celtics with the 58th overall pick.
12:15 - The Sacramento Kings have the penultimate pick, and they select Mount Vernon native Isaiah Cousins, who played for Bob Cimmino in high school before a stellar collegiate career at Oklahoma.
12:16 - Who is this year's Mr. Irrelevant?
12:18 - Cal point guard Tyrone Wallace is the 60th and final player selected, taken by the Utah Jazz.
12:19 - One last wingspan reference from Bilas as we await word on where A.J. English, Jameel Warney and Juan'ya Green, among others, sign or receive Summer League invitations.