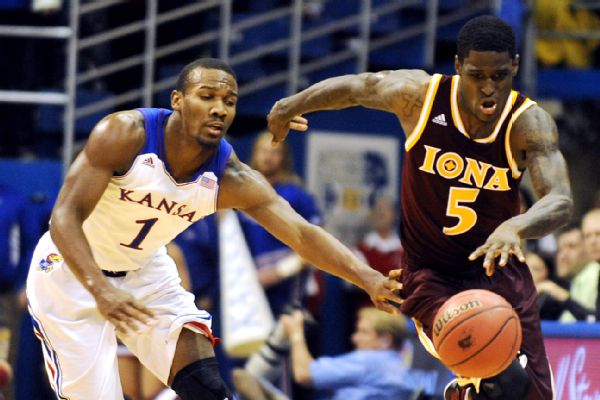 With Sean Armand gone, A.J. English becomes face of an Iona program that seeks its fifth straight postseason appearance. (Photo courtesy of ESPN)
Last season was supposed to be one of adjustment for Iona, even in spite of the Gaels taking the floor as reigning MAAC champions after surviving an overachieving Manhattan roster to win the conference title in 2013, their first since 2006.
What Tim Cluess did for an encore in New Rochelle was nothing short of impressive, both before and after Iona's bid for a repeat net-cutting ceremony was denied by the same Manhattan team they had defeated one year prior.
Iona's 22-11 record may not go down in the annals of Gaels history as the most gaudy mark on the all-time ledger, but what the Maroon and Gold did along the way was worthy of accolades: A MAAC record 17 regular-season wins against only three losses to clinch the program's second regular season championship in three years, earning Cluess his first conference Coach of the Year award.
When he entered his senior season, Sean Armand was finally the face of a program he helped build in the shadows of Scott Machado, Mike Glover and Momo Jones en route to back-to-back NCAA Tournament berths, and the Brooklyn native embraced the added expectations; all the while deflecting the praise heaped upon his shoulders toward his teammates, intimating his desire to make one last run and "do it the right way."
Armand's 17.5 points per game led the Gaels and were good enough to land him a spot on the all-MAAC first team, but more importantly, his offensive skills and all-around ability as something more than a shooter were enhanced thanks to his new backcourt partner, A.J. English, who missed Iona's run to a conference championship with a broken hand.
English joined Armand on the all-conference first team with averages of 17.2 points and over five assists per game, displaying a ball handling talent beyond his years as he rose from out of the clouds to become arguably the best point guard in the MAAC aside from eventual league Player of the Year Billy Baron. Joined by David Laury and Isaiah Williams up front, not to mention the clutch shooting of Tre Bowman, the Gaels left an 8-8 start and skepticism of their chances to remain a contender in the dust, winning eleven straight games toward the end of the regular season before a close loss to Manhattan in double overtime at a sold out Draddy Gym.
The Gaels rolled through their MAAC tournament opener, defeating Rider by 23 before narrowly escaping Canisius to set up a third and final matchup with Steve Masiello's Jaspers, which ranks as one of the games of the year among the New York metropolitan area, even though Iona's repeat bid fell short at the buzzer after Laury's game-tying three-point attempt bounced off the rim. Following the loss, Iona accepted their automatic bid to the National Invitation Tournament, where they were defeated by just one point at the hands of Louisiana Tech.
Nonetheless, Tim Cluess' streak of reaching the postseason every year he has coached Iona remains intact, and the coach's proven formula of blending experienced transfers with incumbent players who are well versed in his uptempo system will continue in the form of Kelvin Amayo, the guard who sat out last season while completing a year in residence upon transferring from Marshall; as well as Brooklyn native Jeylani Dublin, a graduate transfer who is able to play immediately and penetrate opposing defenses after earning his degree from Longwood. Those two newcomers, combined with the Gaels' recruiting class and their returning core, will almost certainly be more than enough to ensure that the road to a MAAC championship will at least make a stop in New Rochelle if it does not end there.