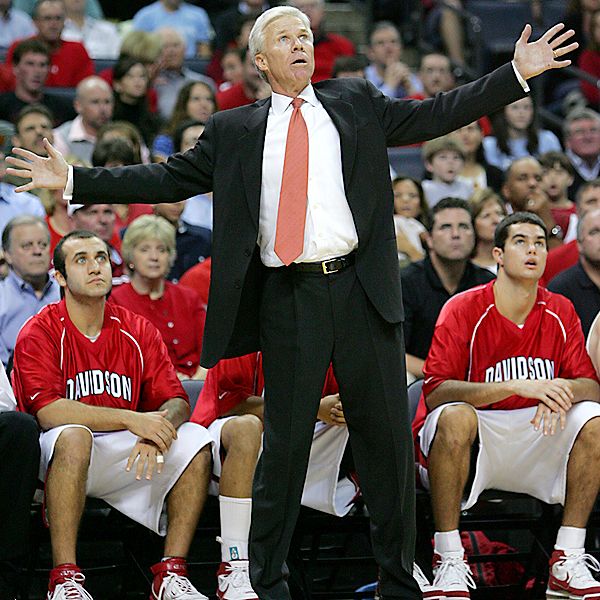 Bob McKillop and Davidson will be leaving longtime roots in Southern Conference for new home in Atlantic 10 starting in 2014, a win-win situation for both the school and conference. (Photo courtesy of ESPN)
It seems as though the Atlantic 10 has found its fourteenth member, at least for the time being.
Only a mere 44 days after George Mason became the first replacement for Butler, Charlotte, Temple and Xavier, the A-10 has reached into the Eastern seaboard once more, prying Davidson College away from the Southern Conference, beginning in the 2014-15 season. Davidson will formally announce the move later today, and will be the fourteenth Atlantic 10 institution at the moment, but that number could still shrink to twelve if Dayton and Saint Louis depart for the restructured Big East at the end of next season, as both universities have been rumored to do for several months since the seven basketball-exclusive members of the former Big East announced their intent to form a separate league.
Siena College was also heavily speculated upon as a possible Atlantic 10 addition, but the school has yet to publicly take a stance on realignment, currently remaining committed to their affiliation in the Metro Atlantic Athletic Conference and the beginning of the Jimmy Patsos era in upstate New York. For Davidson, however, the move up in conferences is one that is nothing but positive, in more ways than one.
First and foremost, longtime head coach Bob McKillop brings a sense of security and stability to the new league by virtue of his 24-year (and counting) tenure. McKillop, who has coaches his sons Matt and Brendan during his stay in North Carolina; as well as Davidson's most notorious basketball export Stephen Curry, has turned down several jobs both before and after the Wildcats' storybook run to an NCAA regional final in 2008, and has no intent of leaving anytime soon. In addition, his Long Island roots give the A-10 an indirect tie to New York to complement their presence in the Big Apple with Fordham and Tom Pecora, not to mention their conference championship being played at the Barclays Center in Brooklyn, and the increased exposure will only serve to benefit all parties involved.
Belk Arena may be one of smaller venues in Atlantic 10, but game atmosphere and overall quality will place it among best in league. Think Rose Hill of the South. (Photo courtesy of Gary Moore)
Moreover, Davidson's Belk Arena, despite its bandbox-esque 5,000-seat capacity, will instantly become one of the better venues and in-game experiences in the A-10, sort of like the Rose Hill Gym south of the Mason-Dixon Line. Situated just a ten-minute walk away from the center of town, we have yet to experience Belk firsthand, but friend of the site Gary Moore made the trip from his South Carolina base on multiple occasions, and even recommends the Brick House Tavern for those looking for a pregame dining option, as you can see in one of his Davidson game recaps from this past season.
Finally, Davidson brings with itself the reputation of a winner, not just a one-time Cinderella. Yes, the Wildcats are still relevant in the casual eye due to their 2008 magic, but McKillop's 452 career wins place him ahead of higher-profile coaches such as Billy Donovan, Tom Izzo, John Beilein and Mike Brey, while his seven SoCon championships in the Wildcats' 21 conference seasons prove him to be as adept at reaching the highest level of postseason play in a one-bid league as almost anyone else, a feat Wichita State coach Gregg Marshall replicated at Winthrop before moving on to coach the Shockers.

Those are just a handful of the reasons why Davidson is a great fit in the Atlantic 10. For those who are still unsold, watch the Wildcats on the court. If the instant success of Butler and VCU in the A-10 weren't enough to convince you, Davidson should be in the top half of the conference within the same amount of time.