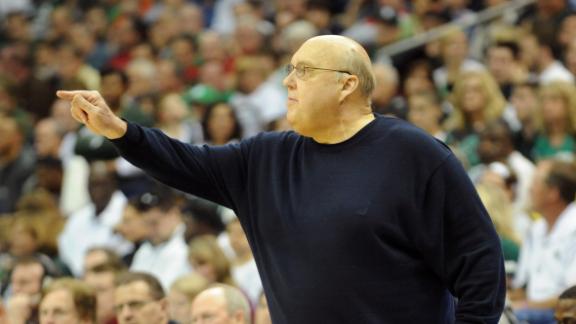 Rick Majerus, whose personality and basketball skills were as large as his frame, passed away tonight. The former Marquette, Ball State, Utah and Saint Louis coach was 64. (Photo courtesy of ESPN)
The sport of college basketball has lost one of its greatest men and ambassadors, one whose affable personality and self-deprecating humor provided anyone affiliated with the game memories to last a lifetime, whether they had been privileged to meet him or not.
Rick Majerus, whose statistics were nowhere near as gaudy as the Mike Krzyzewskis, Bob Knights and Jim Boeheims he was a part of the coaching fraternity alongside; but whose knowledge of the game and defensive principles made him one of the most intelligent and brilliant minds in the sport, has left us, the iconic personality and genius tactician who waxed poetic about his beloved bratwurst and living in a hotel while at the helm of the Utah Utes, gone far too soon tonight at the young age of 64.
In addition to Utah, where Majerus reached the national championship game in 1998 and led Kentucky at halftime before falling short against Tubby Smith and the Wildcats, as well as developed future NBA players such as Keith Van Horn, Andre Miller, and Michael Doleac, the gentle giant also coached at his alma mater Marquette, Ball State; and most recently, Saint Louis, where he had guided the Billikens to a third-round appearance in the NCAA Tournament last season, nearly upsetting Tom Izzo and Michigan State before his latest bout of health issues forced him away from the bench this summer.
In 2004, he was a popular choice to replace Mike Jarvis at my alma mater St. John's, which would have been a thrill for me in retrospect as a broadcaster to cover the jovial Majerus, whose infectious personality drew as many people to him as the Beatles after their appearance on the Ed Sullivan Show. However, medical problems intervened, as they did a year later when Majerus accepted the job at Southern California only to turn it down several days later in an emotional press conference.
When Majerus resurfaced at Saint Louis, his tenure was just as it was in each of his three previous stops, underrated and highly successful, especially on the defensive end that he built his name and reputation on. In five years at the helm of the Billikens, his teams never yielded more than 62 points per game on average; including a mere 58 per contest in last season's run to the round of 32, while also improving Saint Louis' productivity on the offensive end in every season.
Upon starting to cover the Atlantic 10 for this site last year through my trips to Fordham University, I was legitimately looking forward to Saint Louis' February 6th visit to Rose Hill to face the Rams just to have the honor of being present at Majerus' press conference, and even went as far as to plan my one-on-one interview at October's Atlantic 10 media day months in advance, just to get a firsthand perspective of the impact and positive energy he imparted upon college basketball. Sadly, that was not to be after Saint Louis announced at the end of August that he had suffered yet another medical setback, one that would keep him away from the court, ultimately on a permanent basis.
Four months ago, Rick Majerus' legend and personality got me even more pumped up than I already was for the season we are now one month into. Now he's gone, taken to lead the great basketball program up above. Life just isn't fair sometimes.
At least he's in a better place, finally reunited with his beloved mother, who passed fourteen months ago herself, and more than likely tossing back a few sausages fresh off the grill. He may not be around physically, but his spirit and legacy have left indelible marks on everyone involved with college basketball, and ultimately cannot be replaced.
Rest in peace, Rick. Someday we finally will get to cross paths with one another. Until then, don't ever change.