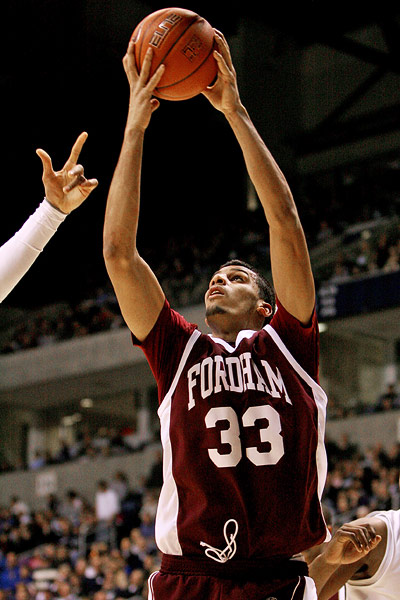 Now in his third game back from torn meniscus, Chris Gaston will hope to be X-factor for Fordham as they host Siena in Sunday afternoon matinee at Rose Hill Gym. (Photo courtesy of ESPN)



What had been considered as an intriguing nonconference matchup at the beginning of the year has since become a battle of 2-9 teams looking for a big nonconference win going into league play, but that has not managed to take some of the luster away from Fordham's return to Rose Hill Gym for just their second home game of the season, a noon tipoff with Siena tomorrow afternoon.
Coming in off an 88-73 loss to UConn last night in which the Rams allowed 57 first-half points to the Huskies, but managed to make the game and score closer than they let on thanks to a 26-point performance from junior guard Branden Frazier, Fordham will be playing its second game in three days after having played back-to-back twice earlier in the season as part of their participation in the preseason NIT.
Frazier, whose team-leading points per game average has ballooned to 16.5 to go with his near-five assists per contest, will once again team with freshman Jermaine Myers and sophomore Bryan Smith in the backcourt, while Ryan Canty and the now-healthy Chris Gaston fight off a Siena front line anchored by MAAC Player of the Year candidate O.D. Anosike. While that is going on, the Ram guards will have their hands full with Evan Hymes, the Saints' explosive sophomore point guard who seems to get better every time he steps onto the court. Siena comes in reeling under Mitch Buonaguro, and will be well-rested, playing their first game in exactly two weeks after taking a hiatus for final exams shortly after the Saints' 75-55 loss to Manhattan at Draddy Gym. To shed further light on the Saints, our friends at 4 Guys In Blazers have offered to break down the state capital's college team just a little more as Siena and Fordham fulfill the second year of a four-season obligation to play one another. Visit 4 Guys In Blazers for all things Siena throughout the season, and even in the offseason as well, either on their website (the link is above) or on Twitter at @4guysinblazers.
Jaden Daly:
How much of a concern will the two-week layoff from the Manhattan game be?
4 Guys In Blazers:
In most seasons, you'd be concerned with rust and a loss of offensive rhythm. However, this isn't your typical Siena season, and the team's offense had little rhythm going into the layoff. While the team used this time to focus on improving its offense, it hopefully also served as a bit of a mental break from the rough beginning to this season.
Coming off a seven game losing streak, this break feels more like a much needed reset button.
JD:
What are the biggest reasons for Siena's 2-9 start?
4GIB:
While you can point to several factors, I'll focus on two areas: free throws and turnovers.
While no Saint has shot exceptionally well from the free throw line, the team is shooting 58%. O.D. Anosike has experienced the toughest struggles, shooting 39%. That number is compounded by the fact that Anosike has attempted over 30 more free throws than any other member of the team. Five of Siena's nine losses have been by six points or fewer, and those missed shots weren't throwaways, but game-changers.
As for turnovers, Siena is averaging fifteen a game. Point guard Evan Hymes has had a very hard time on this front, averaging a team high 4.8 per game. While a portion of these are due to broken down plays and a young roster still learning the multiple options in its playbook, others are a product of Hymes trying to do too much with the ball. As the game progresses and the Saints find themselves down in the second half, Hymes tends to try to force his way to the basket in an effort to jumpstart the offense. Too often, this leads to the 5'8" Hymes running into a sea of hands resulting in blocked shots, or at best a tough, off-balance attempt.
One final note, (I know i said two areas) Siena has struggled to hit its shots. In multiple games, the team has gone cold from the field in at least one half, missing open shots. Simply correcting this one area would go a long way to changing the conversation on the team this season.
JD:
Other than O.D. (Anosike) and Evan, (Hymes) who else should fans pay attention to?
4GIB:
Two players come to mind here, Rakeem Brookins and Rob Poole. Brookins is likely more well known to your audience. The redshirt sophomore started 25 games at the point as a freshman in the 2010-11 season before missing all of last year due to a back injury. With the emergence of Evan Hymes last year, Brookins has played primarily in the two guard spot this season. He has appeared in only five games this season, missing the first three games due to suspension and an additional three games due to a reaggravation of his back injury, but can be a difference maker when he plays. He has a team-high scoring average of 13.2 points, possessing the ability to get to the basket or hit the pull-up jumper.
Rob Poole has really begun to emerge as a sophomore this season. He has shown an improved ability to get to the basket and no longer displays any hesitation to put up his shot. His versatility has been an asset to the team, having played in both guard and forward positions depending on the team's lineup. He is averaging 11.4 points and 5.4 rebounds a game and is certainly looking to be the team's most improved player over last season.
JD:
Going back to Evan Hymes, what has been his biggest improvement as a sophomore?
4GIB:
He looks to be continuing to grow as a leader on this young Saints team. He clearly has a deep desire to be on the court. In the first game of the season, he left the game in the second half on a stretcher due to severe cramping only to return late in an effort to push the Saints to victory. In addition, he remains one of the team's primary scoring threats, averaging 11.6 points a game.
JD:
I know it's probably too early for this, but is this game a must-win given what's coming up on the schedule for Siena?
4GIB:
It's hard to call any game in December, especially a nonconference matchup, a must-win. That being said, a win would go a long way in beginning to restore the team's confidence as we head into the meat of the conference schedule. A seven-game losing streak can begin to eat away at the confidence of any team and I think that has shown itself to be true in this case. A win would be a great way to restart the season.
Fordham and Siena tip off at noon tomorrow afternoon, and if you can't get to WFUV's radio call or the YES Network broadcast with WFAN update anchor Rich Ackerman and former Duke legend Jim Spanarkel on the call, feel free to follow us on Twitter.