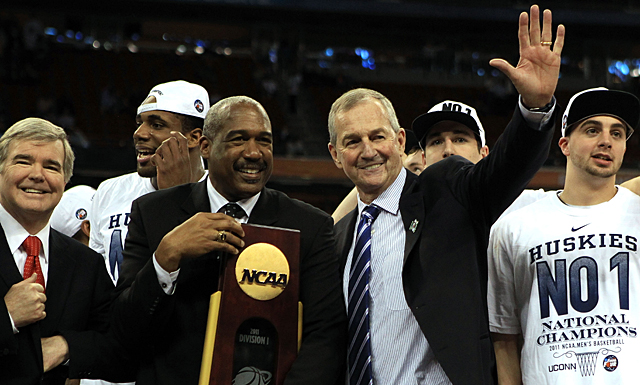 Less than eighteen months removed from his third national championship, Jim Calhoun retires having redefined the concept of winning both on and off the court. (Photo courtesy of CBS Sports)
From the age of nine, I recognized Jim Calhoun's ability to coach a basketball game.
It was Calhoun's relentless desire to win at all costs, along with a guard whose shot was the sweetest thing that I had ever seen at that point in time, that attracted me to the Connecticut Huskies in the 1995-96 season. After the Huskies reached the Elite Eight in that year's NCAA Tournament, the aforementioned guard; who had become my favorite college player at the time, was selected as the fifth overall pick in the NBA Draft and went on to enjoy one of the more successful professional careers in recent memory. His name? Ray Allen.
Despite the fact that Allen had left a year early, my interest in UConn remained strong over the years, thanks in large part to Calhoun and the groups of kids he had seemingly molded in his own image: A fighter who would do whatever it took to emerge victorious, no matter the cost. Calhoun's basketball pugilists became a symbol of a winning program, which finally received its first testimonial when Richard Hamilton led the Huskies past Duke in Tampa thirteen years ago to win the program's first national championship.
Two more championships followed: One in 2004, the other seven years later. By that time, I had transitioned from young fan to college student to broadcaster at St. John's University, one of Connecticut's oldest and fiercest rivals. Yet my appreciation for UConn basketball was as strong as it had ever been, despite the mounds of grief and criticism I received routinely; and continue to receive to this day, for being a St. John's student and broadcaster (now an alumnus) that openly rooted for the University of Connecticut and did not mind sharing that affinity with the world.
Once I started my broadcasting career, I was able to attend various media days that I continue to participate in even for this outlet. It was at the Big East's annual media day four years ago that I finally got to meet Jim Calhoun, and I honestly did not know what to expect when I approached his table inside Madison Square Garden. Of course, I had heard all the stories about Calhoun's reputation; from his supposed confrontational nature to all the notoriously well-documented press conference rants, particularly his "not a dime back" tangent when asked about his salary following a game. When I walked up to Calhoun and asked him what the initial impression of his team would be, (the Huskies had been coming off a disappointing 2007-08 season in which they were eliminated by the University of San Diego in the first round of the NCAA Tournament) the coach calmly and matter-of-factly stated that his team would "be judged by how hungry they are." (UConn eventually reached the Final Four that season, losing to Michigan State at Ford Field in Detroit)
As our initial interaction progressed, Calhoun came off as one of the nicer guys I had ever met in that industry, and I walked away having learned a great deal more about the man and his program than I had ever known in the thirteen years that I had been following them as a fan prior to Big East media day in 2008. Later that season, I had learned of the Hall of Fame coach's childhood and how he had to join the work force at the tender age of fifteen following the death of his father. Coming from a home in which my parents separated when I was thirteen and having been raised by a single mother for the duration of my life, I can relate to Calhoun's story; to his me-against-the-world mentality that was prominently displayed on basketball courts across the nation for four decades at both the high school and collegiate levels, and appreciated him even more now that this nugget was just as vital as his having survived two separate bouts with cancer in the 2000s.
Last October, I interviewed Calhoun for the third time; and first since his seemingly improbable national championship run in 2011, and asked a handful of questions of the man who; like all true geniuses, is misunderstood far too often than he should be. The coach even acknowledged my presence in front of him when he mentioned the iPad that I had in front of me, quipping that he was still behind the times technologically.
With Jim Calhoun at New York Athletic Club for Big East media day last year...I'm the guy with the blue shirt and the iPad in front of me
.
Little did I know that it would be the last time I saw him. (Photo courtesy of the author's personal collection)
As it had been in years past, the subject of Calhoun's future; a topic that the coach was always very careful to address, eventually worked its way into the media session. I would be lying to you if I didn't think Calhoun was going to retire within the next decade. Having just turned 70 four months ago, with a Hall of Fame resume padded by three national championships and over 800 wins, there was seemingly no other reason for him to go on other than the fact that he lived for what he did. I just never expected that the announcement would come today.
Jim Calhoun is expected to announce at a 2pm press conference this afternoon that he will be hanging up the clipboard after a magnificent 26-year run with the Huskies, a reign that almost certainly ends prematurely in his mind, that was indirectly cut short by injuries the coach sustained in a bicycle accident last month that seriously hampered his ability to get around. Calhoun will still have a presence on the sideline, as all of his assistants will remain on the bench, with Kevin Ollie; a former Calhoun player turned NBA journeyman turned UConn assistant himself, replacing the legend on an interim basis. This move has its share of criticism, as many Calhoun detractors will suspect that the coach staged his decision to retire with the start of practice only a month away in an attempt to hamstring the UConn administration into accepting his handpicked replacement, but it is in reality the best move for the short-term future of the program. The Huskies will unfortunately be precluded from postseason play for not meeting the minimum APR requirements, but rather than bring someone in from outside the program, UConn can build for the long run from within by starting the transition internally before potentially embarking on a national search for Calhoun's permanent successor.
Those of you who know me well may have heard me say that the day Calhoun retired would be one of the worst in my career. Nothing could be closer to the truth than that statement, as my initial reaction to this announcement; which was revealed on Twitter by Jeff Jacobs of the Hartford Courant by way of a retweet from college basketball insider Jon Rothstein, was one of equal parts shock and devastation.
In five years as a media member, I had never prepared for the day that Jim Calhoun would no longer be standing among us, primarily because the man has a stronger will and heart than everyone with a microphone or notepad put together. This is one of those instances where, although we all knew this was going to happen sooner or later, most of us did not see it coming; at least not so suddenly, and definitely not this way.
The inner child in me likens Calhoun's retirement to the first time a child realizes his parents are not infallible. As an only child and a self-admitted "mama's boy," I always perceived my mother to be a Superman of sorts, even into my adolescence. When I found out that she truly could not do it all, I was in denial for a long period of time before ultimately having to come to grips with the fact that although I put her on a pedestal; my mother is human, just like everyone else in this world.
Jim Calhoun's retirement strikes a similar chord with me. Having known of his determination and fighting spirit, I could not process the fact that he was admitting that the fight against time was one he could not win, because; quite frankly, I had never seen or heard of him conceding anything to anyone. However, the more I saw colleagues and friends alike tweeting news of Calhoun's retirement, I gradually began to realize that he, too, is human, and admired him even more for being able to recognize that he could not go on. It takes a lot of guts to admit that you are no match for something, in this case a fight against the clock of life; and for that, Jim Calhoun deserves even more respect than the mounds of it he has racked up from myself and millions of others. Some of us are not fortunate enough to even live as long as this man has coached. That alone earns him the label of a winner, even if some may say he raised a white flag today.
Say what you want about the man personally, but do not ever attempt to deny him the success that he worked harder to attain than any mere mortal ever should; nor should you discount his contributions based on opinions of what he may or may not have done, good, bad, or indifferent. As my friend and colleague Quinn Rochford stated last night, Calhoun's teams may have "caused you anguish and pain throughout the years," but it is "finally time to admit inevitable respect."
The record shows he took the blows, and he did it his way, in a manner that; although unorthodox and at times controversial, is for all intents and purposes more of a legacy than any number of wins and championships will never be able to equal. Many can succeed, but few have the power to transcend. Jim Calhoun not only transcended college basketball, he also transcended a University of Connecticut program that was basically nothing before his arrival, turning it into a true American fairy tale. He also transcended life by having everything but the proverbial kitchen sink thrown in his path on multiple occasions, yet always managed to rise up and vanquish anything standing in his way, and that is a quality that is going to be missed in the college basketball world more than anyone will ever know, and certainly far more than anyone will ever have the nerve to admit.
Love him or hate him, there will never be another coach like Jim Calhoun. There will undoubtedly be someone somewhere who attempts to channel him, through competitiveness or intensity for instance, but never will anyone truly replace him.
Looking back, my greatest memory of Jim will be the media day before his magical 2010-11 campaign. After the Huskies were soundly defeated in the Big East Tournament by St. John's the previous season, they settled for an NIT berth and entered the following year as a team that was projected to finish in the middle of the conference. Among my questions for Calhoun was one in which I asked if he thought his team was a "sleeping giant" of sorts given the lower expectations than what had been the norm of years past. Without hesitation and with his trademark conviction, the coach responded in this way:
"I don't know if we're going to be a giant. If we're just really, really good when it's all said and done, I'll be happy." - Jim Calhoun at Big East media day in 2010
Jim Calhoun and his UConn teams were never just really, really good. They were, and will forever be, great; and after today, the coach and his career will be living proof that heroes get remembered, but legends never die.