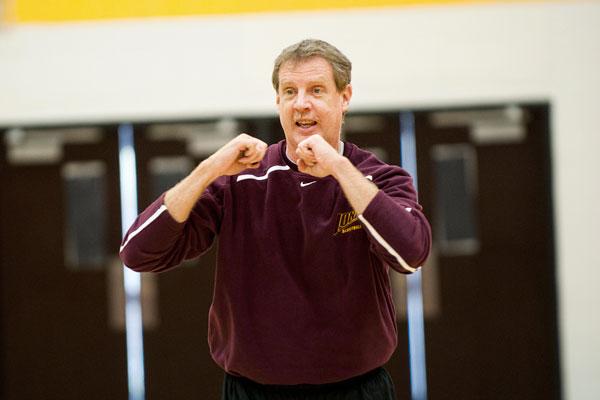 Tim Cluess and Iona have more than puncher's chance of repeating as MAAC regular season champions after Gaels' conference schedule was announced last week. (Photo courtesy of ESPN)
The encore is officially about to begin.
One week after their nonconference schedule was announced, Iona College has also released their MAAC ledger, featuring eighteen league games against opponents that the Gaels dominated last season on the road to their first NCAA Tournament since 2006. Iona's first two conference games were announced last week with the nonconference schedule, as the Gaels will host Niagara on November 28th at the Hynes Center in their league opener before traveling to Jersey City to face Saint Peter's on December 5th. After Iona's non-MAAC contest on New Year's Eve, the Gaels will ring in 2013 on January 4th for their next conference meeting with Siena, and will be intent on avenging a bitter defeat at the hands of the Saints the last time Iona made the trip to the capital region. Siena defeated the Gaels 65-62 despite Iona opening the game on a 20-2 run. Two days later, Iona returns home; but will again look for revenge, as they will welcome Steve Masiello and Manhattan into the Hynes Center for the first time since Emmy Andujar's unforgettable buzzer-beater on January 12th.
The Gaels alternate road and home games again for their next two, starting with a trip to Marist on January 10th before coming back to New Rochelle three days later for a meeting with Canisius and new head coach Jim Baron. From there, Iona remains at the Hynes Center, taking on Fairfield on January 18th in what is sure to be one of the most anticipated games in MAAC play this season. The Stags will be rebuilding following the graduation of Rakim Sanders and Ryan Olander, but head coach Sydney Johnson still has guards Derek Needham and Desmond Wade to anchor his team in a season where their shot to win the conference is just as good as anyone else's. Following the collision with Fairfield, the Gaels travel to New Jersey to face Rider on January 20th. The Broncs also have a new coach, as assistant Kevin Baggett replaced Tommy Dempsey after he accepted the vacant coaching position at Binghamton, and will unveil St. John's transfer Nurideen Lindsey as their latest weapon. A Philadelphia point guard, Lindsey brings a rare ability to attack the basket like a power forward despite playing in the backcourt.
The Gaels will see Saint Peter's one more time at the Hynes Center on January 25th before going on a three-game road trip to take on reigning MAAC champion Loyola, (January 27th) Niagara (January 31st) and Canisius. (February 2nd) Iona will get five days off before a two-game homestand with Marist (February 7th) and Rider (February 9th) before hitting the road again. The Gaels' next road trip comes against two teams that will not go quietly, first against Manhattan on February 15th at Draddy Gym, the other three days later against Fairfield in Bridgeport. Iona's next game after their second battle with the Stags will be their annual Bracketbuster game, one in which they will be on the road for this season.
Iona will have a week off following the nonconference Bracketbuster contest, and will open March on the first night of the month by hosting Loyola for the final time in regular season MAAC play, as Jimmy Patsos and the Greyhounds will join the Patriot League after this season. The Gaels conclude the regular season with senior day against Siena on March 3rd at the Hynes Center before traveling to Springfield, Massachusetts for the MAAC Tournament starting most likely on March 8th, or the day before if Iona finishes outside the top six.
Iona will be exposed to a national audience six times, with the Gaels' first televised contest being their opener against Denver, which will be carried on ESPN3. The next affair to be seen across the country will be the January 4th meeting with Siena, (also an ESPN3 game) followed by an ESPNU appearance against Fairfield on the 18th of January. Iona returns to ESPN3 on January 31st against Niagara and again on February 9th versus Rider, with the Gaels' final national TV appearance being an ESPNU date on February 15th against Manhattan.
A Daly Dose Of Hoops will have updates from Iona throughout the season and will be at mostly every Gaels home game, so follow us for news and notes from the Hynes Center.