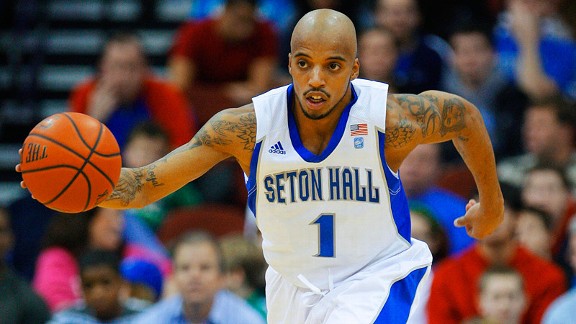 Even though Seton Hall was relegated to NIT, Jordan Theodore's senior season will be one Pirates fans will not forget anytime soon. (Photo courtesy of ESPN)

Over the past several years, Seton Hall has statistically been the dominant of the three Big East programs in the greater New York area. A lot of this success is attributed to former coach Bobby Gonzalez, whose players helped increase the Pirates' win total in each of his four seasons at the helm. When Gonzalez was replaced by Kevin Willard in March of 2010, the former Iona coach inherited a team ready to take the next step toward a return to the NCAA Tournament for the first time since 2006. However, a 13-18 record marked with more setbacks than a New York Jets season discounted Seton Hall in the eyes of many critics and fans going into this past season. Fortunately for those in South Orange, the combination of Willard's philosophies and Gonzalez's former players who were determined to bring their program back to its past glory provided a peaceful marriage during a 21-13 season.
Seton Hall eventually fell short of the field of 68, instead playing in the NIT following an end to the regular season that featured losses to two teams in Rutgers and DePaul who finished below the Pirates in the conference standings. Those two losses, coupled with a close defeat at the hands of Louisville in the Big East tournament, precluded Seton Hall from reaching the promised land; and they concluded their 2011-12 campaign with a win over Stony Brook and loss to Massachusetts in the NIT, but the foundation for a new era in the Garden State is as strong as it has ever been.
The Pirates will have to replace two important pieces to their puzzle in power forward Herb Pope and point guard Jordan Theodore, both of whom will graduate next month. After playing last season while recovering from open heart surgery the summer prior, Pope's numbers returned to his 2009-10 levels, as the Pennsylvania native once again averaged a double-double for the season (15.1 points, 10.4 rebounds per game) just as he had done two years before when the Pirates reached the NIT and lost to Texas Tech. Theodore is arguably even harder to replace. A point guard who conceivably could (and should) have been a first team all-Big East selection since his numbers and contributions were far greater than those of Georgetown's Jason Clark, Theodore leaves South Orange as the program's single season assist leader, (his 6.6 helpers per contest ranked eighth in the nation) and one of just four players in Pirate history with over 1,200 points and 500 assists over his tenure in New Jersey. Theodore's strong leadership both on and off the court, coupled with a maturity far beyond the average level of a collegiate student-athlete, will be greatly missed over the years to come.
Nonetheless, the Pirates push on with mostly everyone else coming back. Freshman Aaron Cosby will most likely be the starting shooting guard after a rookie campaign which saw him average nearly eight points per game and shoot 38 percent from three-point range. The Pirates will also have the favorite for Big East Defensive Player of the Year honors in swingman Fuquan Edwin, who will begin his junior season at Seton Hall. The last link between Seton Hall and Gonzalez, as Edwin signed while Bobby was still the coach; but never got to play for him, the Paterson Catholic product led the nation in steals, averaging three thefts per game. Patrik Auda and Brandon Mobley will likely be the main characters up front next year in Pope's absence. In his sophomore season, Auda broke through on the stat sheet with averages of nearly seven points and four rebounds per game; while the freshman Mobley provided clutch shooting (36 percent from three-point range) and natural rebounding ability despite missing nine games at the start of the year, as well as playing only 20 minutes per game on average. Aaron Geramipoor also returns for his junior season, and whether he is in the game to infuse offense (as our friends at South Orange Juice consistently pointed out this past season) or just simply doing the little things under the rim that may not show up in a box score, the Englishman provides experience on a team that will welcome it with open arms next season. The Pirates will also welcome back Haralds Karlis and Sean Grennan to their bench, while also introducing two new transfers in Gene Teague, a 6-9 big man by way of Southern Illinois; as well as Brian Oliver, a former Georgia Tech marksman whom many feel can assume the role previously filled by former Pirates legend Jeremy Hazell.
Freddie Wilson looks to be in the mix at point guard, although he will get competition in the form of Tom Maayan, a 6-1 guard from Israel by way of the Canarias Basketball Academy, the overseas school which produced Auda, Geramipoor and Karlis. Seton Hall has also received a verbal commitment from 6-9 forward Raymon Austin, but he has not yet signed. Kevin Johnson could also be a newcomer to South Orange if the big man whom Willard recruited last season is declared eligible.
On the surface, it looks like Seton Hall is in position to take a step back with the losses of Theodore and Pope, as well as walk-on and ESPN celebrity Peter Dill. However, if you read between the lines, you'll see that the team from South Orange is actually going to mirror the 2011-12 incarnation of the Seton Hall Pirates: A squad who, despite being overlooked, will overachieve enough to leave a positive impression in the minds of their fans.