No coach was responsible for a bigger turnaround than Steve Masiello, who took 6-25 Manhattan team into CIT after winning 21 games in his rookie season in Riverdale. (Photo courtesy of Manhattan College)
With the Haggerty Awards dinner taking place tonight and several other local college hoops scribes offering their take on the best of the metropolitan area, I thought I would do the same. The actual winners have been announced already, but here are the 2011-12 Daly Dose Of Hoops picks among the best in the region.
Player of the Year: Scott Machado (Iona) - 13.6 PPG, 5.0 RPG, 9.9 APG (Photo courtesy of New York Daily News)
I've covered many great players in five years as a broadcaster and writer, (including newly-minted NBA rookie D.J. Kennedy, who I will have more on in a later post) but no player that I have ever seen has as much potential to be a superstar for the next decade the way Machado does. Without question the best point guard in the nation this past season, Machado was the driving force behind Iona's return to the NCAA Tournament with his scoring ability and second-to-none passing talent. His triple-double against Marist was simply the highlight to a great season filled with numerous alley-oops to Mike Glover that served as the Gaels' answer to Chris Paul and Blake Griffin, as well as a truly deserving recognition as the MAAC Player of the Year.
Rookie of the Year: Moe Harkless (St. John's) - 15.5 PPG, 8.6 RPG (Photo courtesy of New York Post)
In St. John's all-freshman lineup, the Queens native was something Red Storm fans had spent the past several years clamoring for: A big man that had a perimeter game to go with a body inside. Just the second St. John's player to win Rookie of the Year honors in the Big East, Harkless made a statement in his conference debut with his 32-point, 13-rebound virtuoso performance against Providence, one that set single game records for a Big East freshman. The forward is likely to become St. John's first NBA draft selection since Omar Cook in 2001, adding to Steve Lavin's already rich coaching legacy.
Most Improved Player: George Beamon (Manhattan) - 19.0 PPG, 5.6 RPG (Photo courtesy of New York Daily News)
The likely favorite for MAAC Player of the Year honors next season, Beamon had the biggest breakout season in recent memory for anyone in the area. A 6-4 swingman, the junior was Manhattan's leading scorer, averaging more than double the Jaspers' second options with his nineteen points per game and deadly 43 percent shooting clip from three-point range. With a defensive game that complements Steve Masiello's Louisville-influenced style of play, Beamon thrived into a two-way player that will only get better in his senior year next season.
Sixth Man of the Year: Sean Armand (Iona) - 9.5 PPG, 2.1 RPG, 47% 3pt (Photo courtesy of Bleacher Report)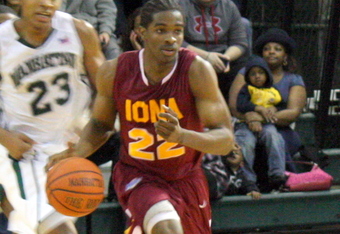 A mid-major version of former UConn guard Rashad Anderson, Armand provided the same impact for the Gaels that Anderson did on the Huskies' 2004 national championship team. A shooter by trade, Armand also made things happen inside the three-point line too, earning the reputation of being one of the MAAC's biggest X-factors despite only being a sophomore. With Scott Machado and Mike Glover graduating next month, Armand will join Momo Jones as one of the faces of an Iona program looking to defend its regular season conference crown.
Defensive Player of the Year: Fuquan Edwin (Seton Hall) - 12.5 PPG, 6.2 RPG, 3.0 SPG (Photo courtesy of Washington Post)
Seton Hall's last link to Bobby Gonzalez is the former Paterson Catholic standout, and the former coach's last recruit was as much a star on the defensive end for Kevin Willard's Pirates as fellow Gonzalez products Jordan Theodore and Herb Pope were on the offensive side. Edwin led the nation in steals for most of the season with an average of three thefts per game, and was inexplicably denied this honor in the Big East by Syracuse's Fab Melo. Going into his junior season, the swingman will be the face of a Pirate program looking to rebuild as Theodore and Pope graduate.
Coach of the Year: Steve Masiello (Manhattan) (Photo courtesy of Manhattan College)
If you can only use one word to describe Masiello, perhaps the best choice would be "intense." A disciple of both Bobby Gonzalez and Rick Pitino, the 34-year-old Masiello channels each of his mentors in equal parts, even displaying his unbridled competitive fire during the playing of the national anthem. Introduced as the new head coach just over a year ago in Riverdale, Masiello picked up where Barry Rohrssen left off, leading the Jaspers to a fifteen-game improvement from last season and a 21-13 record that qualified as the nation's biggest turnaround. With the core of his team returning to Draddy Gym for another season, Masiello will have one of the favorites to win the MAAC next season.
Daly Dose Of Hoops All-Metropolitan Teams
First Team
Jordan Theodore, Seton Hall
Julian Boyd, LIU Brooklyn
Second Team
Jamal Olasewere, LIU Brooklyn
D'Angelo Harrison, St. John's
Third Team
Jason Brickman, LIU Brooklyn
Akeem Johnson, St. Francis