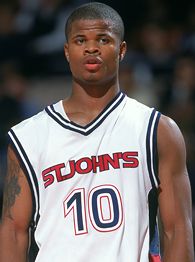 Moe Harkless' impending draft selection will make him first pick to come out of St. John's since Omar Cook in 2001. (Photo courtesy of ESPN)
After Moe Harkless officially announced his intentions to sign with an agent and enter this June's NBA draft, I was asked to determine whether or not the Queens product had made the right choice in leaving St. John's after one season; a decision which will likely make him the first Red Storm player selected in the draft since fellow one-year wonder Omar Cook, who was a second-round choice in 2001.
Naturally, the decision to turn pro after one year is even more of a double-edged sword than leaving after two or three years in college, maybe just as much as the former practice of leaving out of high school. The case studies are as positive (Carmelo Anthony, Kevin Durant) as they are negative, (Brandan Wright, Greg Oden) but one more variable in this instance makes it even harder to judge: Harkless' one year was one in which his team did not make the NCAA Tournament.
The list of one-year players without an appearance in the field of 68 on their ledger is filled with just as much success (Gerald Wallace, Kris Humphries and Trevor Ariza; who like Harkless was a Steve Lavin recruit that ultimately didn't get to play for him, albeit under different circumstances) as professional failure, (Omar Cook, Dajuan Wagner, Lance Stephenson) but Harkless' burgeoning talent solidifies him as a quality prospect worthy of his projection as a fringe lottery pick. Moreover, Harkless expressed his desire to take care of his mother, who raised the forward by herself; and coming from someone whose mother was both mother and father to me before and after my parents separated when I was 13, I admire and applaud Harkless for his decision to support his family financially.
Ultimately, there is no way to find out how wise a decision this is until he steps on an NBA court; but from a short-term perspective, especially given the future of St. John's and recruiting prowess of head coach Steve Lavin, there is no time like the present for Harkless to advance his career and take his talents to the next level.