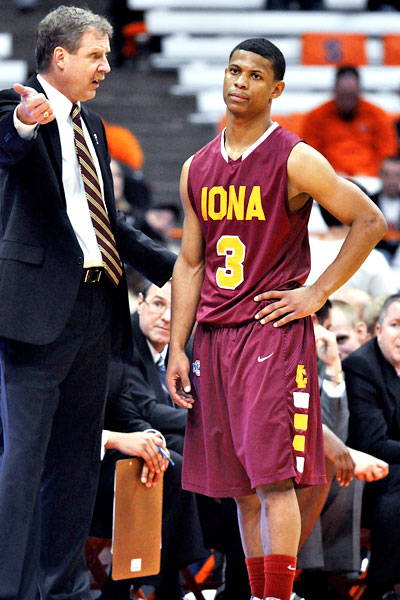 After a disappointing end to their season last night; Tim Cluess, Scott Machado and anyone else affiliated with Iona have more than one reason to smile. (Photo courtesy of ESPN)
Only one hour has elapsed since Brigham Young came back from a 25-point deficit to defeat Iona in the NCAA Tournament, and I'm still trying to wrap myself around the game that turned out to be a tale of two halves: A 55-point opening stanza in which the Gaels played some of their best basketball all season, and a 20-minute comeback by a BYU team that; even after the loss of all-universe guard Jimmer Fredette, is still one of the best teams in the nation.
I got to see the Gaels up close and personal eleven times this year, thanks in large part to sports information director Brian Beyrer and his assistants John Higgins and Nick Guerriero, the latter of whom was my producer for broadcasts at St. Francis College prior to taking the job in New Rochelle. I had heard of the Gaels' success last year in passing after reading numerous Associated Press recaps in which big games from Mike Glover and Scott Machado were recounted, as well as chronicled the transfer of Momo Jones from Arizona. Once I got to see this team live for the first time against LIU Brooklyn on November 28th of last year, I was immediately impressed with the Gaels and their dynamic offense.
Being an only child whose parents separated when I was just 13; I tend to become easily attached to people and things I like, and Iona basketball became one of those things. The Gaels were easy to embrace, with a future NBA point guard in Machado throwing alley-oops to a gifted forward in Glover who is his own human interest story after going through his own personal hell just to play at this level. Even with the mercurial and sometimes questionable shot selection of Jones, the Gaels had three proven scorers; and with outside shooting threats Sean Armand, Jermel Jenkins and Kyle Smyth coming off the bench, Iona looked as though they could not be stopped.
Then the first of two dramatic comebacks occurred at their expense on January 12th, when Manhattan College erased an 18-point deficit in the final eight minutes to defeat the Gaels on a buzzer-beating three-pointer on Iona's home court of the Hynes Center. A loss to Siena in which Iona opened the game on a 20-2 run followed by a loss to Fairfield in the semifinals of the MAAC tournament had critics questioning whether the Gaels were overrated. A much-debated at-large selection into the NCAA Tournament Sunday night had Iona fans feeling justified and confident that their team would show the nation that they were more than just a hype machine; and for 30 minutes last night against Brigham Young, the Gaels were proving their critics wrong until BYU closed out Iona 28-12 down the stretch to send coach Tim Cluess' team home to New Rochelle empty-handed, and leave a painful and career-ending memory for the five seniors on the Gaels' roster.
In the hour that has transpired following the BYU comeback, I have seen several people saying that Tim Cluess cannot coach. Let me be the first to tell you that although Brigham Young head man Dave Rose did coach a better game, Cluess cannot be crucified for three meltdowns over a 33-game season in which his team did what they were supposed to do. Not only did Iona win a regular season MAAC championship, the Gaels also became just the second team in the 31-year history of their conference to receive an at-large invitation to the field of 68. On top of that, Cluess has won wherever he has been; from St. Mary's High School in Manhasset to Suffolk Community College to C.W. Post to Iona, where he is 50-20 (an astounding .714 winning percentage for those of you scoring at home) in just two seasons at the helm of the Gaels since replacing Kevin Willard, who failed to reach the postseason with some of the players Cluess has now taken to the "Big Dance." You can question the leadership of Scott Machado if you wish; or even the shot selection of Momo Jones, but without either of them, and without Mike Glover as well, Iona is not the same. Still competitive, but not the same.
Anyway, this team should be admired for just being one of the 68 chosen ones. Regardless of the fact that their season ended in a failure, Iona College captivated their fans and media in a way that few teams have been able to do. I was fortunate to cover my alma mater St. John's in their run to the NCAA Tournament last year after two losing seasons in which I did play-by-play as a student, and this year's Gaels squad has taken me on a ride that ranks as one of my most enjoyable experiences in five years in the industry. For that, I say thank you. To Scott Machado, Mike Glover, Randy Dezouvre, Jermel Jenkins and Trinity Fields, I wish each of you the best in whatever lies ahead. To head coach Tim Cluess and his staff, thank you for being so easily approachable no matter what the outcome was. Keep doing what you do, and this current success will only be the beginning. To Brian Beyrer and his staff, thank you for having me. It has been an honor to cover one of the best mid-major teams in the nation; and if you are so kind enough to let me, I would love to come back to the Hynes Center and cover the Gaels again next year.
Everybody loves the little guy in the fight, and Iona College won a lot of people over on a season that should be remembered more for their 25-win campaign that was filled with far greater highs than the second-half collapses that ultimately ended this dream season.