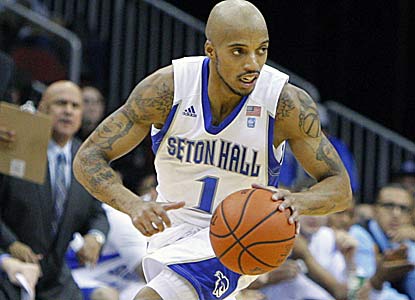 Four years later; Jordan Theodore may be a different player, but Seton Hall's senior guard hasn't forgotten what he's learned along the way. (Photo courtesy of CBS Sports)
In the wake of Seton Hall's resounding 94-64 thrashing of St. John's last night at the Prudential Center, I was part of a group of people in a huddle with Jordan Theodore, the Pirates' senior point guard who torched the Red Storm with a 16-point, 10-assist effort that vaulted him into Big East Player of the Year contention.
When I interviewed Theodore at Seton Hall media day in October, he blew me away with how well-spoken he was. Never in my five years as a broadcaster and writer have I come across a player as articulate as the former Paterson Catholic standout, and our conversation last night was just as much a pleasure as our 15-minute chat before the season amid a power outage at Walsh Gym.
The topics ranged from the obvious game performance to what he has gone through over his four years in South Orange, from sitting behind Eugene Harvey and Paul Gause to where he is now as one of the faces of an 18-8 Seton Hall team that is on track to return to the NCAA Tournament for the first time since 2006.
"As I got older, I got wiser," Theodore told me. "I stopped playing at 99 miles per hour. I looked myself in the mirror, because during that six-game losing streak (which the Pirates snapped against Pittsburgh on Sunday) I wasn't playing well either." Very rarely do you see that kind of honesty and accountability in a player of his talent at his level in Division I college basketball. Yet that was only the beginning of an interview in which the most poignant and revealing nuggets came when I asked him about the difference in mindsets between current coach Kevin Willard and former coach Bobby Gonzalez, who recruited and signed Theodore in 2008.
Along with senior forward Herb Pope and sophomore swingman Fuquan Edwin; who committed while Gonzalez was still at Seton Hall but never played for him, Theodore is one of the last remaining connections the Pirates have to their erstwhile coach, who was unceremoniously fired in March of 2010 despite improving the program's win total in each of his four seasons. With all the negative publicity Gonzalez has garnered since losing his job, it was refreshing to see someone defend him for a change.
"Bobby was a great guy," said Theodore. "I learned a lot from him, especially off the court and how to handle myself. He taught me how to be a man." Theodore's praise for his former coach continued when he recalled his work ethic while trying to improve. "Bobby always wanted perfection," the star guard said. "I used to stay in the gym all day just to do things that would make him smile. I remember when we beat Georgetown during my sophomore year, and he played the clip from 'Any Given Sunday.'" (which you can see below)
Theodore even admitted that he considered transferring once Gonzalez was dismissed, intimating that "you want to play for the coach you committed to." The senior was unsure of Kevin Willard at the time that it took convincing from Iona point guard Scott Machado, one of Theodore's closest friends who played for Willard during his first two seasons with the Gaels; as well as a meeting with Theodore's parents and the incoming coach, before he was fully sold on Willard, whom he also credits with helping make him the player he is today.
After his insight into how much of an influence Gonzalez has been, he brought the interview full circle when asked about his desire to make the NCAA Tournament. "I dream about the tournament," he said. "It hurts being knocked out every year and watching my best friends play. I just want to walk across the court and see the NCAA logo. It's going to be a blessing. I might even tear up when I see it."
Theodore also related the tournament hopes the Pirates have to his former coach; who was never able to take Seton Hall into the field of 68 despite perhaps wanting to bring the program to the "Big Dance" maybe more than the players on his roster, with this quote. "I'm sure it would mean a lot to Bobby if me and Herb (Pope) made the tournament," Theodore told me; "but I can't taste it yet, and I say that because we've got five games left that we must win."
The first of those five games comes on the road this Saturday against a Cincinnati team that is also fighting for an NCAA Tournament bid in much the same fashion that Theodore and the Pirates are. If you are a fan who embraces feel-good stories like the ones created by Tim Tebow and Jeremy Lin, Jordan Theodore is just as easy to root for; with a likability factor not seen by most athletes, not to mention a grounded perspective in which he lives in the moment, but never forgets what brought him there.
Maybe if Seton Hall does make the NCAA Tournament, it would be a silver lining for Bobby Gonzalez to see the players he groomed for the big stage playing for a national championship. One thing the experience will definitely be, though, is the platform that Jordan Theodore so desperately craves to exhibit his game on, a self-proclaimed blessing that will never be taken away from him.