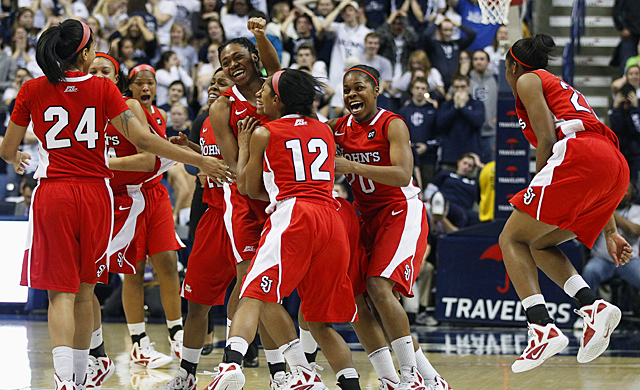 St. John's celebrates 57-56 win over No. 2 Connecticut at Gampel Pavilion, now biggest win in program history. (Photo courtesy of CBS Sports)
It seems like every season brings a new milestone for St. John's women's basketball; and if the world really is ending this year as some people may suspect, the Red Storm are just too busy enjoying the moment.
In just one week, the program that had already been the better one on the court around St. John's Queens campus has experienced two historic accomplishments most schools spend their entire existence dreaming of reaching. After head coach Kim Barnes Arico became the winningest women's basketball coach in school history nine days ago against Rutgers, her powerhouse in the making stunned the University of Connecticut on a go-ahead three-pointer from Shenneika Smith with eight seconds left in regulation that gave the Red Storm a 57-56 lead that turned out to be the final score. It's worth noting that Geno Auriemma and UConn are like the New York Yankees of women's basketball; a consistently dominant program with more national championships than any other school, including three perfect seasons behind a Who's Who of WNBA talent. If that's not enough, the second-ranked Lady Huskies had won 99 straight games on their home court at Gampel Pavilion in Storrs. How about one more nugget? The victory instantly became the biggest win in St. John's history, supplanting the Red Storm's 2010 defeat of then-No. 3 Notre Dame as the highest ranked opponent the Red Storm has beaten.
"We showed what we were capable of doing and what kind of team we are heading down the stretch," Barnes Arico said moments after the historic win. Next up for St. John's is a West Virginia team with a big win of their own, as the Mountaineers defeated Notre Dame in South Bend the same night St. John's completed a season sweep of Rutgers to give Barnes Arico her record-breaking 169th win at the helm of the Red Storm.
At 10-3 in the Big East and 18-8 overall, St. John's is in position to secure a double bye in the conference tournament next month in Hartford; but that is not the ultimate goal for St. John's, who is now very much alive for an NCAA Tournament bid as well. After standing firmly on the bubble following a loss to Marquette last month, the Red Storm have won seven of their last eight and five in a row to vault themselves into consideration for a top four seed in whichever regional they are a part of. Tonight is not the start of a new beginning, but merely the continuation of the latest Red Storm run to glory.