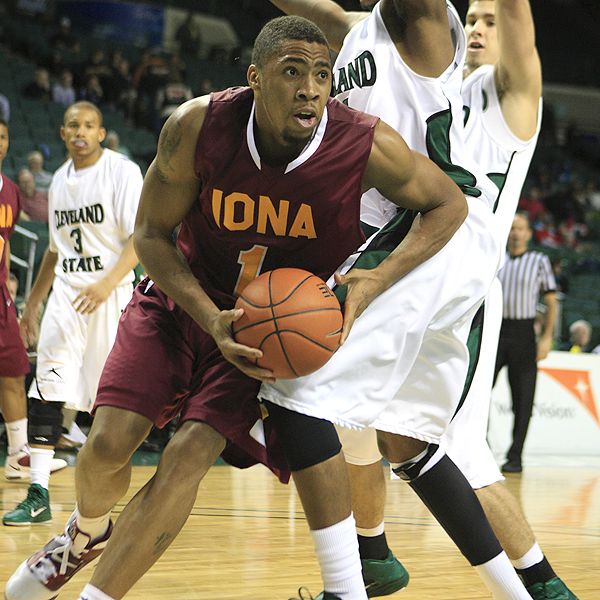 Led by Mike Glover, Iona is still tied for lead in MAAC despite upset loss to Siena last night. (Photo courtesy of ESPN)
A forward who averaged a double-double per game last year and a point guard that solidified his status as one of the best in the nation at his position coupled with a coach who has fought his own personal battles to succeed in the face of incredibly long odds. That alone makes for a feel-good story in college basketball; but when you add in a highly regarded transfer from a school that came within two points of a Final Four, not to mention three of the best long-range shooters in their conference, the phenomenon surrounding Iona College becomes an event that you truly have to see in person just to comprehend its true power.
Even after three setbacks in the last month that have had critics rethinking their assessments that the Gaels would be a team on the precipice of something in special in March, Iona still stands 15-5 on the season and 7-2 in MAAC play. Less than 24 hours removed from Iona's latest defeat; a 65-62 decision to Siena in which the Gaels opened the game on a 20-2 run, the fact remains that Iona is still the team to beat in the MAAC.
With senior forward Mike Glover averaging nineteen points and just under nine rebounds per game; and point guard Scott Machado being the only player in the nation with an average of ten assists or more per contest, the Gaels have used the college version of Chris Paul and Blake Griffin to vault them into a dynamic offense, a high-octane show that averages 84 points per game collectively while shooting 50 percent from the field and 38 percent from three-point range. In addition to the two seniors at the controls, Iona has three marksmen in guards Sean Armand, (who scored a career-high 32 points and set a MAAC record with ten threes against Siena at Madison Square Garden) Jermel Jenkins (who is reminiscent of a mid-major version of Dwight Hardy with his catch and shoot skills) and Kyle Smyth; while Taaj Ridley has emerged as Iona's "glue guy," doing a multitude of things that do not show up in box scores. Then there is Momo Jones; the enigma of an Arizona transfer that, despite his unorthodox shot selection at times, is the Gaels' second-leading scorer and the man who will most likely enter the 2012-13 season as the face of the team after Glover and Machado have graduated.
With the second half of the MAAC season starting Friday night for the Gaels when they travel to Connecticut to take on Fairfield, Iona will be looking for a repeat of their January 15th game against Loyola. In that encounter, the Gaels shook off a lackluster first half to pull away as the game went on en route to a 74-63 victory just three days after a crushing home defeat against Manhattan that saw Steve Masiello's Jaspers erase an 18-point deficit to win the game on a buzzer-beating three from freshman Emmy Andujar. "To be honest with you, I thought we had a hangover from the loss the other night;" said Iona head coach Tim Cluess following the Loyola game, referring to the Manhattan debacle three days prior. "I was hoping we would snap out of it."
Three days from now, Iona gets another shot at redemption.