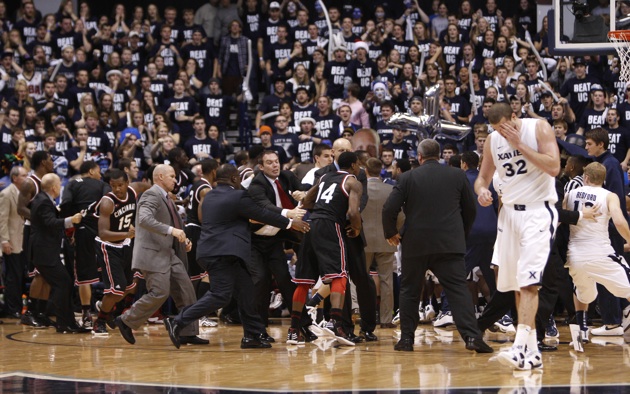 While Cincinnati has won seven straight following loss to Xavier; the Musketeers haven't been the same since the infamous postgame brawl, dropping five of their last six. (Photo courtesy of CBS Sports)
Not very often do you have a scene in college basketball that ends up making one team better while their opponent falls off the tracks. Four weeks removed from a Crosstown Shootout between Cincinnati and Xavier that will forever be remembered more for the postgame fight than the Musketeers victory that took place that afternoon at the Cintas Center, such an occurrence is exactly what we have seen as we now enter January 2012 and the world of conference play.
Following an incident in which Cincinnati coach Mick Cronin emphatically explained his embarrassment to the media after the incident left literal and figurative black eyes on the players, teams and game in general, Cincinnati forwards Yancy Gates and Cheikh Mbodj received six-game suspensions when some felt they should have received a worse fate. Gates and Mbodj; as well as reserves Octavius Ellis and Ge'Lawn Guyn, (who were also suspended) are back on the court for the Bearcats, who have surprisingly won seven straight since the December 10th brawl. The first five games came against competition some may consider weak, (Wright State, Radford, Arkansas-Pine Bluff, Chicago State and Oklahoma) while Cincinnati's last two have been impressive Big East victories against the two teams that were the class of the conference a year ago in Pittsburgh and Notre Dame.
Cincinnati's seven-game winning streak can be attributed most to the new style the Bearcats have played since the suspensions. In the wake of losing Gates for six games, Cronin opted instead to go with a smaller, four-guard lineup normally seen by Big East foe Jay Wright and Villanova. So far, the decision has paid off. "It's allowing us to play faster;" said Cronin in an interview with college basketball insider Jon Rothstein, "and that's creating more scoring opportunities." Since the transition to "small ball," the Bearcats have averaged 81 points per game, compared to the 62 they managed on a nightly basis before and including the Xavier game.
Cronin's "four quick" look has enabled starting guards Cashmere Wright and Dion Dixon to join sophomore scoring leader Sean Kilpatrick as the primary sources of production in the Cincinnati lineup, but the Bearcats' biggest key is 6-3 junior guard Jaquon Parker. Once a reserve for all of last season and most of this year before the brawl, Parker has become a critical piece of the puzzle for Cronin on his latest hot streak now that he is fully recovered from an injury that sidelined him for the first seven games of the year. "He's our big guard and people are looking at him and seeing a 6-3 guy getting seven or eight rebounds a game," said Cronin of Parker. "He's really filling the role that Rashad Bishop (who graduated this past May) held down last year." Cincinnati looks for their third straight win to open Big East play (and eighth overall) tomorrow afternoon, when they host St. John's in what should be the latest installment of a rivalry marked by rock fights where the first team to score 50 points is usually the winner.
Ten minutes away from the Cincinnati campus, the atmosphere could not be anymore different. Once the eighth-ranked team in the country following the win over their archrivals, Xavier stood undefeated at 8-0. Since the brawl and the suspensions of guards Tu Holloway and Mark Lyons; as well as freshman forward Dez Wells, the Musketeers have dropped five of their last six, including a home loss to Oral Roberts and two games in the Diamond Head Classic in Hawaii. After returning to their winning ways against Southern Illinois, Xavier has dropped two in a row; first to Gonzaga and most recently their Atlantic 10 opener against La Salle, prompting head coach Chris Mack to wonder just how much the fracas against Cincinnati took out of his team. "It seems like a long hangover," responded the coach following Xavier's loss to La Salle this past Wednesday night when asked if the effects of the incident still lingered. The same disparity in offense that has been so positive for Cincinnati can be related to Xavier as well, but not with the same results. Before and including their meeting with the Bearcats, the Musketeers were averaging 74 points per game through an undefeated start to the season that included quality nonconference wins over Vanderbilt, Purdue and two-time reigning national runner-up Butler. Since the brawl, Xavier has only put together 67 points per contest on average; but if you eliminate the two 80-plus point games against Hawaii and Southern Illinois, that number drops even lower to 59.
Xavier is also in action Saturday afternoon, playing their second Atlantic 10 game of the year just an hour away from Daly Dose headquarters at Rose Hill Gym in the Bronx; where awaiting them will be a Fordham team that is just now finally starting to get their well-deserved respect under head coach Tom Pecora after their first-ever win against an ACC team (over Georgia Tech) and upset win over a ranked Harvard outfit that has been anointed by many as the class of the Ivy League this season. Fordham also has the guards to compete with Holloway and Lyons, as the backcourt of Branden Frazier, Devon McMillan and Bryan Smith is among the most underrated in the nation despite their youth.
Xavier may have won the battle following the Crosstown Shootout, but the general consensus is that Cincinnati has won the war through the first four weeks following the brawl. Tomorrow afternoon could go a long way in once again reversing each program's fortune, for better or worse.
Xavier travels to Fordham in a game that takes place at 12pm Eastern time. The game will be shown on the YES Network for those in the New York area and will be streamed on fordhamsports.com with the audio feed from WFUV. (90.7 FM) Cincinnati hosts St. John's shortly thereafter, with the Bearcats' 2pm matinee against the Red Storm being broadcast on MSG in the New York area and across the country on ESPN3 for those who live outside the Big Apple or are Time Warner Cable subscribers. St. John's also has an audio stream on redstormsports.com, with the audio feed from John Minko on WBBR. (1130 AM)