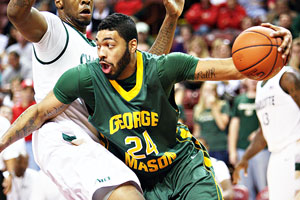 Ryan Pearson and George Mason will be giving new coach Paul Hewitt reason to smile this season, as Patriots are CAA favorites. (Photo courtesy of ESPN)
Many well-regarded college basketball analysts have always considered the Colonial Athletic Association to be among the premier mid-major conferences in Division I, and it's hard to disagree when looking at the league's resume in recent years. Aside from the two Final Four appearances in the last six years, the CAA has managed to produce consistent success and quality basketball year in and year out; and the upcoming season should be no exception. Hopefully, this preview will attempt to make some sense of it all as the CAA gets its moment in the "30 In 30" sun.
1) George Mason - The team that redefined Cinderella with their miracle run through the 2006 NCAA Tournament, in which they reached the Final Four as a No. 11 seed while disposing of three former national champions along the way, is a rarity in college hoops this season: A team that will be markedly better under a new head coach, just as St. John's was last season under Steve Lavin. Longtime Patriots head man Jim Larranaga left to take the job at Miami, and replacing him is former Georgia Tech boss Paul Hewitt, who returns to the mid-major ranks he made a name for himself in when coaching Siena. Hewitt loses Cam Long to graduation and Jake Hancock to Louisville, but returns CAA Player of the Year candidate and former Christ the King star Ryan Pearson at the power forward position for his senior season. Point guard Andre Cornelius is also back for his senior campaign; and all three of Larranaga's recruits upheld their commitment when Hewitt was brought in, including another former Royal in guard Corey Edwards, whose style of play fits the style exhibited by the CAA.
2) Drexel - Last year, former UMass coach James "Bruiser" Flint turned the Dragons into arguably the best team not to participate in a postseason tournament: A 21-11 squad that won eleven games in the Colonial and picked up an impressive road win against Louisville in its nonconference slate. If there is any team that poses the biggest threat to George Mason, it's this one in Philadelphia. Four starters return for Drexel this season, including senior forward Samme Givens, a double-double per night player on average who is reminiscent of former Syracuse star Paul Harris, except with stronger rebounding skills; but the biggest comeback for the Dragons this season will be that of star guard Chris Fouch, who is fully recovered this year after missing part of his sophomore campaign with a knee injury. Fouch should be a full-time starter this season as the Dragons will be a serious NCAA Tournament contender, and perhaps a threat to make the latest magical run out of the CAA.
3) Old Dominion - We go from the biggest sleeper in the conference to the school with the best jerseys in the league, especially the road jerseys. Google them if you don't believe me. Aesthetically pleasing uniforms aside, the Monarchs will go into the upcoming campaign with a lot to replace; as center Frank Hassell and forward Ben Finney are gone, but Blaine Taylor retains the services of do-it-all guard Kent Bazemore for the senior's final season in Norfolk. Fellow guard Trian Iliadis and senior forward Chris Cooper will have productive seasons filling in for Finney and Hassell, and ODU won't experience much of a dropoff this season.
4) Virginia Commonwealth - VCU's improbable run to the national semifinals started with an appearance in a "First Four" play-in game, and its encore will commence without the services of both of the Rams' two best players that have since graduated. Jamie Skeen and Joey Rodriguez will not be replaced easily, but Shaka Smart still has swingman Bradford Burgess, who is now a senior. Burgess will need to carry this team, as he is the only senior on the roster; but the good news for the future is that the rest of the team comes back next year in an attempt to recapture the magic.
5) Hofstra - Aside from Tim Cluess at Iona, no rookie coach at a mid-major had a better first season than Mo Cassara did at the helm of the Pride. Now, Nassau County's college team must prepare for life without all-time leading scorer Charles Jenkins, the heart and soul of the program for the last four years. Former Fordham transfer Mike Moore will lead the way as he embarks on his senior season, and 6-5 senior Nathaniel Lester could have a breakout year playing alongside him. However, Hofstra's inexperience and lack of size inside could come back to hurt them down the stretch in what should be a more physical CAA than in years past.
6) James Madison - With four returning starters, including junior guard Devon Moore, the Dukes could join Drexel in the sleeper category this season. Coming off a 21-win season as well, senior forward Rayshawn Goins could be a double-double per night player this season. Former Marist coach Matt Brady surprised a lot of people when he left what had been an up-and-coming Red Foxes program to take this job; but has gone 55-47 in three seasons at JMU, and the best could very well be yet to come.
7) UNC-Wilmington - Buzz Peterson heads into his second year with the Seahawks intent on building a winner after going 13-18 in his maiden voyage at the helm. Top scorer and rebounder Keith Rendleman is back at the power forward position for his junior year, while senior guard Trevor Deloach is UNCW's candidate for a breakout season. The Seahawks also have size that not many CAA programs possess in the form of seven-foot junior center Matt Wilson.
8) Delaware - Once upon a time, the Blue Hens, like Hofstra after them, were the class of the America East Conference before moving to the CAA. Another thing Delaware and Hofstra have in common: Their coaches in the America East (Mike Brey at Delaware, Jay Wright at Hofstra) jumped to Big East programs when hired at Notre Dame and Villanova, respectively. However, that was then; and this is now. Delaware will need breakout seasons from junior forward Jamelle Hagins and senior guard Devon Saddler if this year will be the one in which the Blue Hens return to their past glory.
9) Northeastern - The Huskies, perhaps best known for being the alma mater of NBA champion J.J. Barea, lose do-it-all guard Chaisson Allen this season; but manage to bring back the other four starters from last year's 11-20 squad. Junior guards Joel Smith and Jonathan Lee will undoubtedly be the team leaders on both sides of the ball, but Northeastern needs sophomore big man Ryan Pierson (not to be confused with Ryan Pearson at George Mason) to improve off a freshman campaign that landed him a spot on the CAA All-Rookie team.
10) William & Mary - The Tribe will also be graced by the returning presence of four starters this season as they look to rebound from the 10-22 effort that followed their 22-win 2009-10 campaign. Sophomore guard Brandon Britt averaged nearly eleven points per game during his freshman season, good enough to earn him CAA All-Rookie honors, but no player on the roster stands over 6-9. Fortunately, I will get to see this team up close and personal on November 7th, as they open the regular season against St. John's in a game that will provide a "Quinn vs. Quinn" matchup: William & Mary senior forward Quinn McDowell, perhaps the team's best returning player, versus St. John's aficionado and Daly Dose superfan Quinn Rochford, now a senior writer for the latest Red Storm basketball media affiliate, Sweet, Sweet Lavin.
11) Georgia State - The Panthers are one of the three CAA programs under new leadership, as Ron Turner comes down from IUPUI to take over a team that returns four starters; but does not have a player who averaged more than ten points per game a year ago. Senior forwards Eric Buckner and Brandon McGee will be the keys to the offense for Georgia State, while senior Jihad Ali anchors the backcourt.
12) Towson - The Tigers pick up one of the up-and-coming coaches in the nation, as former Pitt assistant Pat Skerry will take over a team that won just four games a year ago and went 0-18 in CAA play. A strong recruiter with connections that helped Jamie Dixon maintain his strong reach along the Eastern seaboard after Barry Rohrssen was hired by Manhattan, Skerry will get the chance to show his mettle as an in-game strategist this season. Senior guard RaShawn Polk will be the top returning offensive contributor, while 6-9 center Robert Nwankwo returns after a medical redshirt forced him to miss the entire season last year. When healthy, Nwankwo could be a double-double per night player.