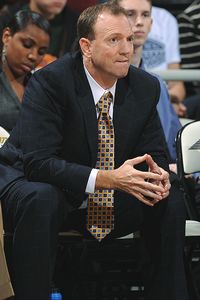 Now at Long Beach State, Dan Monson looks to continue winning tradition he helped start at Gonzaga and Minnesota. (Photo courtesy of ESPN)
Before I go any further, I would like to acknowledge all the positive reviews I've received over the last few days in regard to the "30 In 30" series of conference previews. It's refreshing to see that people actually read this content, and I enjoy being able to go where most writers stay away from in regard to low and mid-major conferences. With that in mind, up next is the Big West; and the nine teams that comprise a league that is exclusive to the state of California.
1) Long Beach State - Last year's regular season Big West champions definitely have the leadership on the sideline that will get them to the next level in head coach Dan Monson; he of former Gonzaga and Minnesota fame, as well as the architect of the Zags' dynasty that has flourished under successor Mark Few. Four starters return for the 49ers this season, including forward T.J. Robinson. The 6-8 swingman is making a huge impact across the country from his West Haven, Connecticut hometown as he enters his senior season coming off a junior campaign where he averaged a double-double per game, and is going to be this writer's preseason pick for Big West player of the year.
2) Cal Poly SLO - In recent conference previews, most of the leagues that have been profiled have been guard-heavy groups. Cal Poly (and the Big West in general) could be an exception, as the Mustangs will rely on senior forwards David Hanson and Will Donahue to push them over the top. The 6-5 Hanson is the team's top returning rebounder, while Donahue is arguably the Mustangs' most well-rounded player after having led the team in scoring, assists and steals last season.
3) Cal-Santa Barbara - Reigning Big West champion UCSB will once again be a contender as the Gauchos look for consecutive NCAA Tournament appearances, and the two-man show of senior guards Orlando Johnson and James Nunnally could very well be the most underrated and least publicized one-two punch in the nation. Together, Johnson and Nunnally accounted for more than half of UCSB's scoring, averaging over 37 points combined for a team that managed an aggregate of 68 per contest last year.
4) Pacific - There once was a time when the Tigers and coach Bob Thomason's international pipeline were the darlings of the Big West, back when Guillaume Yango and Christian Maraker led the pride of Stockton, California past Providence in the NCAA Tournament. Thomason still has his global reach, this time in the form of senior center Nyika Williams of the Caribbean nation of St. Vincent and the Grenadines. Thompson's offensive equal is from the United States, as South Dakota native Sam Willard enters his senior season off a double-double average every night while also shooting 48 percent from the field last season.
5) Cal-Riverside - You don't usually see a 12-19 team prime to make this big a jump in the following season, but the Highlanders return everyone except outgoing point guard Javon Borum. Staten Island native Phil Martin comes back after leading the team in scoring last year; and the senior will be looking to improve on a campaign that saw him average five rebounds a night despite his 6-4 stature, not to mention shooting 47 percent from the field, 36 from beyond the arc, and 86 from the free throw line.
6) Cal State Northridge - The Matadors are also another team in possession of a dominant swingman that you've probably never heard of: 6-7 senior Lenny Daniel. Daniel's only weak link last season was his free throw shooting, (58 percent from the charity stripe) but everything else on the stat line was impressive: 56 percent from the field, 16.3 points per game, and just over nine rebounds a night. In addition to Daniel, 6-5 combo guard Rashaun McLemore will be expected to move into the starting five on a full-time basis after only starting sixteen games last year.
7) UC Davis - The school most notorious for producing former Jets quarterback Ken O'Brien loses two-thirds of its backcourt triumvirate; (Mark Payne and Joe Harden) but returns senior Eddie Miller, a former Cal transfer who shot 37 percent from beyond the arc a year ago. Fellow guards Ryan Sypkens and Josh Ritchart, a junior and sophomore respectively, will have the unenviable task of replacing the productivity vacated by Payne and Harden for new Aggies head man Jim Les, the former Sacramento King who spent last season coaching Bradley.
8) Cal State Fullerton - The Titans will always be known as a baseball school, but that doesn't mean they can't contend on the hardwood. Who is Exhibit A of this theory, you might ask? It's none other than burgeoning power forward Andre Hardy, a 6-6, 230-pound San Diegan going into his senior season. Hardy was CSF's leading rebounder last season when he averaged 8.5 boards per game to go with a 10.6 point per game average despite missing the first twelve games of the season due to ankle surgery. If Big East fans get to see the Titans this season, some will look at Hardy and see a West Coast version of former St. John's power forward Sean Evans.
9) UC Irvine - The last remaining school to be profiled loses all four of its top scorers from last year, but is dreaming big (literally) while building toward the future. Head coach Russell Turner has brought in a class of eight freshmen topped by 6-10 big man Mike Best, who, if used properly, could team with fellow 6-10 center John Ryan, a transfer from Fresno State, to give UC Irvine one of the tallest inside presences in the Big West.