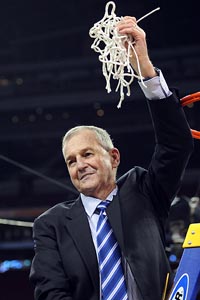 Could the nets that hold all 17 Big East programs be cut in the future? UConn head coach Jim Calhoun thinks it's a foregone conclusion. (Photo courtesy of ESPN)
The induction of Texas Christian as the seventeenth institution in the Big East Conference effective next July has a myriad of effects on what has come to be regarded as the strongest conference in college basketball. For instance, the league's 18-game schedule will either lose one of its three home-and-home series or perhaps expand to as many as twenty games. While there are some out there who embrace the idea of the rich getting richer, there are others who are outspoken critics of expanding membership into an already expansive league that the Big East hopes to add an eighteenth member to in the near future.
"My own personal opinion, and I won't probably see this: In the next couple of years, I think you'll see a separation," said UConn coach Jim Calhoun, who last month celebrated his third national championship win. "I think it's inevitable." It should be noted that Calhoun is not particularly enamored with the Big East's current state, as every year at Big East media day there is a question asked of the legendary coach that results in his belief that eighteen games versus the former sixteen-game ledger isn't exactly the best thing for the teams and players. Veteran scribe Dick "Hoops" Weiss of the New York Daily News tweeted his unfortunate agreement with Calhoun yesterday, and I will do the same here today.
The split of the Big East would best work out if the "football schools" (referred to as such since football is their highest revenue generator) broke away and formed their own league, leaving the "basketball schools" to do the same. Under that scenario, the reformed Big East (which would then become two separate conferences) would look like this:
Football schools: Cincinnati, Connecticut, Louisville, Pittsburgh, Rutgers, South Florida, Syracuse, Texas Christian, West Virginia
Basketball schools: DePaul, Georgetown, Marquette, Notre Dame, Providence, St. John's, Seton Hall, Villanova
To an educated fan, this also creates a split between public and private institutions; which also brings the financial issue of basketball not bringing in enough cash to compete with the football programs into play. If you're not sure just how influential this gap between the haves and have nots of the gridiron is, just take a look at the disparity in salary between Seton Hall coach Kevin Willard, the lowest-paid head man in Big East basketball; and UConn's Jim Calhoun, the highest-paid employee in the state of Connecticut. Or, you can watch the video below.
Calhoun also thinks the prospect of the basketball schools adding some other mid-major programs to their own conference is a distinct possibility, and I agree with that as well. With the eight mentioned above, one could conceivably picture another four schools joining up to form a new conference. Here are four schools that would be best served jumping ship:
Xavier: Aside from Temple, they're the second-most recognizable institution in the Atlantic 10, and a private university just like its prospective new brethren. Not only that, but Xavier is one of the more consistently successful mid-majors in Division I; and coach Chris Mack's Musketeers are capable of making a deep NCAA Tournament run every season. The move would add to an already intense rivalry with intra-city adversary Cincinnati, a feud that comes to a head every year in the "Crosstown Shootout."
St. Joseph's: Assuming Villanova decides not to move its football program up from the Football Championship Subdivision, (Division 1-AA for my fellow old timers out there) it's only natural that another Philadelphia school joins the fray. Even if the Wildcats do cross over and side with the football schools, another Philly program like Drexel or LaSalle could come in; giving added emphasis and new meaning to the already storied and fierce Big 5 battles.
Hofstra: For much the same reasons as St. Joe's: A New York school that gives the prospective league a third presence in the nation's largest media market to go with St. John's and Seton Hall. The Pride (Flying Dutchmen for all my fellow AARP members) have been a big fish in a small pond for quite some time now in the CAA, and even longer before that back when Jay Wright was winning America East championships with Speedy Claxton and Norman Richardson.
George Mason: What better way to make a splash than by adding the team that redefined Cinderella. Mason even has some local blood to force itself into the picture: New head coach Paul Hewitt is a Long Island product, having grown up in Westbury; and picked up two players with metropolitan area ties: Anali Okoloji, who recently transferred from Seton Hall, and 2011 commit Corey Edwards from Christ The King High School in Middle Village.
I would love to hear your thoughts on what could be a watershed moment in the history of college basketball as we know it. Chime in via the comment box or on Twitter to share your vision.