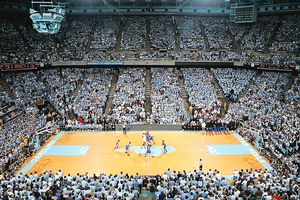 Any list of the best college basketball venues in the country has to include the "Dean Dome," better known as North Carolina's home court of the Smith Center in Chapel Hill. (Photo courtesy of ESPN)


Earlier this morning, word got out that my alma mater St. John's would be traveling to Rupp Arena in Lexington for a road meeting with Kentucky in the Johnnies' return to the SEC/Big East Invitational. After a handful of text messages exchanged between members of the Daly Dose fan base, (you guys know who you are, so no recognition is necessary) I decided to compile a list of the ten places that any die-hard college hoops fan needs to visit for a game at some point in their existence. Keep three things in mind, though: The venues I am about to mention are places that I myself have never been to as neither a fan or media member. Moreover, venues of the past such as Cole Field House and Freedom Hall will be excluded as well. Finally, this list will also not include venues shared by NBA teams; so although I believe arenas such as Madison Square Garden and the Prudential Center should be included in the college basketball experience tour, I'll limit the following to pure college courts and nothing else. So without further ado; and in no particular order, I give you:
"THE COLLEGE HOOPS BUCKET LIST"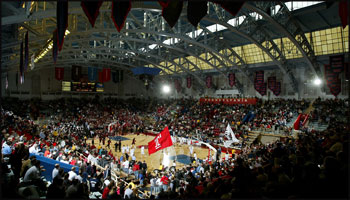 1) The Palestra: Philadelphia, Pennsylvania (University of Pennsylvania and Saint Joseph's University)
Any old-school college hoops fan knows this cathedral. (Photo courtesy of ESPN) A throwback in every sense of the word, you can't have a conversation about basketball without the home of the Big 5 making its way into the discussion. Personally, it's a venue I would kill to attend either with a ticket or credential; and no one I have spoken to has ever said a negative word about the place. From what I've heard, it's an arena you have to experience firsthand to truly appreciate.
2) Dean E. Smith Center: Chapel Hill, North Carolina (University of North Carolina)
The majestic court pictured in the opening should be one of the first stops for anyone who respects the game of college basketball. All one has to do to fall in love with the "Dean Dome" is simply look around. Be it the history in the form of the many retired numbers hanging from the rafters; or the sea of Carolina blue seats, the home of the Tar Heels is as visually pleasing as it is to just sit back and watch Carolina take the court. Even those who hate Carolina would admit that Chapel Hill is an enjoyable experience if they're educated enough and have a conscience.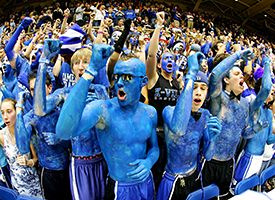 3) Cameron Indoor Stadium: Durham, North Carolina (Duke University)
You can't mention Carolina without also paying homage to the home of the world-famous "Cameron Crazies," (photo courtesy of ESPN) regardless of which school you root for. Duke's venerable arena may seat less than 10,000 fans, but the proximity of the crowd to the court is so close that the atmosphere is virtually unrivaled through most of college basketball. Two years ago when St. John's traveled to Durham to face the Blue Devils, my former broadcast partner Frank Qasim had the opportunity to share the call of that game on WSJU after succeeding me as sports director; and he still considers it the highlight of his young career.

4) Allen Fieldhouse: Lawrence, Kansas (Kansas University)
Arguably the toughest place in the country to play, Allen Fieldhouse (photo courtesy of Sports Illustrated) is just as venerable and majestic as it is mentally and physically taxing on both Jayhawks players and their opposition. It may be just a little intimidating for the fans as well, but that all changes after the opening tip. In addition, not many chants rival the timeless classic "Rock Chalk Jayhawk."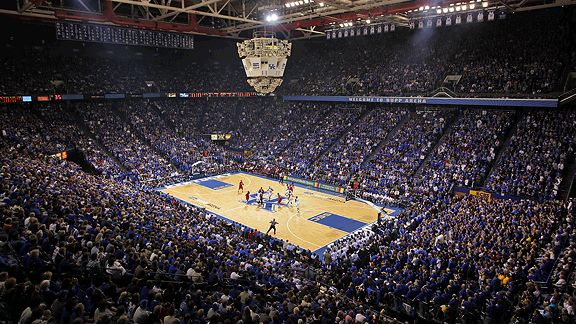 5) Rupp Arena: Lexington, Kentucky (University of Kentucky)
The venue (photo courtesy of ESPN) that launched this impromptu idea about five hours ago this morning when I was informed that John Calipari and Big Blue Nation would be hosting St. John's sometime in the upcoming season. Kentucky IS college basketball, and this arena is college basketball's version of the Masters: A tradition unlike any other. The players and coaches may change, but the fans and building (for now, and hopefully not ever) never will.
6) Pauley Pavilion: Los Angeles, California (University of California-Los Angeles)
Just as Lexington has become synonymous with college basketball, so too has Westwood. The perennial home to winners under John Wooden in the 1960s and '70s (photo courtesy of Orange County Register) hasn't changed much over the years. In fact, it's become more iconic as its fan base demands the same expectations year in and year out. St. John's head coach and former Bruins head man Steve Lavin had this to say about the inhabitants of Pauley last year at Big East media day: "At UCLA, if you don't deliver Final Fours and national championships on a consistent basis, someone else gets a crack at it."
7) Assembly Hall: Bloomington, Indiana (Indiana University)
Another place where the die-hard feels right at home (photo courtesy of Bloomington Herald-Times) is the Big Ten's most iconic court, one graced by legends such as Branch McCracken and Bobby Knight before current Hoosier head man Tom Crean opened its doors. The court of dreams for most boys growing up in the Midwest is a Mecca for anyone who bleeds cream and crimson just as much as it is for those who simply watch college hoops for the love of the game.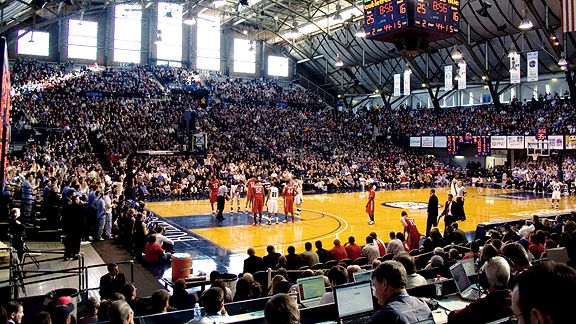 8) Hinkle Fieldhouse: Indianapolis, Indiana (Butler University)
The home to "Hoosiers" and back-to-back national runner-up finishes for Butler University, (photo courtesy of ESPN) Hinkle doesn't get the respect it deserves since it plays host to a mid-major. However, what it lacks in national recognition is made up for in visual charm and quality of the game. The best college basketball is played in this area of the country, where thousands sell out arenas to watch groups of kids in their late teens and early twenties play their hearts out for forty minutes a night (sometimes more) while holding nothing back.
9) Jack Breslin Student Events Center: East Lansing, Michigan (Michigan State University)
Yes, I spelled out the full name of the Breslin Center, (photo courtesy of CBS Sports) and it has absolutely nothing to do with me having been a Michigan State fan since the mid-1990s. Home to one of the most raucous student sections in the nation in the form of the "Izzone," the battlefield of the Spartans has garnered a reputation as being a formidable foe just as fast as head coach Tom Izzo has become notorious for almost always making a deep run into March. If not for the long and storied mystique of Indiana basketball, this place would be higher up on the list.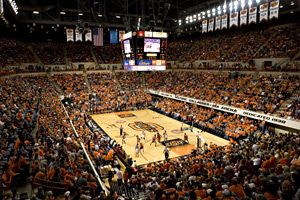 10) Gallagher-Iba Arena: Stillwater, Oklahoma (Oklahoma State University)
The "Madison Square Garden of the Plains" (photo courtesy of CBS Sports) is the last entry in this group, and a wild card of sorts. Oklahoma State hasn't been as relevant in recent times following the departure of longtime coach Eddie Sutton; but if you're a college hoops enthusiast that has been around for a while, you'll remember how far ahead of its time this building with the maple floor that no amount of words does justice to was, and that was before the days of "Big Country" Bryant Reeves and the guard duo of Tony Allen and Joey Graham from the 2004 Final Four squad.
Honorable Mentions:
McKale Center: Tucson, Arizona (University of Arizona)
Frank Erwin Center: Austin, Texas (University of Texas at Austin)
Petersen Events Center: Pittsburgh, Pennsylvania (University of Pittsburgh)
Carrier Dome: Syracuse, New York (Syracuse University)
Comcast Center: College Park, Maryland (University of Maryland)
Qwest Center: Omaha, Nebraska (Creighton University)
That's pretty much it. If you feel I left some places out, please chime in through the comment section or on Twitter. I would love to hear from you and keep this discussion going.