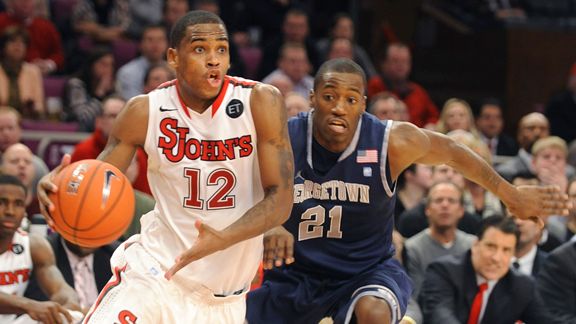 Dwight Hardy looks to send St. John's into Big East tournament quarterfinals with victory against Rutgers later today. (Photo courtesy of ESPN)
Four teams advanced, four more make their debuts today. Fresh off a Big East tournament opener that saw a 15 seed shock their way into the second round, day two should provide just as much entertainment. Since we're about thirty minutes away from tipoff between UConn and Georgetown, let's get it started.
#9 Seed UConn vs. #8 Seed Georgetown - The Huskies wasted little time proving they were the better team in their 97-71 victory over DePaul that saw Alex Oriakhi come to life off the bench for 13 points and 19 rebounds to lift Jim Calhoun's unit into the second round. Waiting for them is a Georgetown team that has hit the skids since losing Chris Wright to a broken left hand, making it even more important that Austin Freeman and Jason Clark have productive afternoons.
#13 Seed Rutgers vs. #5 Seed St. John's - The Scarlet Knights fought their way past Seton Hall even through overtime and Jeff Robinson's inefficiency, and Mike Rice gets the Johnnies as his reward. If you enjoyed yesterday's encounter with the Pirates, Rutgers should give you more of the same today as Jonathan Mitchell matches up with yet another dynamic scorer in St. John's guard Dwight Hardy. In the one meeting between the two back on February 2nd at Carnesecca Arena, Rutgers tied the game at 56 before Justin Brownlee drove in for a reverse layup off his broken left thumb to give the Red Storm a two-point victory.
#15 Seed South Florida vs. #7 Seed Cincinnati - Anthony Crater and the Bulls are riding high after their first-round upset of Villanova, and now look to stop a Bearcats team playing for a higher seed in the NCAA Tournament. Since USF's frontcourt is one of the biggest in the conference, don't be surprised to see Anthony McClain early and often for Mick Cronin and Cincinnati.
#11 Seed Marquette vs. #6 Seed West Virginia - Marquette won their first battle last night by handily defeating Providence in a game the Golden Eagles started on a 17-0 run. Next up for Buzz Williams and company is the reigning Big East champions, who finished strong after languishing in the middle of the standings through most of the season. Pay close attention to the matchup at the point between Truck Bryant and Dwight Buycks. If the Mountaineers can control the tempo in the backcourt, the game is theirs for the taking.
The Way I See It: Predictions
St. John's defeats Rutgers
Marquette defeats West Virginia