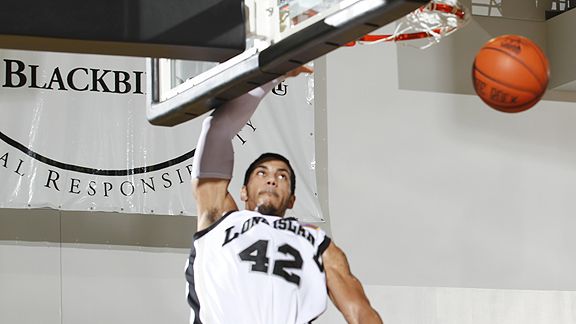 LIU forward Julian Boyd has already risen above the odds, and now leads his Blackbirds into NEC Tournament, still looking for their first conference title since 1997. (Photo courtesy of ESPN)
Tournament preview number two here, and this one is close to home for me given my affiliation with St. Francis College. The Northeast Conference is still looking for its first NCAA Tournament win aside from the two play-in victories they have picked up with Monmouth (2006) and Mount St. Mary's, (2008) and depending on who represents the NEC in the field of 68, it could easily happen. Keep in mind that the tournament format in the NEC is an interesting one, with the higher seed getting a home game in each round. Therefore, unless top-seeded Long Island University wins both their quarterfinal and semifinal games, there really won't be any homecourt advantage. The tournament is also not conventionally bracketed, as the field reseeds a la the NHL playoffs. In other words, the lowest remaining seed plays the highest remaining seed. Without any further ado...
Those Who Missed The Tournament: Sacred Heart, Monmouth, Fairleigh Dickinson, Bryant University (Bryant is still reclassifying from Division II and will not be a full-fledged NEC member institution until the 2012-13 season)
#1 Seed LIU vs. #8 Seed St. Francis University (PA) - What else can you say about the Blackbirds other than the fact that they're probably the biggest surprise in the New York City area outside St. John's? Jim Ferry's uptempo offense would give any team fits in the Big Dance, never mind a Red Flash squad that had to win their last two games against Wagner and Mount St. Mary's (no easy task) just to make the field. Julian Boyd and Jamal Olasewere carry LIU up front, while seniors Kyle Johnson and David Hicks anchor a strong and stingy backcourt. Speaking of their guards, pay attention to freshman reserve Jason Brickman, who gets quality minutes alongside clutch shooter C.J. Garner, who defeated St. Francis College (NY) on a mid-range jumper with half a second left in regulation three weeks ago.
#2 Seed Quinnipiac vs. #7 Seed Mount St. Mary's - Former Georgetown assistant Robert Burke has done a solid job in his first year at The Mount, and has forward Shawn Atupem to lead his squad into battle against a Bobcats team that was picked to win the conference before the season started. Quinnipiac backcourt tandem Deontay Twyman and James Johnson can go for 20 points each on any given night, and senior forward Justin Rutty is finally back at 100 percent after missing half the season with an elbow injury, factors that should play to Tom Moore's advantage as the Bobcats will probably secure a semifinal date at their palace of an arena, the TD Bank Center in Hamden, Connecticut.
#3 Seed Robert Morris vs. #6 Seed Wagner - Here's another salute to first-year coaches. Andy Toole, who at 30 is the youngest head man in the country after replacing Rutgers coach Mike Rice, has picked up the pieces after a rocky start with the Colonials. However, his star guard Karon Abraham is out for the year, forcing Robert Morris to rely on the shooting of Velton Jones and rebounding prowess of Russell Johnson. On the other side of the bench is Wagner, coached by another college rookie in Danny Hurley. The Seahawks faded down the stretch, but don't count them out, especially if Chris Martin returns to his veteran form tonight. The Verrazano Warriors also need leading scorer Tyler Murray to have a big game while big men Orlando Parker and Naofall Folahan avoid foul trouble. In what will definitely be a physical matchup, the confrontation on the bench will be just as entertaining to watch; as both Toole and Hurley are not afraid to be demonstrative.
#4 Seed Central Connecticut State vs. #5 St. Francis College (NY) - I'll be on hand live from New Britain to call this game along with Seth Cantor as coverage begins at 6:45 on the Terrier Sports Network. (Listen live at sfcathletics.com) NEC Player of the Year Ken Horton leads the Blue Devils back home to the Detrick Gym to take on a Terrier team that beat them a week ago tonight at the Pope Center in Brooklyn by the final of 75-65. Horton is a tall order, though. Having gone for 27 against St. Francis last week, he can burn any team from anywhere on the court; and he reminds me a lot of former Marquette forward Lazar Hayward. Glenn Braica is the last of four rookie coaches in this year's tournament, and he leads an underrated and complete starting five into Connecticut tonight. Ricky Cadell looks to add to his new school-record point total while Akeem Bennett will be proving why he was the conference's Defensive Player of the Year, and Stefan Perunicic will be firing from beyond the arc. The key to this game will be the Terriers' role players. If Dre Calloway can score and reserves Travis Nichols and Akeem Johnson can take over the game the way they have during St. Francis' current four-game win streak, the matchup is theirs for the taking. This is clearly the best quarterfinal matchup in my opinion.
The Way I See It: Predictions
LIU defeats St. Francis (PA)
Quinnipiac defeats Mount St. Mary's
Wagner defeats Robert Morris
St. Francis (NY) defeats Central Connecticut State
Keep it here this weekend for a preview of the NEC semifinals, which take place on Sunday afternoon at the on-campus venues of the two highest remaining seeds.