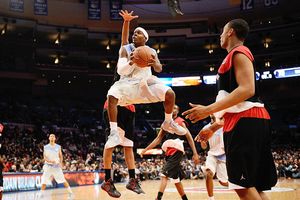 Kansas freshman Josh Selby finally makes his long-awaited debut Saturday night against USC. (Photo courtesy of ESPN)
Another week in the college basketball world has come and gone, which means it's time once again to recap what happened in the past few days and set our sights on the immediate future in the latest edition of the starting five.
The Josh Selby show makes its way to Kansas. After sitting out the first nine games of the Jayhawks' season, the highly-touted recruit makes his debut at Allen Fieldhouse Saturday night against USC. However, it's still unclear as to just how much we'll see of the most talked-about freshman in Division I, as Kansas coach Bill Self is not sure exactly what Selby's role will be. All we do know is that he will see most of his minutes at the shooting guard position until he has acclimated himself to the Jayhawks' offense enough to be able to run the point. In retrospect, the nine-game absence should have no ill effect on Selby's progression and maturity, since Kansas still has several nonconference games left on their schedule and two Big 12 games against Iowa State and Nebraska that look like convincing Jayhawk wins on paper. By the time Kansas travels to Baylor on January 17th in a marquee matchup on Martin Luther King day, (try saying that five times fast!) Selby should be as far along as some of the other elite freshmen across the country in learning their teams' systems and understanding their styles and methods of play.
All I want for Christmas is an upset win.
If you're a supporter of Oakland University or Drexel, Santa left something under your tree that didn't have to be wrapped. Just three days after nearly pulling off a win at the Palace of Auburn Hills against Michigan State, the Grizzlies went to Knoxville and shocked No. 7 Tennessee after senior guard Larry Wright (yes, the former St. John's marksman) hit a 3 that proved to be the icing on the cake for Oakland in their 89-82 victory over the Vols. Not to be outdone was the Drexel Dragons upending Louisville on the Cardinals' new home court at the Yum! Center behind Gerald Colds, the former New York City prep star who played his high school ball for Oliver Antigua at St. Raymond's in the Bronx. On top of that, there was another near-upset in Memphis between Josh Pastner's Tigers and Ohio Valley Conference title contender Austin Peay, who led Memphis midway through the second half before eventually falling in overtime.
The kings of Kings County (and the rest of the five boroughs)
Of the seven Division I programs in New York City, the one with the best record at this moment is not St. John's. It's not Columbia, Fordham, LIU, Manhattan or Wagner either. Yes, interestingly enough, it's St. Francis that holds the title of Big Apple school with the most impressive ledger. At 6-3, the Terriers are perfect at home (5-0 at the Pope Center, the gymnasium on the first floor of their downtown Brooklyn campus that resembles an office building) and former St. John's assistant Glenn Braica is implementing the same system that former boss Norm Roberts used in Queens for his six-year tenure at the helm of the Red Storm. Led by senior guards Akeem Bennett and Ricky Cadell, St. Francis is also receiving valuable bench contributions from forward Akeem Johnson, who has gone for 21 and 22 points in each of his last two games, the latter a career-high in the Terriers' 69-61 win Tuesday night over Dartmouth. Next up for the Terriers: The Holiday Festival at Madison Square Garden, where they will play Northwestern, followed by either Davidson or St. John's.
A Festivus for the rest of us!
That's right, the annual tournament at the "World's Most Famous Arena" is upon us again. The Holiday Festival starts up this Monday night at the Garden with the aforementioned Northwestern-St. Francis matchup, with Davidson-St. John's immediately following on the first night. From there, it's the consolation and championship games on Tuesday as the host Johnnies look to end their string of second-place finishes (which currently stands at four) to claim their first Christmas crown since 2005 against either the Wildcats or Terriers, who are this year's second local team, a role played in past years by Hofstra, Columbia and Marist.
North Carolina needs a statement win after losses to Minnesota and Vanderbilt in last month's Puerto Rico Tip-Off, and what better way to get one than at home against a Top 25 team? Yes, the Tar Heels already did that two weeks ago against Kentucky with their 75-73 win in Chapel Hill; but Roy Williams gets an equally strong test Saturday when Texas makes their way into Greensboro in what amounts to a de facto home game for Carolina. Stay tuned for a full court press pregame preview of that game later in the day, but while we have the space here, I'll make the bold prediction that while numerous cups of youth will be served, it will be the experienced hands that will decide this nonconference tilt.