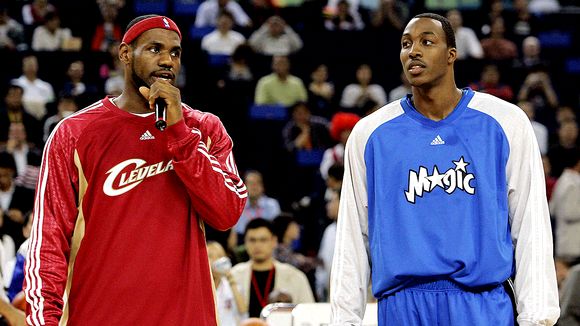 They may be teammates at the All-Star Game, but LeBron James (left) and Dwight Howard (right) are adversaries this week, as Cavaliers and Magic face off in Eastern Conference finals starting tomorrow night in Cleveland. (Photo courtesy of ESPN)

The Orlando Magic have already survived a scare from Philadelphia in the first round, and handed the reigning champions their first loss in a series where they were one win away from advancing to the next round. Now, the Magic take on a Cleveland Cavaliers team they defeated in two out of three regular-season contests. Therefore, it would seem easy for the Magic to advance to the NBA Finals for just the second time in franchise history and first since 1995 if games were played on paper.

However, they are not; and Cleveland possesses a player who makes just a mild difference: A man known as LeBron James, who just happens to be regarded as the best player in the game. Oh, by the way, James just won the NBA's Most Valuable Player Award less than a month ago. Magic center Dwight Howard may not be taking James lightly, but he remains optimistic.

"I believe we can win a championship," Howard was quoted as saying after the Magic defeated Boston 101-82 on Sunday. "We're not going to stop going after one until we get it."

Game 1 between the Magic and Cavaliers tips off tomorrow night from the Quicken Loans Arena in Cleveland at 7:45 p.m. Eastern time.