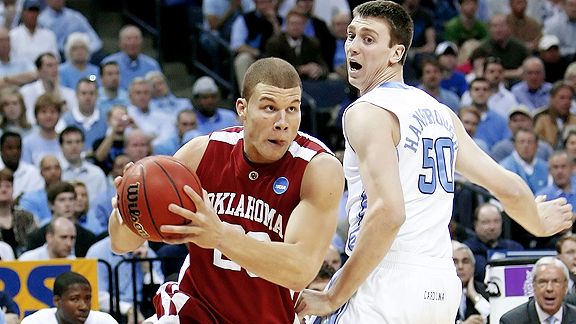 Oklahoma's Blake Griffin drives past eventual national champion Tyler Hansbrough and North Carolina during NCAA Tournament. Griffin is likely headed to Los Angeles to begin his pro career after Clippers won last night's draft lottery. (Photo courtesy of ESPN)

The City of Angels may be welcoming another gifted basketball player into its population on June 25th.

After the Los Angeles Clippers won last night's draft lottery with a 17.7 percent chance of acquiring the top pick, Griffin could be joining an up-and-coming Clippers team that already includes the likes of Baron Davis, Chris Kaman, Zach Randolph and Marcus Camby. Memphis moved up from the No. 6 spot to win the second pick, with the Oklahoma City Thunder selecting third. Sacramento, which had the best chance to get the first choice, fell to fourth; with the Washington Wizards rounding out the top five.

"It's a great day for Clipper fans," said team president Andy Roeser after the winning announcement was made. "We're going to get a great player who will help our franchise for a long, long time." All indications are that the player in question will be Griffin, the consensus top player available after his two dominating seasons at the University of Oklahoma.

This is the third time that the Clippers have won the lottery; selecting Danny Manning of Kansas in 1988 and following that up with Pacific's Michael Olowokandi ten years later.