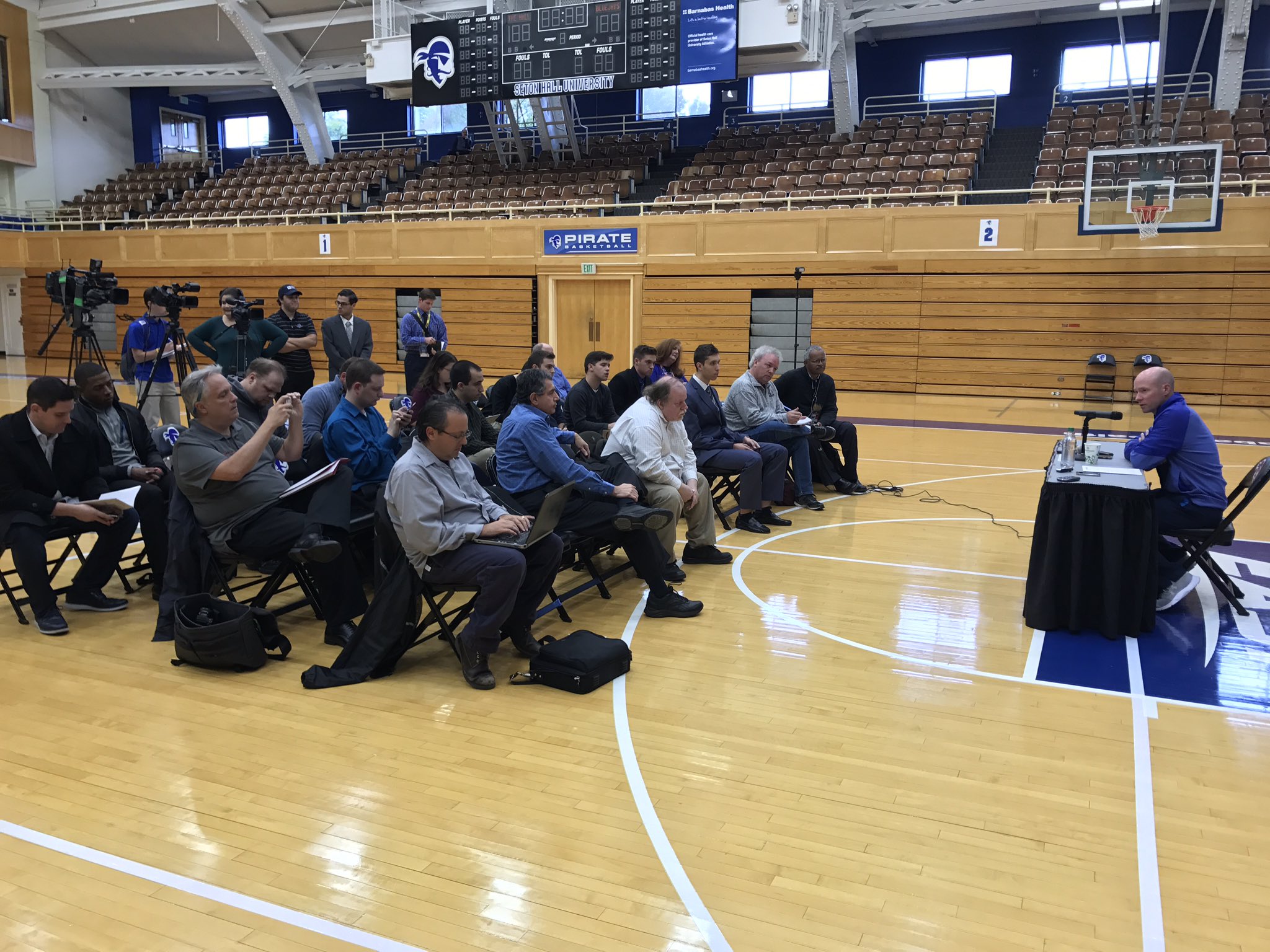 Kevin Willard fields questions in press conference portion of Seton Hall media day. (Photo by Thomas Chen/Seton Hall University Athletics)
Seton Hall held its preseason media day Tuesday afternoon on its South Orange campus, and as was the case at Big East media day two weeks prior, all eyes were on how Kevin Willard and the reigning conference champion Pirates would handle life without Isaiah Whitehead following his transition into the NBA. Below are quotes from the day's festivities:
Seton Hall coach Kevin Willard on team personality without Isaiah Whitehead:
"You know, it's been interesting. I think everyone's trying to take a little step forward with their game to try to fill the void that Isaiah's left. We've become a little bit more balanced of a basketball team offensively. I think where we're really trying to find our personality right now is towards the end of the shot clock, where last year, we got very comfortable with him having the basketball in his hands towards the end of the shot clock. I think we're trying to find our personality now of 'where are we with under 12 seconds on the shot clock?' What are we going to do? Who's going to be ready to step up and not make a shot, but make a play for somebody else?
On being more reliant upon the three-point shot:
"I think it really depends on our lineup. I think that's something where we're a little bit deeper than what we were last year. Adding guys like Myles Powell, Veer Singh; who's had a very good offseason, gained some weight, his confidence is really well shooting the basketball now. I think different lineups are going to give us chances to play different ways. We could go small and be very aggressive defensively full court, we could go bigger and be a really good zone team, so I think we will shoot the basketball probably better than we did last year, but I think it will depend on the lineup we have out there at times. If we have Myles and Veer with Khadeen (Carrington) out there, it's a very good shooting lineup. We're also experimenting with having Veer at the four spot a bit with certain lineups, when we have guys who technically aren't good shooters out there, to keep the defense honest."
On Myles Powell:
"We knew we were getting a very talented player. Everyone told me we were really going to have to push him to work hard and get in there, but that's probably been the farthest from the truth. He's a gym rat, he knew what he had to do to get on the basketball court. He's lost close to 45 pounds now, he looks phenomenal, his game is even better than it was before because he's quicker. He's doing a much better job trying to guard, that's something all freshmen really struggle with, but his attitude...he's probably the best offensive scorer as a freshman that I've coached. He's that skilled offensively to score the basketball, so he's been a great surprise, and his work ethic is phenomenal."
On team identity:
"I think that's something that will always be our backbone, our defense. We lost a big part with Derrick (Gordon) and Isaiah, two big guards that were physical guards, that were able to let us play a little more aggressively at times at the end of last year; not from a pressing standpoint, but more from a man-to-man, being able to switch from big guys. Madison Jones has really added what Derrick was able to do for us. He's not as physical as Derrick was, so I think our biggest thing is we're trying to shore up our inside defense, our pick-and-roll defense to get a little better, it was a weakness towards the end. But if we can have that same defensive attitude and get guys like Desi (Rodriguez) on the break, Khadeen on the break, it really helps us offensively. We were really good offensively, I think we scored 80-plus points in nine of our last ten Big East games, it was a record for the year. But that all started with our defense and how we created turnovers. I think everyone's going to have to adjust to the rules a little bit, the way they're going to call the game, especially early in the year."
"I don't expect anybody to have an offensive impact, I expect everyone to have a small improvement of what they did last year. If everybody has a small improvement of what they did last year, we're going to be a pretty good basketball team. I think everyone's going to be more involved this year, but there's not one person that fills a void that was left when Isaiah left. No one's going to replace that void, and they all understand that. We'll be much more balanced offensively than we were last year, because these guys can handle the offensive load and they understand they have to get a little better."
On who has stepped up to lead in the absence of Whitehead and Gordon:
"The leadership role has been kind of done by the four returning starters. They've all taken on a bit of leadership in different ways, whether it's...Khadeen is great with individual instruction, Ish (Sanogo) in practice every day, Angel (Delgado) with his intensity, Desi going up and being more of a leader. I think all four of them have really taken a role in trying to help some of the younger guys, but it's a team that's a little bit more mature that doesn't need one singular voice. They all kind of are holding each other accountable, which is nice."
On Michael Nzei:
"I won't say Mike's been a big surprise, but the way Mike's playing and what he can bring to us, he kind of complements Ish and Angel really well on the inside. He gives us an opportunity to be aggressive on pick-and-rolls, to do different things on pick-and-rolls. He's really worked hard on scoring the basketball. Last year, just being a freshman coming off injury, my confidence in him and his confidence wasn't overly great. The summer he's had, he hasn't added much weight but he's added strength, he's able to sustain his energy. He's one of the best high-energy guys, him and Ish. We'll play him and Ish together a lot, I think it's going to give us a chance to be creative on defense and the way we press, but he's a guy that was playing 12 minutes a game. He's going to be up in the 20-22 range just because of all the things he can bring us."
On Jevon Thomas:
"I never coached Paul Gause, but I watched a lot of Paul. Jevon is that type of defender. He can really disrupt the game from a defensive standpoint, he's lightning quick, can put pressure on a defense in transition; but more than anything, he gives us an opportunity to have someone, with him and Madison at the front of the press, to really be able to press in January and February where we haven't been able to press in January and February before. Offensively, it's going to take him a little time getting back on the court. It's my biggest worry. I think his first game is going to be Rutgers, and then he's going to have to play at Creighton, so that's going to be a big adjustment of him just getting back on the court, but he gives us a unique dynamic that we haven't had in a while."
On Ismael Sanogo's development:
"Ish is a hard-working fool, and I mean that in the best compliment possible. There's not a time when he's not putting up extra shots, he's not working on his handle, he's not getting back in the gym after an individual. I think it goes to any kid that this is someone who wasn't overly, highly recruited, someone that didn't get a whole lot of chance to play offense his first couple of years; and now through his hard work, his dedication, it shows any kid that if you put your mind to it and you put the work in, you're going to improve. That was the biggest thing I had with him early in the summer. He was getting frustrated because he would make shots in individual instruction, but when we played open gym, he wouldn't make shots, and I just told him, 'it's all about a learning process.' And he stayed with it, stayed with it, and before he got hurt the other day, he was really playing with a lot of confidence and starting to understand where to take his shots, where not to take his shots. It's just a matter of, I say it all the time, good things are going to happen, and he's proof of it."
"He sprained his MCL last Wednesday. He'll miss this Saturday's scrimmage, he should be back for next Saturday's scrimmage."
On Angel Delgado's maturation:
"Angel was only 18 when he got here, so he was young. A lot of American kids coming out now are 19 or even 20 during their freshman year of college, so they're older. Being away from his family is very difficult. I think he's matured leaps and bounds, but he still has a long way to go. He still has to understand he's not done with the journey, the journey's still very much in front of him and he has to continue to work to get better, emotionally, physically, mentally."