Over 141 games, some memories stand out more than others. Stony Brook's long-awaited America East championship win was just one of many this past season. (Photo courtesy of Jaden Daly)
It is once again April 17, which may be just a typical day in the lives of most people, but to the braintrust behind this site, it is a symbolic day.
A day of celebration, one where I just have to stand from a distance and marvel at what has taken shape over the years, what came to be in the executive offices of WSJU Radio now seven years ago today.
This site has taken on a cult-like following over the years, and for those of you who are regulars in this space, you already know the significance of April 17. For those who are more casual observers of our content, please allow me to give a little background.
On April 17, 2009, this site was born late on a Friday afternoon, getting its start as a generic sports update blog with no real niche. A hiatus or two later, coupled with a desire to remain in the college basketball landscape in case my broadcasting career fell flat on its face, which it thankfully has not, saw a reborn outlet, one committed to establishing a brand for itself in and around the New York area.
Credentialed work produced while covering St. John's soon led to Brian Beyrer of Iona becoming the first sports information director outside my alma mater to open his doors to this site, and I was able to play a small part in helping tell the story of the Gaels as they received just the second NCAA Tournament at-large bid in MAAC history. Joe DiBari at Fordham followed suit. By the end of the 2012-13 season, nearly every school that was in the area and within close distance of mass transit, as those who know me well know that I work the MTA about as well as John Calipari works the one-and-done market, was within the Daly Dose Of Hoops sphere of influence. Here we stand seven years after a creation that was equal parts intended and spontaneous, and just about every program within a 50-mile radius has at least heard of the site; if not seen myself or my staff in person, and know of its three million-plus page views, and 3,200-plus Twitter following.
It's not about the numbers, though. It's about each and every one of you contributing to those numbers and making me a part of your season in some capacity. Without you, there is no me, and if you know anything about me, I make sure to interact with as many of you as possible, making you just as much a part of my experience. As a broadcaster at heart, one of the first things I was taught was to engage the audience. If I'm preaching to the choir and turning my back on the people that came to see me, where's the fun in that?
This past season broke records, and NCAA Tournament action in three local venues played a large role in getting me to 141 games when all was said and done. Although I saw some teams more often than others, I made sure to treat everyone with the utmost respect and professionalism possible. Over five months, the nights were long, the travel could probably land me an endorsement for Hotwire or Expedia or whatever other name you want to throw out there, and the lack of sleep was disturbing at times, but the experience was one that will not soon be forgotten.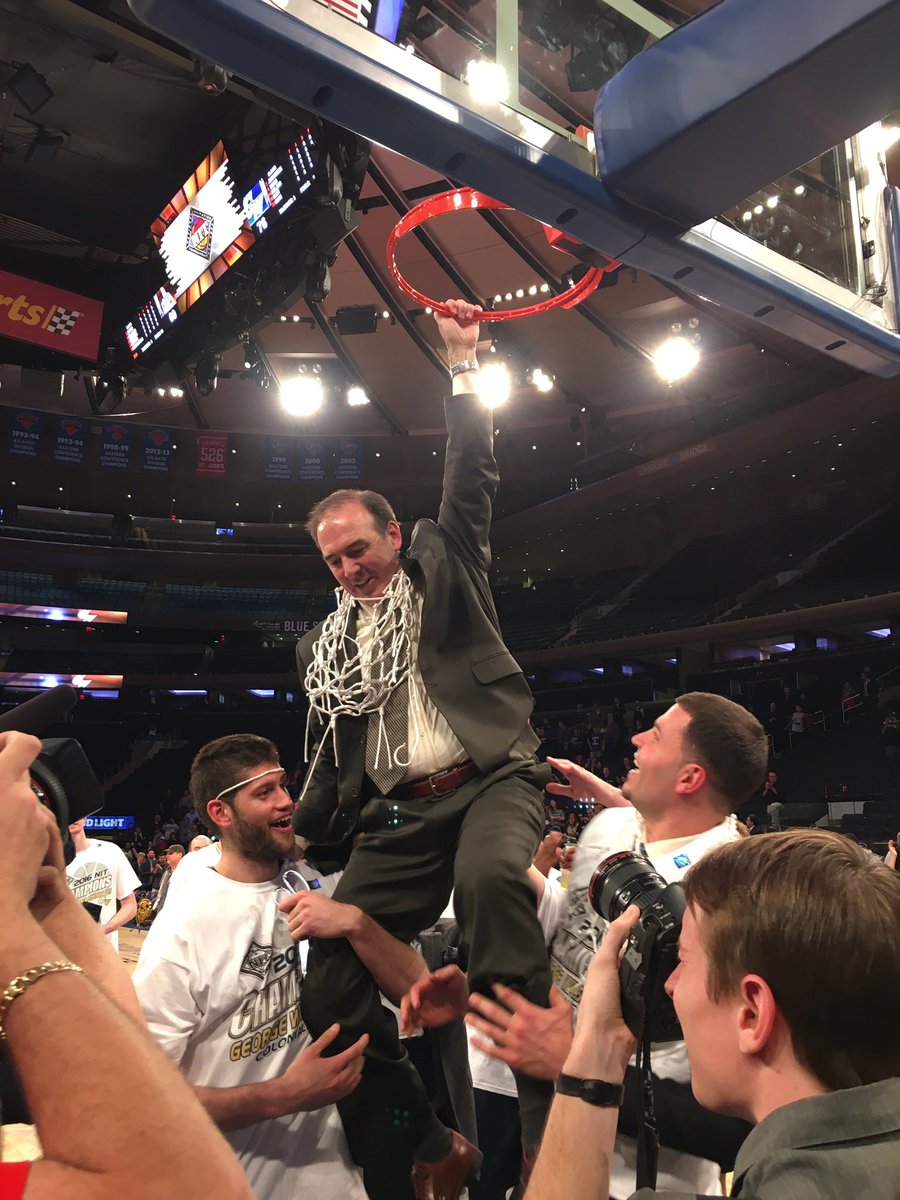 Mike Lonergan, after not being able to bring a ladder across the court to cut the second of two nets, gets a boost from his team to further commemorate NIT championship. (Photo courtesy of Jaden Daly)
My exceptional staff deserves some credit for this season too, starting with Jason Schott and Patrick McCormack, who contributed as best they could with their hectic schedules. Of course, Ray Floriani's advanced stats added their own element to what we were able to bring you during the year, and his photographic work told more stories than any amount of words ever could. Josh Adams and Teddy Bailey also showed up with cameo appearances during the season, and I thank both of them for that as well. I was also fortunate to welcome two close friends aboard the ship this season, and I would be lost without both of them.
Norman Rose, who you may know from Rumble in the Garden, moved to Albany shortly before the season and became my point man for Siena coverage. In fact, Norman's MAAC Tournament coverage alongside me made this year's trip to Albany extremely gratifying from both a business standpoint and a desire to share as much of the experience as we could.
In December, I welcomed Jason Guerette, a colleague of mine in the broadcast booth at St. Francis Brooklyn and a longtime fellow Big East scribe, to the staff after New Jersey Newsroom went down. Immediately, Jason's five thoughts after every Seton Hall game gave us more of a presence in the Pirate community, and either or both of us were in the front row at the Prudential Center for every home game this year, which meant a lot considering it was a show of trust in our coverage by the Seton Hall administration.
I am also proud to announce that the Daly Dose staff will grow by at least one more next season, as Brandon Scalea will be joining the family as one of our MAAC contributors, most notably at his alma mater, Rider. Brandon does excellent work covering the Broncs for the Rider News and is a broadcaster in his own right much like I am, and I look forward to sharing his work in the near future, as well as that of anyone else interested in coming on board. I will probably not be able to pay just yet, but what I can offer is a chance to showcase your talents and give you exposure that can hopefully lead to something bigger and better. Send me an e-mail to dalydoseofhoops@gmail.com, and I will be more than happy to discuss it further.
They say you need to be impartial on press row, but admittedly, watching Seton Hall win the Big East championship live at Madison Square Garden just hours after watching Stony Brook finally slay the dragon and earn their first-ever NCAA Tournament berth out on Long Island, ranks among the most fulfilling nights of my career, right up there with calling Manhattan's MAAC championship last year.
The icing on the cake came later in March when North Carolina, the team that got me hooked on college basketball when a young boy just months away from turning seven watched the 1993 national championship game for his baptism into the sport, won the East Regional with me there to watch it unfold from the Philadelphia Flyers' press box inside the Wells Fargo Center. I digress for a moment, and I apologize.
I cannot thank everyone with whom I have worked this past year enough, from all the coaches, players, administrators, and staff at each school I visited along the way, to my contemporaries in the media, and most importantly, to each and every one of you who reads what I put out there. As I always say, and I always say this because I mean it as humbly and truthfully as possible, your support means the world and all of you are much bigger parts of my life than you will ever know.
With seven years now in the books, I remain moved by all the adulation shown toward myself and this site. At the risk of sounding like a broken record, I offer yet another "thank you," and hope that until we meet again for our eighth season together in November, that God keeps you all firmly within the palm of His hand.
Enjoy the offseason, and I'll still be around to offer as much content as I can before the practices and the games start up again. Until then, and as a New York Rangers fan, I have no guilt in the following clip I'm about to post; considering it was played in the wake of the timeless 1994 Stanley Cup celebration, let me remind you all that you are simply the best.
Thank you for everything, my friends. Much love to all of you!
Founder and Managing Editor