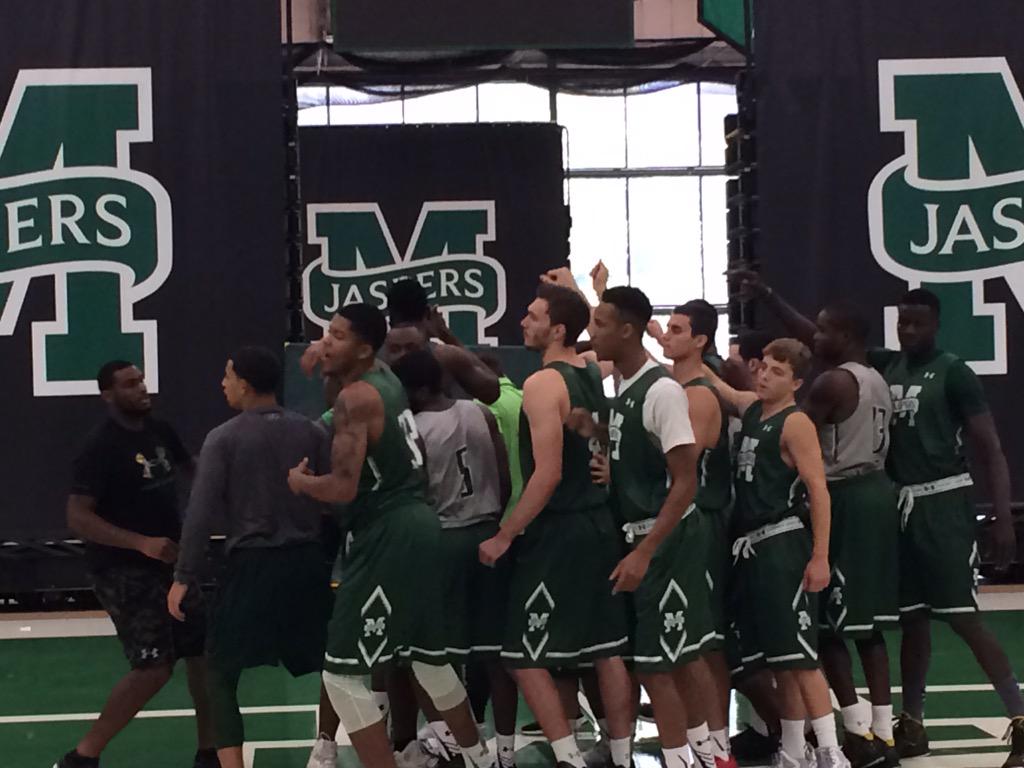 Two-time reigning MAAC champion Manhattan kicked off their latest encore with first official practice on Monday, as Jaspers look to become third team in MAAC history to win three straight conference tournaments. (Photo courtesy of Kevin Ross via Manhattan College Athletics)
A telltale sign of a champion is its ability to not only reload after losing its biggest pieces, but also to maintain the swagger that made it into a winner.
Such is the case at Manhattan College, where the last two Metro Atlantic Athletic Conference championship trophies reside, and a place where more than one steady eye is kept on the task of adding a third testimonial to accompany the previous two, something only two other schools have done in MAAC history.
"We want to make history," head coach Steve Masiello reminded his team on multiple occasions Monday morning, as the Jaspers began their latest encore with the first official practice of the 2015-16 season, which begins for them on November 16 in a hostile road environment against Saint Mary's.
"I think we have more talent than people may realize," an optimistic Masiello revealed as Manhattan goes about replacing a pair of all-MAAC talents in Emmy Andujar and Ashton Pankey, the latter of whom was most instrumental in the Jaspers' successful championship defense last March against Iona, in their quest to join La Salle (1988-90) and Siena (2008-10) on the short list of back-to-back-to-back champions. "I think this team is very underrated, which I like, but then it's like anything else. We have a lot of depth, we have a lot of interchangeable parts, so I'm very excited."
As expected, the tenor of this morning's activities took on a defensive tone early and often, with Masiello's patented pressure zone scheme getting a frequent workout in a unit that should be even more intimidating for opponents this season with the reduction of the shot clock from 35 to 30 seconds. Juniors Rich Williams and Tyler Wilson, both of whom were key players off the bench for the Jaspers in each of the past two seasons, set the tone specifically on this side of the ball, helping emphasize the culture that has come to be established in Riverdale, one that the man responsible for cultivating it cited as the reason why Manhattan has won.
"It's about what we've always been about," Masiello reaffirmed. "Great character, great culture, competing at a very high level, but obviously on the defensive end, handling our business, coming out (and) getting after people, never being the victim, dictating what's going to happen, controlling our own destiny. We want it in our hands."