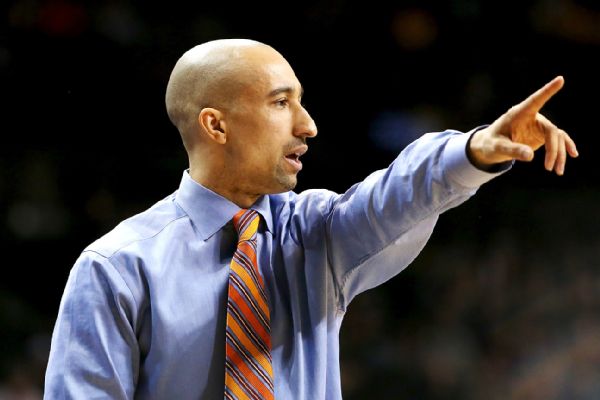 Fordham's Atlantic 10 opener is no easy task, as Shaka Smart and VCU are first conference opponent for Rams on Sunday. (Photo courtesy of ESPN)
On the heels of a two-game winning streak to close out nonconference play, Fordham opens the door to the second half of its season, with the Atlantic 10 campaign beginning in earnest Sunday afternoon from Rose Hill Gym.
The Rams' first draw out of the gate, however, is something a Fordham fan looks at in two completely different lenses. Their opponent, consensus league favorite VCU, is arguably the toughest opponent for Tom Pecora's group to open the conference season against, given their "Havoc" defense and penchant for forcing turnovers, with an average of 10 steals per game thanks in large part to two-time reigning A-10 Defensive Player of the Year Briante Weber, who manages nearly four thefts per contest to go with nearly five assists per night. On the contrary, there are some others who feel that it is better to get VCU out of the way early, so as to avoid playing them closer to March, when they would likely be preoccupied with NCAA Tournament seeding, thus making the game more meaningful.
Behind leading scorers Treveon Graham and Melvin Johnson, the visiting Rams' offense has a pair of double-figure scorers who can both exploit the lane and shoot three-pointers over a zone defense, and defending them will be a tall order for Eric Paschall and Mandell Thomas. In addition, head coach Shaka Smart has continued to be one of the best in his capacity at managing the depth on his team. No one VCU player averages 30 minutes per game, as Graham's 28.5 is the highest number in that category.
Regardless, two herds of Rams go to war against one another for this game, and also for Fordham's second A-10 contest, which comes on Wednesday at Rhode Island. In the meantime, however, we are proud to bring the oracle of VCU basketball back to our site to share from his wealth of information on all things black and gold. He runs his own VCU basketball website to supplement the exceptional work he does alongside Robby Robinson as the Rams' radio color analyst, and manages to live a second life in a day job completely outside the industry, making his all-encompassing knowledge all the more impressive. Without any further ado, here is the great Mike Litos to once again educate us further on the state of Virginia Commonwealth University entering the start of the A-10 season:
Jaden Daly: What would be the best way to gauge VCU's nonconference season, and with four respectable wins in the Rams' five-game winning streak, what has been the most convincing sign that this surge has not been all smoke and mirrors?
Mike Litos: The nonconference season has been a screaming success. Granted you want to win every game and VCU did not, and were humbled a couple times, but both the team's SOS and RPI is top three in the country. It isn't realistic to think you will win them all but I'll take 10-3 and run. I'll play the look-back game. If you would've asked me in October if I would take 10-3 with a top 3 SOS and RPI I would've signed up on the spot. It's how they've arrived in this place, too. You can see the team improving each time out. Guys are learning their roles. VCU has not trailed in a game for the past four games and 171 total minutes when you factor in the Northern Iowa overtimes. That's focus and improvement. Finally, I like that they've won against teams with different styles—big and physical, execution and precision, great shooting, great defenders. They've seen zone and man. And won. I like that.

JD: After the loss to Villanova, a national writer suggested VCU may have peaked as a program. Has there been a noticeable uptick in the Rams' aggressiveness and style of play since then? It seems like there is, at least from where we sit here in New York.
ML: I wouldn't call it aggressiveness; more a case of guys figuring out what they need to do to succeed. This team has done a good job with its energy all season long. They don't mail in stretches of games. However, because so many guys are new to college basketball or new to their roles, they didn't hit the court running and there were some hard lessons. Defensive rotations, offensive timing, those kinds of things, were slower to arrive than many people thought. About 60% of the minutes played are by freshmen and sophomores and it showed early. Collectively, they've begun to understand and master the little things, things as simple as getting your hand up to challenge a three-point shooter or closing up space with your lower body in a trapping situation. I think what you are seeing is a similar level of aggression combined with a better understanding of their jobs.

JD: A lot was made of the incoming freshman class during the offseason, and rightfully so. Even though Shaka Smart continues to gradually wean them along, has any one of the four stood out in particular, and who stands to make the most progress in A-10 play?
ML: What stands out is that each one of them, in their own way, has made noticeable strides in adjusting to the college game. They have a long way to go but you can see it happening. It's blatant. Terry Larrier, though, can make the biggest immediate difference. He has rare offensive skills and is progressing defensively. VCU is going to need a third scorer behind Treveon Graham and Melvin Johnson, and Larrier can be that guy. He was a deer in headlights the first few games, but his comfort level with the speed, talent, and physicality of college basketball has grown.

JD: Can the argument be made that VCU got a favorable draw to open the conference schedule, seeing as how it is very possible for the Rams to win each of their first six games before welcoming George Washington into the Siegel Center?
ML: You could term it that way, but I wouldn't. You have to play all 18, and you get nine at home and nine on the road. You get what you get when you get it. Besides, teams ebb and flow all season long—I could make a similar argument that since VCU is playing well right now I want to be challenged by the so-called better teams. See what I mean? What's more, VCU isn't immune to the ebb and flow. I sound like a coach, but………you play them one at a time. Extrapolation is fun, but useless. What I mean here is that every game exists on its own. VCU is playing Fordham. Then playing Davidson. Then playing Saint Joseph's. They aren't playing Fordham, Davidson, and Saint Joseph's.

JD: To follow up on that question, does having to play four of their first six league games away from "that animal" serve as a blessing in disguise in your opinion?
ML: I guess the one advantage I can see in that is come February, guys are getting tired. There will be big games to play, so sleeping in your own bed and enjoying the comforts of home are helpful. More home games in February is preferred if only for familiarity and ease. Besides, the guys aren't back in school for another couple weeks so they can concentrate on basketball while on the road. There are little things like that which may add up to an advantage, but again, stringing together a stretch of games is more fun to discuss. I will tell you this—it's hard for the radio broadcast team to have so many road games. That's an under-reported difficulty in college basketball that the NCAA needs to address.

JD: Finally, as someone who has seen the best and worst of Tom Pecora across two different conferences, do you feel this season could be the end of his tenure in the Bronx? What more would Fordham need to do to keep him around for another year?
ML: It should not be the end. Fordham's talent level and competitiveness are much better than when Pecora arrived. People forget Fordham was 1-31 in conference and won five total games in the two years prior to when he got there. That's worse than a dumpster fire. Sure, the pace of progress may not be as great as the alumni would like, but he's moving it in the right direction. The thing that gets hidden is that while Fordham has gotten better, so has the rest of the A-10. The conference sent five, then six teams to the NCAA tournament and expanded to add some great programs. I think the overall strength of the conference masks the fact that Fordham is moving forward. That said, it is still important to move into the middle tier by winning games—that's the ultimate arbiter. Barring a disaster, Pecora should remain its head coach, but I do see the need to get 6 or 7 conference wins and perhaps a win or two in the A-10 tournament.