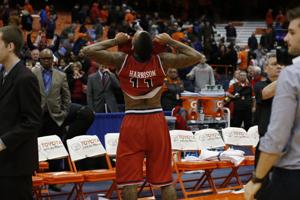 D'Angelo Harrison exults after ending St. John's 15-year road losing streak at Carrier Dome with convincing 69-57 win over Syracuse. (Photo courtesy of Chris Barca and Amy Rio of the Queens Chronicle)
St. John's fans can be a fickle bunch sometimes.
An ever-hopeful group, they are the kind of people who immerse themselves so far into their basketball program to the point where whatever failure the Red Storm experiences on the court becomes personal to a degree, and when St. John's wins; gets any win, their rabid and star-crossed fan base feels as if they are on top of the world. It is a sense of pride that this writer has been able to observe as both an alumnus and impartial third party, sometimes taking issue with the tendency to get caught up in one game, other times conceding that the loud boasts from the corner of Union and Utopia, or of 33rd and 8th, are justified.
So it was, then, that Saturday night's 69-57 victory at the Carrier Dome, long reputed as a house of horrors for a team that had not been able to hold their heads upright after the four-plus-hour trek from its Queens campus since 1999, when the oldest players on the roster had just recently begun elementary school a year or two prior, was more of the latter; a testimonial of sorts for the program and its contingent of die-hards that has taken umbrage with Syracuse billing itself as "New York's College Team" over the years, especially the perceived gall of the Orange to market itself as such with ubiquitous billboards on New York City taxicabs and buses, not to mention the huge signage that greets the left field facing of the second deck at Yankee Stadium.
But this is not about a "we beat Syracuse" retort, as much as every St. John's fan worth his or her salt would like it to be, and as much as you can bet that said fans will never let the ever-growing Syracuse alumni and media base around these parts hear the end of it. Rather, last night's win is more about the realization that maybe, just maybe, this year is different. Maybe this really is the year that it all comes together, just like Steve Lavin had so prophetically predicted it would two years ago when he made his return from a prostate cancer diagnosis that essentially sidelined him before he could guide a then-all-freshman squad through its formative rookie year in Division I college basketball.
In last week's NIT Preseason Tip-Off tournament at Madison Square Garden, Gonzaga was declared the winner, but if you watched closely, the most impressive team was St. John's, and it was not really close, either. Two days removed from a statement victory against Minnesota where the Red Storm started out of the blocks slow before using their athleticism and freakishly gifted transition game to wear out Richard Pitino's Golden Gophers, not only did they take Gonzaga to the limit in a seven-point loss which showed that St. John's, a group of kids who have been raked over the coals for underachieving just as much as their coach has for assembling such talent and only having one NIT victory; on a buzzer-beating jumper against Saint Joseph's in 2013, to show for it, could very well have defeated the ninth-ranked Bulldogs had it not been for Pat Driscoll calling a controversial offensive foul on D'Angelo Harrison in the final minute as the Red Storm mounted a charge down by three.
Then, there was Saturday night, and Harrison; never one to shy away from wearing his emotions on his sleeve. Dejected after the Gonzaga loss to a point where the outspoken senior leader had difficulty addressing the media for what may have been the first time in his four-year career, one that will ultimately rival Mullin and Lopez as one of the greatest his program has ever seen. Harrison talks frequently about "flushing" games and moving on. No further was that evident, even after a 13-point win over Niagara in between the Gonzaga and Syracuse games, than the reigning Haggerty Award winner; a recognition of being considered the best player in the metropolitan area, needing only twelve shots to score 24 points, including a 4-of-6 display from three-point range.
There was Phil Greene, the catalyst of the near-comeback eight days ago; the much-maligned senior from Chicago, who has been criticized for Lavin's over-reliance on him in big moments, forever etching his name into the annals of a storied rivalry that has unfortunately been cheapened due to conference realignment with eleven unanswered points during a 17-2 run to close out what is arguably his team's biggest victory since February 19, 2011, the famous "Baryshnikov" game where Dwight Hardy's baseline layup shocked a fourth-ranked Pitt Panthers squad and sent Madison Square Garden into delirium.
Over time, more comparisons to the 2010-11 incarnation of the Red Storm; a collection of seniors that Norm Roberts had left for Lavin, will likely come, and deservedly so. This year's cadre of upperclassmen finally has a potentially season-defining win to now call their own, just as wins over Georgetown, Duke, Connecticut and Pittsburgh proved to be four years ago. Success may be fleeting, and even if St. John's were to come up empty in big games for the remainder of the season, this win would still exist on their ledger. That probably will not happen, though, as Harrison and Greene, and everyone else who played a part in ending a 15-year string of bad memories, will build on Saturday night, December 6, 2014. They are simply too talented not to.
They are New York's team.
They are St. John's.