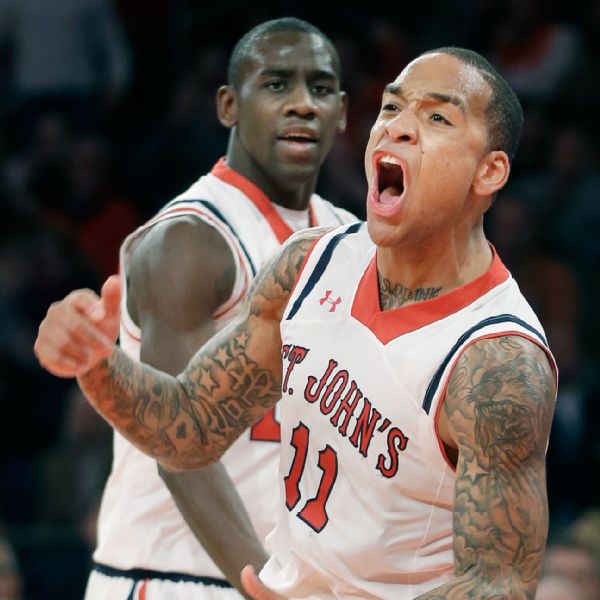 Haggerty Award winner D'Angelo Harrison returns for senior season and opportunity to return St. John's to NCAA Tournament. (Photo courtesy of ESPN)
The season ended with a postseason bid and a 20­-13 record.
Those achievements failed to eliminate a bitter taste, largely due to
the last two contests. A Big East Tournament loss to Providence
and a first-round setback at the hands of Robert Morris at
Carnesecca Arena. The latter defeat came in the opening round of
the NIT, a tournament that saw the Red Storm enjoy a top seed in
their bracket, and both games saw St. John's stricken by malaise
and seemingly going through the motions.
Possessions Points Offensive
Efficiency
St. John's 1236 1278 104
Opponents 1228 1230 100
The Big East saw St. John's finish 10­-8. The previous and following
statistics are from conference games. St. John's did get over the
100 threshold in offensive efficiency Defensively, they gave up a
too generous 100, but that is the makeup of a 10-­8 season.
A look at the Four Factors:
eFG FT Rate OREB Pct TO Rate
St. John's 48 35 31 16
Opponents 47 41 32 20
What the Red Storm did well....Care for the ball. While the
opponents saw one fifth of their possessions end in the dreaded
turnover, Steve Lavin's club kept the figure under 20%. Outside of
turnovers, the other three factors are close in comparison.
What is in store? Well, what is needed is consistency. The Storm
dropped their first five conference games before finishing on a 8-of-
10 run that included a six-game win streak. While the streak had its
moments, (wins over Georgetown, Providence and Creighton) a
more balanced showing is desired.
There is backcourt potential, led by D'Angelo Harrison, the
leading returning scorer. (16.8 PPG in Big East play) The concern here
is establishing a viable inside threat as a priority. St. John's lacked a
night in, night out frontcourt player capable of both scoring and
defending.
The schedule naturally is highlighted by Big East play. Out
of conference is the NIT Season Tip­-Off, a trip to Syracuse in
December and a Garden date with Duke in January.