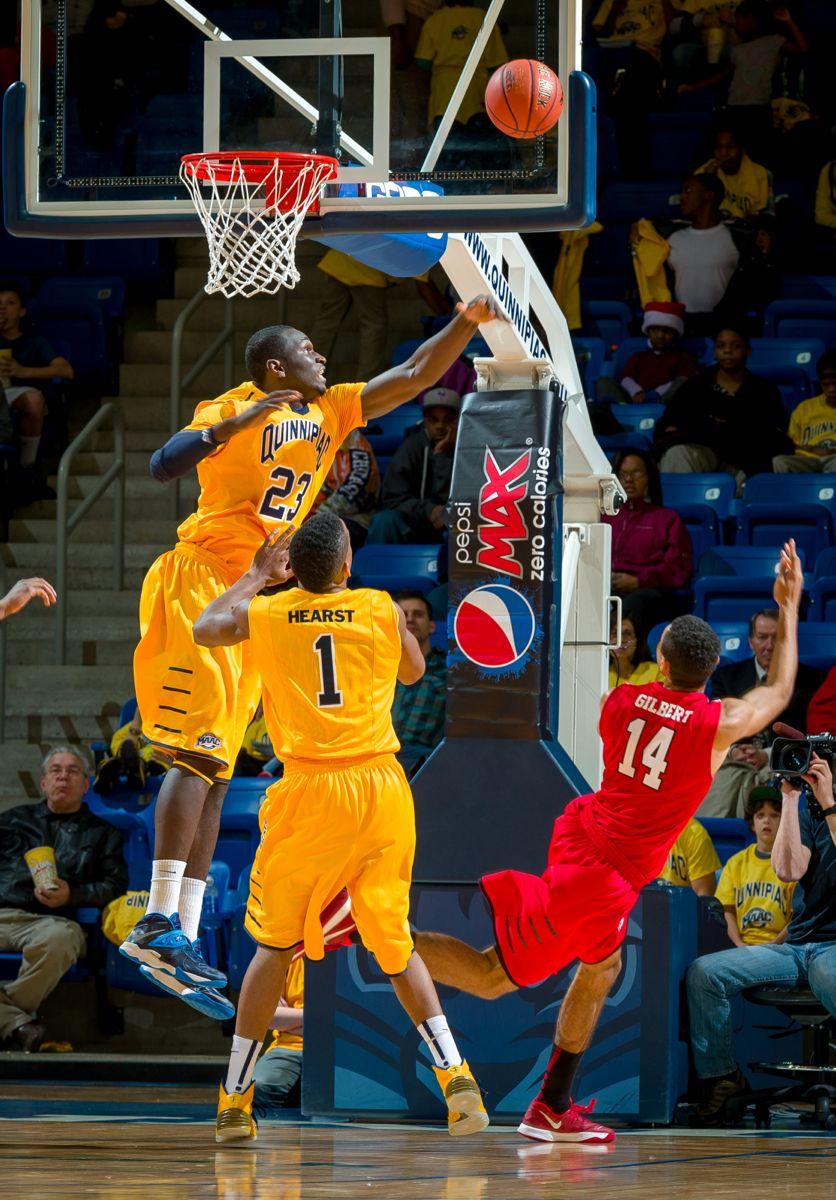 Ike Azotam and Zaid Hearst may have received greater publicity for Quinnipiac, but Ousmane Drame may have arguably been Bobcats' most valuable player during first season in MAAC. (Photo courtesy of the Quinnipiac Bobcats Sports Network)
Quinnipiac University was the great unknown heading into the 2013-14 season, a campaign that the Bobcats would navigate as a member of the Metro Atlantic Athletic Conference for the first time after leaving the Northeast Conference, where the Hamden institution had found a home upon emigrating from Division II. Quinnipiac had long been a force in the NEC due to its aggressive, rebounding-oriented style, and the high degree of variability to which it would fare in a much more guard-heavy MAAC was one of the main reasons why the Bobcats were picked seventh in the preseason coaches' poll.
However, those who knew Quinnipiac well knew that their take-no-prisoners approach would ultimately win them more games than the pundits expected, and no further was that evident than in a stretch where the Bobcats won 13 of 16 games after a 6-5 start to the season, including a regular season sweep of eventual conference champion Manhattan and a resounding home victory over perennial MAAC powerhouse Iona. Then, the fickle hand of fate proved just how quickly good fortune could be taken away, as Umar Shannon went down for the remainder of the year with a knee injury suffered in the Bobcats' 72-70 loss to Siena in the penultimate game of the regular season.
Quinnipiac finished 20-12, with a loss to Yale in the CollegeInsider.com Tournament ending an inaugural MAAC campaign that will go down as one of the more successful in recent memory, all things considered. For further perspective on the Bobcats and their first run through their new conference, we reached out to friend of the site Jon Alba, who does an outstanding job chronicling Quinnipiac Athletics for Q30 Television in Hamden and the Quinnipiac Bobcats Sports Network, to get a closer look at the first five months in the MAAC:
Jaden Daly: Twenty wins in their first season in the MAAC, postseason play, for Quinnipiac to come out of the NEC and catch the MAAC by storm the way they did, what was the most impressive part of Tom Moore's first year in his new conference?
Jon Alba: I'll tell you what, in my opinion at least, there were two factors: First, it was the emergence of Ousmane Drame as someone who was actually here to stay. Ousmane Drame in his first two years really came to play, but he underperformed, and a lot of people hacked his playing style, his work ethic, his weight, and I think you saw a few of those problems early on in the season, but I think with a little push from Ike Azotam, Drame really turned into a mid-major player, per se, and I think he really excelled.
I think the other thing was Tom Moore's coaching job, and I know, Jaden, this is something that you expected out of the gate with Tom Moore. This was by far the best team that Tom Moore ever coached. His game management improved exponentially; not to say there weren't flaws, but it improved exponentially, he handled his lineup the best I've ever seen him handle it, and he did have a few more weapons than normal.
JD: There were a couple coaches after the season that said they voted both Drame and Ike Azotam on the first team. Azotam makes the first team, Drame gets on the second, but when you look at that; and also Zaid Hearst on the third team, to have one person on each of the three, what does that say about how much of a contender this team was, and how unexpected was it going into the season?
JA: This was definitely unexpected. People picked Quinnipiac to finish very low in the MAAC, and I think going into the season, the expectation was "this is going to be a really good team that's going to surprise people," or "this is going to be a team that's going to finish in the cellar." There was no middle ground, and that's basically what you saw. Zaid Hearst, I mean, I mentioned Drame before, but Zaid Hearst really developed as a playmaker, but the thing was they expected that out of Hearst because Hearst may be the biggest gamer that's on that team. That's a guy who comes in and wants to win every single day, and when he's not playing, he's going to make sure his teammates are stepping it up trying to win. Zaid Hearst, I think it was 33 points that he dropped toward the end of the season, and that really displayed what kind of player this guy is, and he had other teammates stepping it up; Evan Conti off the bench, the early-season performance by Kasim Chandler, and then Umar Shannon, who, unfortunately for him, his season came to an early end. Ultimately, that was the dagger for Quinnipiac.
JD: You mention Umar Shannon. To land a graduate transfer like that, and someone that Quinnipiac had seen and been intimately familiar with from Saint Francis University, how big was that?
JA: The biggest thing about getting Umar Shannon was that the MAAC is a guard-dominated league, and Quinnipiac needed someone to
come in and just
be able to step right in and keep Quinnipiac in the fold, and that's exactly what Umar Shannon did. It even helped furthermore that he had experience with the school, and on top of that, the guy was a leader, and that's something that's great for any team. What Umar Shannon did was he opened up the post for guys like Ike Azotam and Ousmane Drame, and that's why Quinnipiac was so successful down low this year, because guys like Umar Shannon, and even Zaid Hearst towards the top of the key, were able to ensure that Quinnipiac had other options down low.
JD: There's always something, one characteristic, that's always associated with the teams up there. For women's basketball, it's the depth, the "Gold Rush." For the men, it's the rebounding. It's what they do. How much of that caught the rest of the MAAC off guard in a guard-heavy league, and all of a sudden, Quinnipiac comes in with their physicality and their rebounding, and they take three out of four against Manhattan and Iona to really put the league on notice?
JA: Well, that was exactly it. The MAAC was not exactly ready for a team like Quinnipiac when it comes to rebounds. They just weren't, and I'll tell you what: Even though Ike Azotam's gone, Quinnipiac is going to do the exact same thing next year, bringing Sam Dingba down low and Drame returning; and if Drame becomes even more physical, you're only going to see those numbers go up. Manhattan did have a little bit of an edge, obviously, they had some of the best defenders in the country down low. At the same time, Jaden, I think that people expected "yeah, Quinnipiac, that's one of the best defensive teams in the country," I think there was a little bit of underestimating. "Wow, not only are they one of the best defensive teams in the country, but they can use that rebounding to actually beat us." That's what happened with Manhattan and Iona, as you alluded to.
JD: Not only did they take three out of four from Manhattan and Iona, but the seven-game winning streak toward the end of the regular season really solidified their status as a contender, and they were in the mix for a top two seed going into the MAAC tournament before the Umar Shannon injury; and then in Springfield, they win one game against Niagara and then play their hearts out against Manhattan, but ultimately, what happened?
JA: Ultimately, what happened was once they lost Shannon; and you could see it in Tom Moore's demeanor after that injury happened, he knew the end was near, and the sad part is, for Quinnipiac fans, that was probably their best chance to see this team make the NCAA Tournament in recent years. This upcoming year, they definitely have an opportunity to now that they've got quality recruits coming in, but at the same time, you had the experience, you had everything that you could have wanted. Shannon goes down and Quinnipiac had no one to control the point.
Evan Conti, in my opinion, is one of the best sixth men in the entire MAAC. I don't think he's necessarily a starter though, and Kasim Chandler was underdeveloped and he was coming off injury as well, so Quinnipiac really had no options at the point there. The Jaspers were one heck of a team this past year, obviously displayed by how they played Louisville in the NCAA Tournament, but I think you just had the combinaiton of factors there.
JD: Going into next season: Azotam's gone, Drame is back, Hearst is back for another year, and then they get Gio McLean out of Westchester, who decommits from Oklahoma and becomes arguably the biggest recruit in Hamden. Can you tell us a little more about him?
JA: Gio McLean changes the game for Quinnipiac. I mentioned how Umar Shannon was big coming in, Gio McLean takes that to another level. Gio McLean originally committed to Oklahoma, but the problem was, with the Big 12, you need two years and an extra semester of junior college in order to transfer into it, but he only had two years. With the Big 12 out, he decommitted and he ended up coming to Quinnipiac. The thing with him is he went to a special high school down in the Bronx, and because of that, he has a few extra years, so he'll actually come into Quinnipiac with some extra years age-wise, and when he graduates, he'll quite literally be a veteran, and it's only something you really see in college hockey in that regard; but anyway, McLean, what's going to be so incredible about him for Quinnipiac is the guy not only knows how to drill a shot or two, but his ball handling opens up so many opportunities down low, which is exactly what Quinnipiac needs with Ike Azotam going away. I think a lot of people are underestimating just how important Ike Azotam was for this team, obviously one of the more prolific scorers and rebounders in program history, but I don't think people really understand just how important he was. So now, you need a point guard that's going to distribute that ball in the MAAC, which is a point guard-heavy league. You need to find a way to distribute the ball down low and to the lane, and what McLean is going to do is his ball handling is going to draw defenders, because they're going to think he's going to the basket, and then he's going to dish it out. Then, when they expect him
to dish it out, he has the natural ability to go to the basket, forcing a pull-up shot. That's where Gio McLean is going to change everything for Quinnipiac, as long as he stays healthy.
JD: Is it too far of a stretch to consider this team not just a top 5 team in the MAAC going into next season, but maybe even top 3?
JA: I think there's going to be a very heavy depending on the recruits for Quinnipiac. I'm not entirely willing to say they're a top 3 team right away, because truth be told, as much hype as McLean has, he could end up flopping, and that's college sports. That does happen. Sam Dingba is going to be a big key for them, he's one of the better recruits Tom Moore has ever had, especially coming in down low. His development is just going to be crucial in making Quinnipiac a top 3 or top 2 team down the stretch, and if Tom Moore plays his cards right; which, all indications were, he did last season, I do think that this is a very good team, but at the same time, they've got to develop their guys. Ousmane Drame, believe it or not, has NBA hype, and there are people who do have their eyes on him, so it'll be interesting to see if he really steps up to be the player he can be in his senior year.