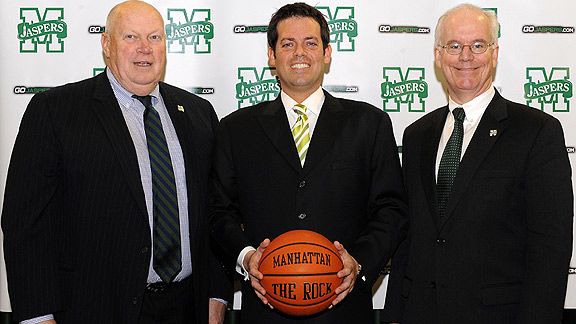 Flanked by athletic director Bob Byrnes and Manhattan College president Dr. Brennan O'Donnell, Steve Masiello makes his return to Riverdale as Jaspers' new head coach. (Photo courtesy of GoJaspers.com)
In a well-chronicled (search the #mcmbbcoachingsummit hashtag on Twitter) effort to find the replacement for former Manhattan head coach Barry Rohrssen, the Jaspers officially welcomed the start of a new era yesterday in Riverdale by introducing a former face of their past as their leader of the future.
Steve Masiello, a former Jasper assistant under Bobby Gonzalez who most recently spent six years on Rick Pitino's staff at Louisville, was introduced yesterday at Draddy Gym as Manhattan's 23rd head coach in program history after Rohrssen was dismissed following a five-year tenure that started in 2006 when Gonzalez left for Seton Hall. Masiello, who turns 34 on September 2nd, becomes the sixth-youngest head coach in Division I; just ahead of VCU's Shaka Smart and Butler's Brad Stevens, both of whom were referenced in the new coach's opening statement after taking their respective programs to a national semifinal and championship game just two weeks ago.
"If the Final Four this year didn't allow young men to dream today, I don't know what will," said Masiello shortly after being introduced by Manhattan athletic director Bob Byrnes. Masiello then quipped to Byrnes: "Just don't expect me to go to the Final Four."
All kidding aside, Masiello injects a breath of fresh air and youthful presence into the northwest corner of the Bronx; along with a set of dreams and aspirations as big as the city in which Masiello joins Steve Lavin, Glenn Braica, Jim Ferry, Danny Hurley, Tom Pecora and Kyle Smith as part of the New York coaching fraternity. "As far as Manhattan basketball, everybody better watch out," gushed Masiello in regard to taking over a program that won two MAAC championships and an NCAA Tournament game when he was an assistant in Riverdale. "We're going to create a new brand, and it's going to be the best in the city." The coach has no easy task ahead of him, as he inherits a team that went 6-25 in its fifth and final campaign under Rohrssen; but the successor to the man known as "Slice" had great things to say about the team he can now call his own, a team that appears to be impressed with their new coach by all preliminary accounts.
"There's so much room to grow, so much potential to improve and get better," said an ecstatic Masiello. "I think Barry did an unbelievable job of evaluating talent and bringing guys in that have great ability. Now it's a matter of molding them into players."
If anyone knows about molding players, it's Masiello; who learned from a man that has taken players and coaches and turned both into winners wherever he has gone. "He (Rick Pitino) has taught me everything I know: How to walk into an office, how to eat at dinner, how to coach," said Masiello about his mentor. No one pays more attention to detail and molds people more." Masiello also insisted that Manhattan's style will mirror Louisville's on-court play, telling me that "it will be sort of like a mini-him" in regard to just how much the 2011-12 Jaspers will be Pitino-influenced.
However, Masiello is no Pitino, even if he did play for and coach under the collegiate legend; and until he coaches his first game, all that sets him apart from fellow Pitino disciples Mick Cronin and Kevin Willard (aside from experience) is the name on the front of his players' jerseys. Masiello did leave the media with this enthusiastic nugget:
"Manhattan basketball is back. That's all I know. We're going to win and win big. I can't explain to you my passion and my excitement about this."
That's something better left to his new players once they open the Jaspers' 106th season this November.