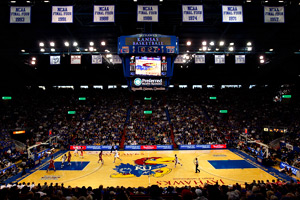 Kansas looks to continue their home dominance tomorrow afternoon when Jayhawks host Kansas looking for 70th consecutive win in Lawrence. (Photo courtesy of CBS Sports)
Before we begin, I'd like to mention to whatever fans and readers that I may have that I had a choice between previewing two high-profile games that will tip off tomorrow. Since the other one that I'm electing not to cover (Villanova-Syracuse) is the front end of a home-and-home, (The Wildcats and Orange will square off again at the Wells Fargo Center on February 21st) and because there's more to this site than the Big East, we'll head to Allen Fieldhouse for the game of the year in the Big 12 featuring No. 2 and 2008 national champion Kansas and the team they welcome into the heartland, No. 10 Texas. For what it's worth, the Longhorns are the first team to make a return appearance in this segment of the blog, with their first coming against North Carolina last month.
#10 Texas Longhorns (15-3, 3-0 Big 12)
Head Coach: Rick Barnes
Probable Starting Lineup:
PG: Dogus Balbay (6-1 Sr., 4.1 PPG, 2.8 RPG, 2.3 APG, 1.0 SPG, 55% FG, 54% FT)
SG: Cory Joseph (6-3 Fr., 11.2 PPG, 3.9 RPG, 3.2 APG, 1.1 SPG, 44% FG, 67% FT, 42% 3pt)
SF: Jordan Hamilton (6-7 So., 19.7 PPG, 7.1 RPG, 2.3 APG, 47% FG, 73% FT, 42% 3pt)
PF: Gary Johnson (6-6 Sr., 12.1 PPG, 7.1 RPG, 48% FG, 71% FT)
C: Tristan Thompson (6-8 Fr., 13.1 PPG, 7.7 RPG, 2.1 BPG, 1.2 SPG, 54% FG, 49% FT)

Key Reserve:
G J'Covan Brown (6-1 So., 9.1 PPG, 2.2 RPG, 2.4 APG, 40% FG, 87% FT, 34% 3pt)
Keys To Victory:
Road Warriors - Although their win against North Carolina was on a neutral court in Greensboro, it really was a de facto road game. Not counting their 83-52 drubbing of Texas Tech, the Longhorns have only played one true road game; and that was their convincing victory at the Breslin Center against Michigan State. Texas is the clear-cut No. 2 in the Big 12 behind their opponent tomorrow, and this game could go a long way in determining whether or not that No. 2 will become a No. 1 in the near future.
Wing Man - Since Kansas starts three guards, Jordan Hamilton will be the biggest key for the Longhorns, as he will draw either Tyrel Reed or freshman sensation Josh Selby, creating a mismatch of at least four (maybe five) inches favoring the 6-7 Hamilton. Look for defensive rebounds to be the telltale stat line resulting from this matchup, as Hamilton's reach could very well be enough to hold the quickness of the Kansas backcourt at bay.
An Up-Hill Battle - Given that Kansas is taller than most teams Texas has played this year, don't be surprised if Rick Barnes plays big in Lawrence by sliding Hamilton down to shooting guard to accommodate 6-10 center Matt Hill. Hill has already started two games, and can provide an even matchup along with Tristan Thompson inside against the Morris twins.
#2 Kansas Jayhawks (18-0, 3-0 Big 12)
Head Coach: Bill Self
Probable Starting Lineup:
PG: Tyshawn Taylor (6-3 Jr., 8.9 PPG, 1.8 RPG, 5.1 APG, 1.4 SPG, 49% FG, 73% FT)
SG: Josh Selby (6-2 Fr., 12.1 PPG, 2.9 RPG, 3.0 APG, 1.3 SPG, 40% FG, 83% FT, 42% 3pt)
SF: Tyrel Reed (6-3 Sr., 9.4 PPG, 2.9 RPG, 1.9 APG, 1.4 SPG, 41% FG, 88% FT, 37% 3pt)
PF: Marcus Morris (6-9 Jr., 17.2 PPG, 6.9 RPG, 61% FG, 67% FT, 40% 3pt)
C: Markieff Morris (6-10 Jr., 13.2 PPG, 8.7 RPG, 1.1 BPG, 57% FG, 67% FT)

Key Reserves:
F Thomas Robinson (6-9 So., 8.4 PPG, 6.2 RPG, 1.0 BPG, 62% FG, 47% FT)
G Travis Releford (6-5 So., 5.7 PPG, 2.1 RPG, 56% FG, 63% FT, 46% 3pt)
G Brady Morningstar (6-4 Sr., 4.3 PPG, 2.2 RPG, 2.4 APG, 1.6 SPG, 44% FG, 83% FT)
Keys To Victory:
70 - The Chicago Bulls hold the record for most wins in a single NBA season with 72. With a win tomorrow, Kansas will extend their record home winning streak to 70 if they can walk off the court in Lawrence victorious.
Loud Noises! - Allen Fieldhouse has been described as the loudest arena in the country in addition to being among the toughest to play in. Kansas needs to use that to their advantage to throw a deceptively strong and quick Texas team off its game, and force the Longhorns to make uncharacteristic mistakes that can put them in a deep hole from which it will be difficult to recover.
Double Your Pleasure - It's no secret that the Morris twins are the forces behind Kansas' undefeated start. Before the addition of Josh Selby, Marcus and Markieff have made the motor run for the Jayhawks going back to their days as role players on the 2008-09 team that defended the national championship that was brought to Lawrence the season before. While Markieff may be the taller brother and leading rebounder of the two, it is Marcus who is more dangerous; scoring more while also shooting 61 percent from the field and an unbelievable (for a big man) 40 percent from beyond the arc.
So, Who Wins?
This truly is a matchup that can go either way, as Texas has shown its ability to compete with teams that appear to overmatch them, while Kansas is simply one of the best teams in the nation and a probable Final Four representative this April. While I've mentioned several times that Texas winning wouldn't surprise me, Kansas will simply be too much for the Longhorns this time around. The good thing for Rick Barnes is that his team will be better in the years to come, which should make the chances of bringing a win over the Jayhawks into Austin much higher.
Your Final: Kansas 81, Texas 73