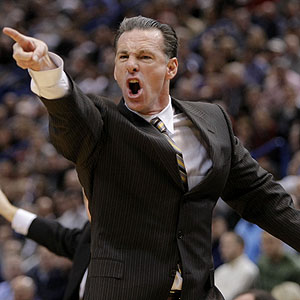 Picked No. 1 in Big East preseason poll, Jamie Dixon and Pitt now face daunting task of living up to the hype. (Photo courtesy of ESPN)
They have all the veterans, a necessary ingredient for success in the rugged Big East. For a team that was picked ninth last year and somehow finished second, there really isn't much further to go; but if you're Jamie Dixon and Pitt, you're spending the 2010-11 campaign justifying why you are the consensus choice to win the conference.
While the Panthers do bring back almost everyone off their team last year, including guards Ashton Gibbs and Brad Wanamaker to team with swingman Gilbert Brown and big man Gary McGhee, it remains unclear as to whether or not Pitt can not only hold serve in conference, but finally get over the hump in postseason play. Since Dixon replaced Ben Howland in 2003, the Panthers have made it past the Sweet 16 just once, losing a heartbreaking Elite 8 matchup in 2009 against Big East adversary Villanova on a buzzer-beating runner from Scottie Reynolds.
Dixon and the Panthers don't have it easy on their nonconference schedule, participating in the Coaches vs. Cancer Classic at Madison Square Garden with matchups against Maryland and either Texas or Illinois after facing the Terps. Pitt also plays in the new Consol Energy Center against Bruce Pearl and Tennessee before their Big East opener on December 27th against UConn at the Petersen Center.