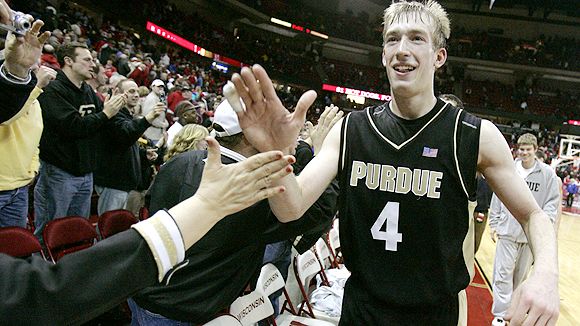 Robbie Hummel, shown here high-fiving a Purdue fan, is done for year and possibly career before this season could even begin, as the senior tore his ACL in a tragic practice accident. (Photo courtesy of ESPN)
After a torn ACL ended his breakout junior season and crushed his dreams of potentially playing in the Final Four behind his hometown fans, Purdue forward Robbie Hummel is experiencing deja vu, as the Boilermakers' star suffered the same injury in practice yesterday.
The heartbroken Hummel will miss the entire season; and since he is a senior, the injury could be career-ending unless Purdue is interested in obtaining a medical redshirt for their star player.
Hummel, along with fellow seniors JaJuan Johnson and E'Twaun Moore, had all come back for their final seasons in the hopes of potentially bringing the school's first national championship to West Lafayette, Indiana; and the Boilermakers were viewed as a legitimate title contender before Hummel's tragic injury. Upon hearing of his unfortunate circumstances, college basketball media members and coaches from across the country were immediately saddened, and Purdue coach Matt Painter described Hummel by saying that the team would miss "some of the basic things that don't show up in a box score."
Nonetheless, Purdue remains a top 25 team without Hummel, but the road to the Final Four is unfortunately no longer the smooth and peaceful one Boilermakers fans envisioned at the start of the season.