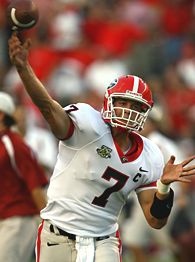 Georgia quarterback Matthew Stafford, the likely No. 1 overall pick in this year's NFL draft. (Photo courtesy of ESPN)

The Detroit Lions have been on the clock with the first pick in the 2009 NFL draft for the last four months. Tomorrow afternoon at Radio City Music Hall, new head coach Jim Schwartz and the Lions will have a new face of their franchise, and all indications are that it will be University of Georgia quarterback Matthew Stafford, projected by many to be the best player in the draft.

The Lions are also considering Baylor offensive tackle Jason Smith and Wake Forest linebacker Aaron Curry with the top pick, but Stafford is arguably the most pro-ready of the three prospects, and he would give the Lions something they have not had since Bobby Layne graced their huddle half a century ago: a franchise quarterback.

It is common knowledge that if a team has a chance to draft a franchise quarterback, they usually do not pass up the opportunity. However, if they do, it can set the team back several years, just as a blown draft pick on a potential franchise QB can be. (See Alex Smith and Tim Couch as Exhibit A in this category)

Should Stafford go to the Lions at No. 1, expect the St. Louis Rams, on the clock at No. 2, to select Jason Smith as the replacement for Orlando Pace, who signed with the Bears after twelve seasons in the Gateway City. Kansas City is expected to take Aaron Curry with the No. 3 selection, and the Seahawks follow them at No. 4; with their pick likely to be either Texas Tech wide receiver Michael Crabtree or USC quarterback Mark Sanchez, who is now more of a possibility after Seattle signed free agent T.J. Houshmandzadeh. The Browns and new head coach Eric Mangini round out the top five in the draft order.

The 2009 NFL draft can be seen on ESPN starting tomorrow and continuing Sunday. Coverage starts tomorrow at 4 p.m. Eastern time.