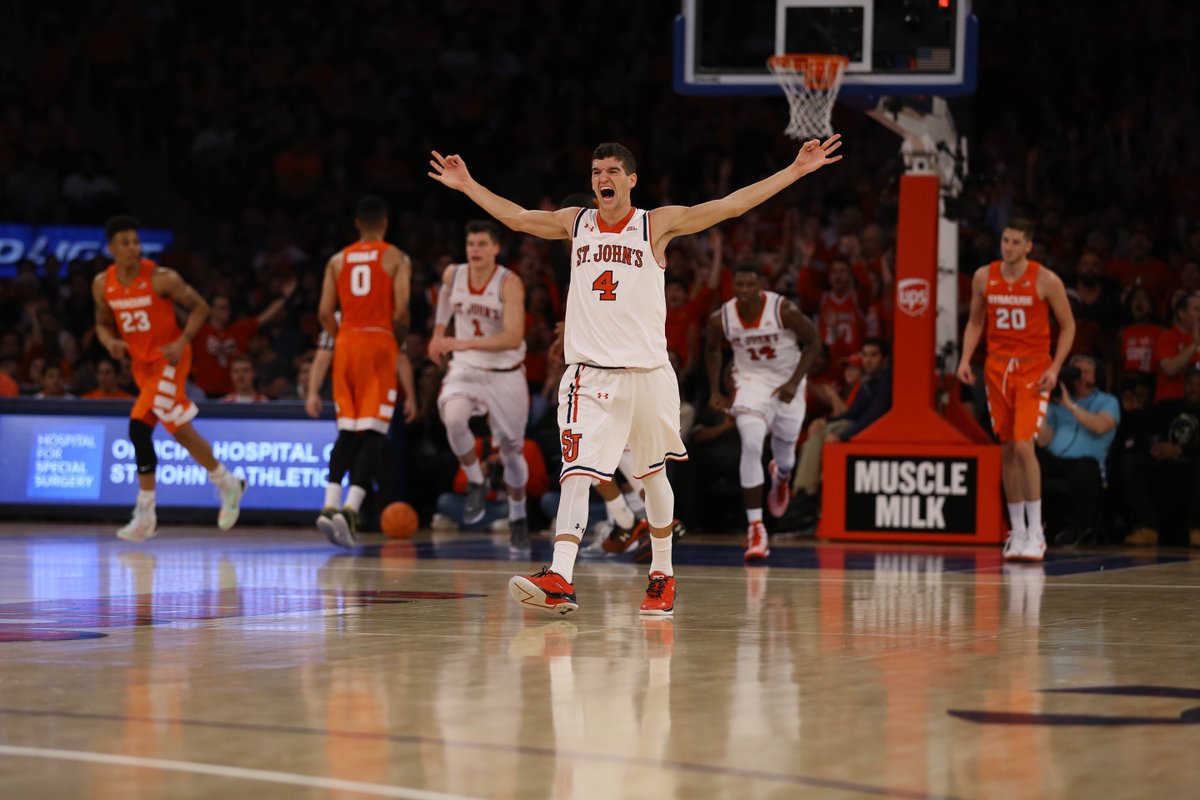 Federico Mussini takes it all in after one of his five three-pointers, leading St. John's with 17 points in Red Storm's 84-72 victory over Syracuse. (Photo courtesy of Amy Rio and Chris Barca of the Queens Chronicle)
NEW YORK -- Prior to today, St. John's had not won two straight games against Syracuse since 1993. To put that in perspective, Bill Clinton had just been inaugurated as President of the United States, Brian Mahoney was in his first season coaching the then-St. John's Redmen, and Chris Mullin was fresh off winning an Olympic gold medal in Barcelona with the "Dream Team" the previous summer.
Twenty-two years later, Mullin, now in his first season at the helm of his alma mater, now has a signature win around which to further build the dreams of the St. John's fan base.
Five players ended the afternoon in double figures for the Red Storm, led by 17 points from Federico Mussini, as St. John's (7-3) took advantage of a Syracuse team that could not get out of their own way as the game progressed, overpowering the Orange (7-3) and their questionable execution to an 84-72 triumph before a largely pro-Syracuse crowd at Madison Square Garden.
"I've watched a lot of their games," said Syracuse interim coach Mike Hopkins, who replaced Jim Boeheim as the Hall of Famer serves a nine-game suspension, "and they've done a heck of a job. They're all getting better. They really executed against our zone."
Mussini was the catalyst in both halves, finishing the afternoon with five three-pointers on a day where the Italian freshman channeled his inner Phil Greene, whose clutch shooting guided the Red Storm to victory at the Carrier Dome last December.
"It was the best win of my life," an exultant Mussini proclaimed after his marksmanship whipped St. John's fans into a frenzy, with both student sections breaking out chants such as "drive home safely," "New York's team," and "where is Boeheim?" "Playing here is unbelievable," Mussini continued. "With this crowd, it's something special. It's an amazing experience."
Indeed it was for the home team, who was on the ropes late in the second half when Syracuse started to press the inexperienced Red Storm. But the Orange's inability to convert layups and point-blank shots inside the paint, coupled with a general malaise on offense on a day where they shot just 36 percent from the floor and 19-for-31 at the foul line, contributed to the mild upset.
Durand Johnson, Kassoum Yakwe, and Amar Alibegovic; the latter of whom set the tone for the Red Storm with his timely baskets in the opening stanza, each tallied 15 points apiece. Ron Mvouika contributed 10 of his own, while Yankuba Sima finished one point and two rebounds shy of a double-double, collecting nine points and eight boards. Michael Gbinije paced Syracuse and all scorers with 21 points, with freshmen Malachi Richardson and Tyler Lydon adding 15 and 11, respectively. However, the story of this day was the statement win for a young team that could use a major confidence boost as it finishes the non-league schedule and heads into Big East play.
"I told them that sometimes when I'm pushing them, I truly believe this team can keep getting better," a proud Mullin gushed as St. John's won their third straight game since losing to Fordham on December 2. "This win was really important. It shows them there's more there."